WordPress is the most used Blogging CMS in the world, no doubts about that. In other words, WordPress powers 25% of all the world websites! Now that is a big number. All thanks to its features and answers to questions like How to Add New Users and Authors to Your WordPress Blog.
Of course, it didn't happen by magic, there were enough reasons for the world to fall in love with this piece of CMS! One such feature is the feature that lets you add additional guys to your WordPress Back-end!
So if you've ever been stuck with questions like How to Create a New User on WordPress, your doubts vanish right here on this piece.
WordPress' Account Access Levels:-
Before Creating Users in WordPress, let me answer the basics. What are the different access levels WordPress offers, what are the roles you can assign and things as such?
So WordPress technically offers you to let your new users have any 1 from 5 different access levels.
Administrator:- This is the highest level of access. The administrator has all the rights on the website. He can do anything he wishes on the website, from writing a post to deleting the whole website.
When you assign the role of Administrator to someone, you are entrusting him with everything you got. Also, he has the power to delete your website and you can not take any action against him legally, the reason being it's clear that WordPress offers it's administrators that kind of power.
And you make him the admin is equal to you granting him that power. So yeah you have to be extremely careful before granting admin level rights to anyone on your website.
Editor:- Editors are the people in charge of content perfection.
In short, they are the people who have the right to Edit/publish posts on a WordPress blog. When Adding New Users to Your WordPress Site, you can grant them Editor level access if you want them to do everything on the website, related to content.
Meaning they can edit or publish other contributor's posts, create new pages and things as such. Although, they won't have the rights to delete the website, or to perform crucial tasks like installing a plugin on the website.
Authors:- They have maximum rights as far as it's concerned about "content publishing". They can edit their own content pieces, and publish them when they wish to. They do not need to wait for the Editor's approval to do so.
Contributor:- Contributor access lets users use your WordPress dashboard to write content. They can only "write" the pieces, but can't publish them.
Also, contributors do not get any other stats. Like the traffic, or any rights like installing plugins or deleting them. They are purely for "content creation" purpose and that purpose only.
Their posts are saved in "draft" and are "saved for review" by the editor. It's the Editor's responsibility to check the post and then publish them.
Subscriber:- This is a "no-use' access level if you ask me. You do get your login ID and password, but all you can do is, post comments on the blog posts, or edit your profile info. So well yeah you can do most of those things even without the subscriber access.
So do not bother to create accounts on this level unless you're really sure about the dire need of it.
How to Add New Users and Authors to Your WordPress Blog:-
So okay I've explained the different user levels and their rights on WordPress, right? Let's get down to the fun part!
Make sure you have an "administrator" access level before being able to add new users to your WordPress blog.
When it comes to Creating Users in WordPress, login to your WordPress dashboard, and click on Users.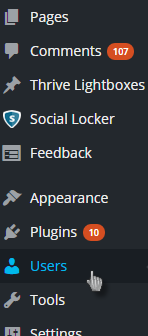 Then click on the Add New button.

Fill in the Username and other required data.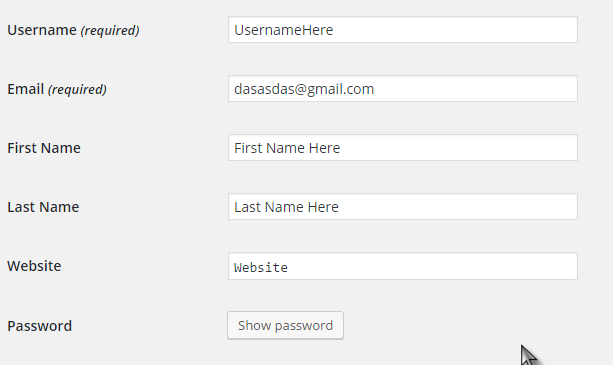 On the "Role" option, specify which access level you want the user to have.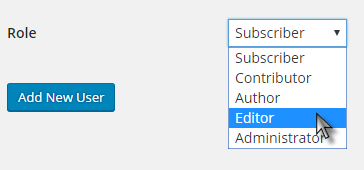 Also, click on the "Send User Notification" checkbox if you want the user to receive the password via E-mail.

And then finally click on the "add new user" button!

Done! The user account is created and the user would get a notification on the E-mail ID you've entered with the login credentials.
Tip:- It's best to not specify any password manually, this way the password that gets generated is super strong and also it gets sent to the user's E-mail ID, hence no risk of losing the password.
Over to You:-
So yeah folks that were it on How to Add New Users and Authors to Your WordPress Blog. If you've any doubts or queries, do make use of the comment box.
Although I do want to mention that never ever, grant someone the administrator-level access without seriously trusting the person to the core.
For most of the activities, the "editor" account works perfectly. It's like the user would be able to do everything an Administrator can, without actually being able to cause havoc. In short, he would have all the rights, just not those which might impact the website seriously.
Like installing new plugins, deleting users, or manipulating permalinks kind of things. So yeah grant them the editor access, but try not to share the administrator rights as easily.
If this piece was really precise, neat simple and was understood by you, would you mind sharing it with your like-minded peeps? Might help them, right?