Right now, almost every guy out there owns a website. Well, That's good news, it's good it's a sign of development for the Internet Era the world is going through.
But well, not every website that exists is a, or can be considered a professional website,  well because a lot of flavors and spices (elements, modules, third-party platforms, and optimization) go into the making of a professional website.  Cloudflare is one such website, and that's what I am talking about in this piece today, how to add/remove Cloudflare.
So before venturing into the deep sea of knowledge of CloudFlare status, or how Cloudflare exactly works? Let us have a little conversation about what Cloudflare exactly is.
What is Cloudflare?
In the simplest possible way, I can explain Cloudflare to you as a network, take it simply as an up-gradation to your website that will speed up your website, and protect it from spam and bots.
Well, Cloudflare consists of a lot of things, the CDN network, the speed Optimization thing, DDoS protection, etc.
But I'm guessing the below screenshot, directly from the CloudFlare website explains its functioning better than anything else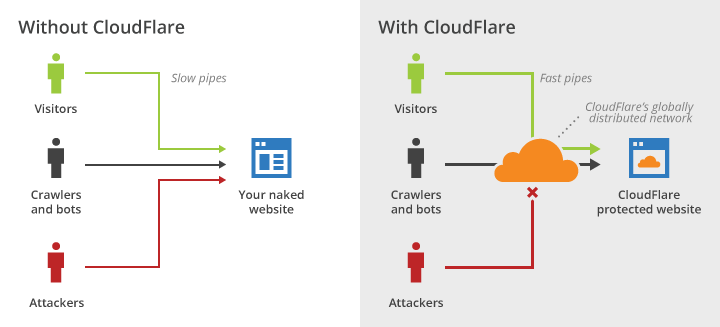 CDN Network:-
Cloudflare has armed itself with:-
 Recent hardware Upgradations
Web server technology and
Network routing.
So yeah, it knows how to deliver your content to your visitors (well, that's the full form of CDN anyway, Content Delivery Network) without eating up a lot of bandwidth. In fact, it saves your bandwidth in the process. And thus, you get robust speed on the site. (I'm covering that in detail in the later sections!)
And the best part is, if you've ever wondered how to add/remove Cloudflare, it's extremely easy. (Yeah I'll come to it later, let's talk about why you'd want to setup Cloudflare at the first place).
DDoS Protection:-
If you've read my last piece on "How to protect your website from DDoS attack," you might have noticed me talking about CDN in that piece too.
Of course you need to understand how a DDoS attack is performed (refer to that article) before you can understand how does Cloudflare works, and protect you against the attack.
But well here's a picture for you to imagine, DDoS attacker sends a lot of requests to your server(more than the server can handle) and thus the server crashes.
Well, what Cloudflare does is, it absorbs around 60% of the requests, and thus the server doesn't get overloaded and stays online.
That's the easiest way to explain to any human being on this planet about how does Cloudflare works against DDoS attacks.
Speed Boosters:-
Well CloudFlare's CDN optimizes your site load speed extremely. I won't go into many details, but here's a sneak-peek for you:-
It allows for fewer network connections.
Restricts third-party requests.
Removes unnecessary elements from your codes.
Combines all the Js files into one single file, thus boosting your load time.
Even if you didn't get what the above points meant, here's a simpler version for you: -They speed your site up, period.
So no doubt if it's such a great tool, that you might have wondered at some point in your life how to add/remove Cloudflare.
If you want to know more about Cloudfare and how it is different from other software in the market, click here.
How to Add/Remove Cloudflare:-
Well as I always say (and it's kind of getting boring, I know, but well I'm just addicted to saying it, so just try and tolerate me), setting up Cloudflare is no rocket science.
In fact, the only thing you actually even need to do is, click>click>click>edit nameservers>done!
Well yeah, that's how easy it is to setup Cloudflare.
So well first of all, of course, you've got to Signup with Cloudflare. (No worries, they've got a free plan!)
The next screen that comes up, would ask you to enter your Website Adress for which you want Cloudflare for, so just enter the Url in the format:- http://www.yoursite.com, and click on Scan DNS records.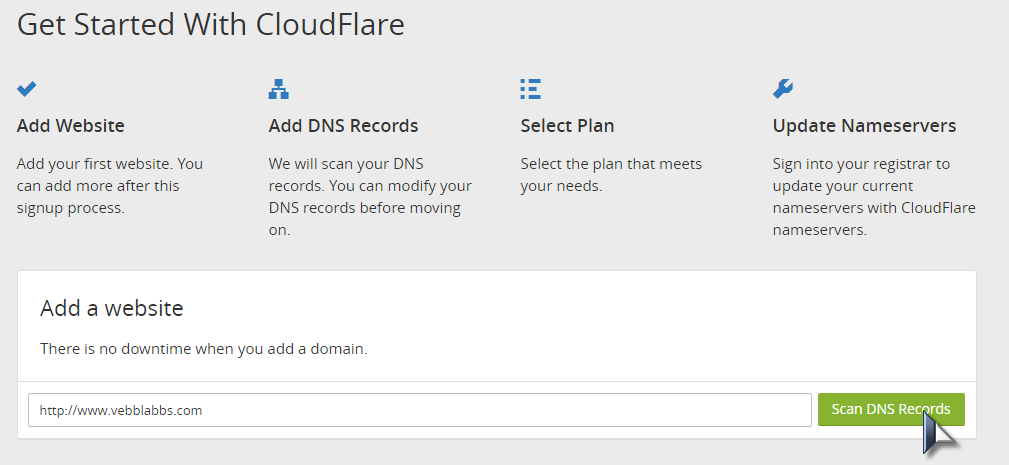 Once you do that, on the next screen it'll list all your DNS records. Just check if they're correct, and click on continue.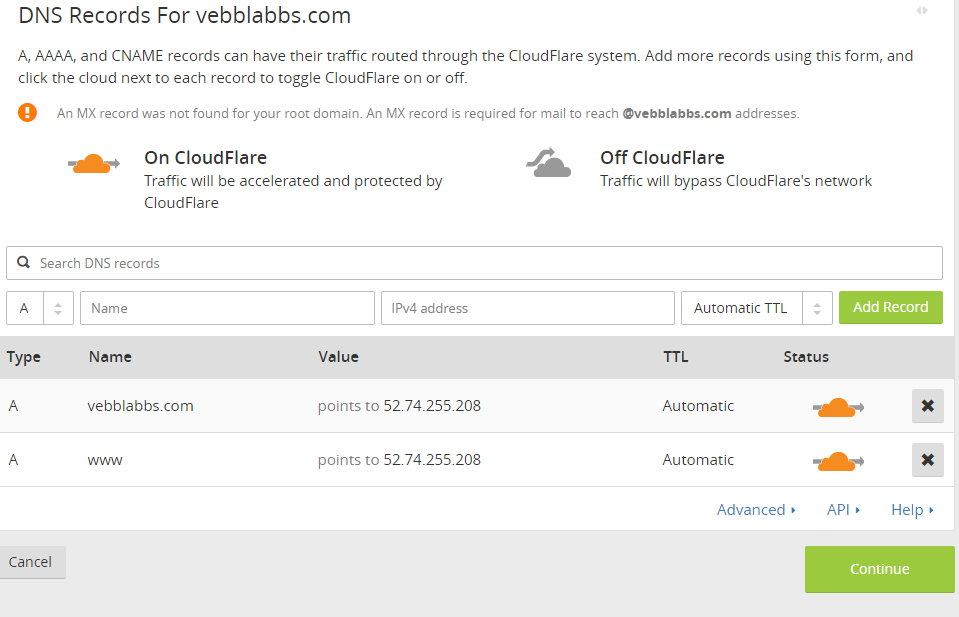 On the next screen, choose a plan. I've selected the free plan. You can select anyone, the process is exactly the same. So once you've selected the plan, click on continue again.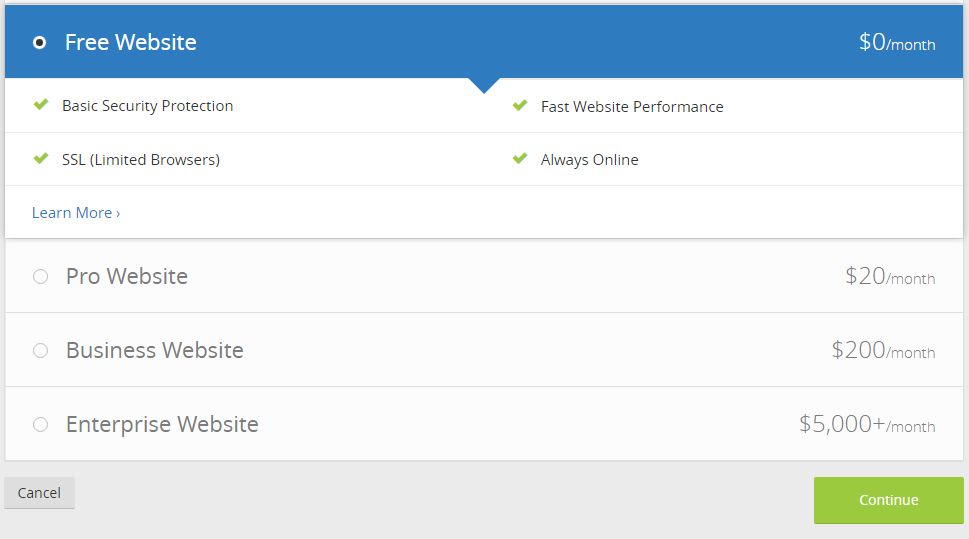 The next screen would just show you your nameservers, and what it wants you to do with them. In my case, it wants me to change the first two nameservers to the given nameservers from Cloudflare, and remove the last two Name servers., so well I do what it asked of me, and click on continue. (again!).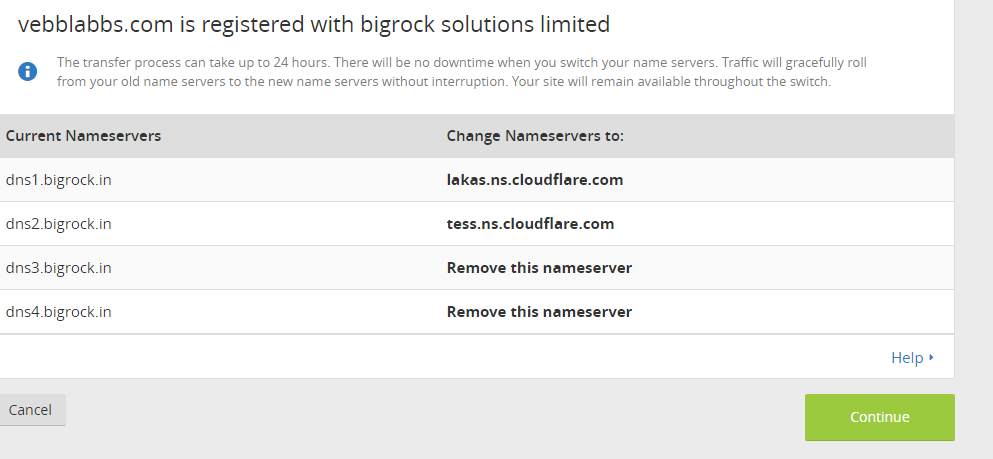 And then finally, you'll be greeted with the Welcome screen, meaning your migration has been successful! (See? I told ya, all you had to do is, click.)

It'll take a couple of minutes (but still give it 24 hours) for the DNS migration to take place. Once it's done, your site will be boosted with speed and security, for what? Exactly $0.00
How to Remove Cloudflare:-
Yeah I understand there might be moments when you don't want to go with Cloudflare anymore (although chances are rare.) Or maybe you are just interested in being on the safe side and knowing how to remove CloudFlare if needs ever arise.
So well here's what you've got to do.
Click on the Add a Site option at the top menu bar on your Cloudflare account.

The next screen holds all the sites you've set up with your account. So just click on the "x" icon next to the website you want to remove from CloudFlare's service.

And then finally, a popup would come up asking for your confirmation about the deletion. Just click on the Delete button that comes in a dark red color and you're good to go.
So well, that was about it, folks. I'm guessing it successfully answered your queries regarding How to add/remove CloudFlare, right? Well yeah, that was the goal. Well, I tried my best to cover what is CloudFlare and how Cloudflare works too.
Still, If I missed something, I'd be happy to hear it from you. Well, that's why we have the comment box system in place.
Quick Links