Why Copywriting Hurts so Much
When you read that perfect line of marketing copy, it feels effortless. But whoever wrote it would probably tell you a different story. Composing effective and appealing text is time consuming. It requires insight into what a specific user likes to read, inventiveness in coming up with something original, and a finger constantly on the brand's pulse and latest product messaging.
Even the best writer does not really know how an audience will react to a particular ad, blog, or landing page. Constant testing, rewriting, and analyzing is required, which takes time and effort, and needs to be repeated with every new piece of published copy.
It would be great if this vague, time-consuming, and subjective process could be replaced with something a bit less…painful.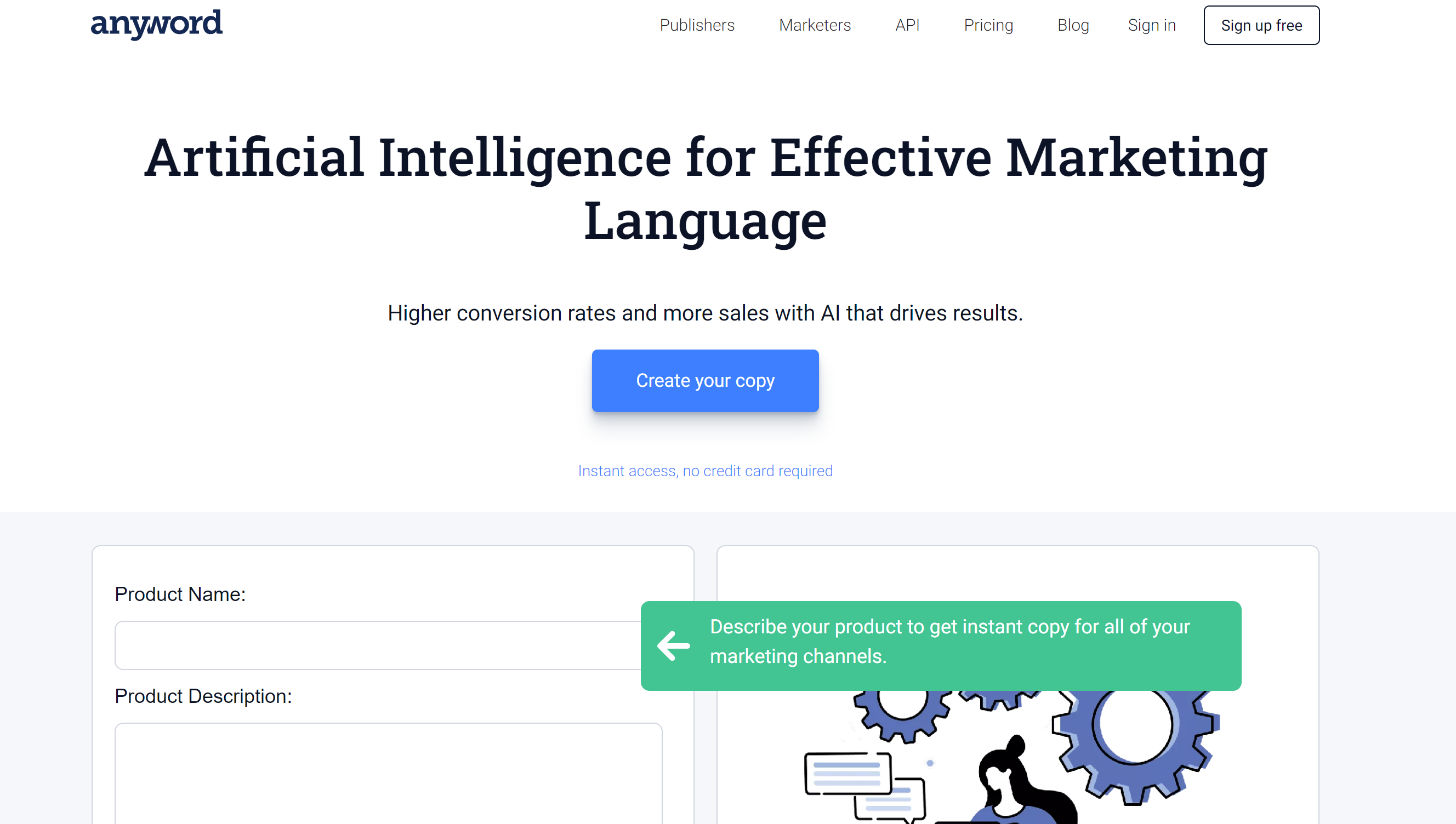 AI Copywriting that Performs
Can AI write copy as well as a person? Well, Anyword's high-performance AI platform is giving humans a run for their money. The technology uses big data and artificial intelligence to create marketing texts that get maximum engagement from the desired audience. 
All you have to do is insert a url of what you'd like to promote, or a brief description of what you'd like to promote, and Anyword will generate completely original, high-converting copy. 
So yes, the interface is simple, but once you start experimenting, you come to see how sophisticated it is. The technology supports a variety of project options, including: 
Ads: headlines, text, descriptions, and captions

Blogs: titles, outlines, and introductory paragraphs

Landing pages: product descriptions,copy, headlines, and CTAs

Content promotion: email subject lines, Youtube descriptions 
When it comes to ads, Anyword customizes the text for every channel as well, and generatess ad copy for Facebook, Instagram, Google, Twitter, Pinterest, Native Channels, LinkedIn, and YouTube. Each channel has its own specifications for advertising, such as character count and optimal formats. 
For a person, keeping up with the ins and outs of each channel can be a pain, but Anyword automatically adjusts the ad texts that it creates to accommodate channel-specific rules. 
See for Yourself in Seconds
To understand how Anyword's AI technology works at an elementary level, just insert a few lines that  describe your product, and then click the "Improve with AI" slider. Anyword will generate various options, using your text as a starting point, with a focus on certain keywords. But it will also build text with interesting variations on these words. 
For example, if you type "Buy the best food for your dog", Anyword will create text like "Try the top chow for your pooch".  But how do you know which variant is optimal?  
A/B Testing, Be Gone!
A huge benefit that Anyword provides is that it greatly reduces the need for constant testing, analysis, and rewrites. Based on vast amounts of advertising data, Anyword's predictive performance score indicates how well the copy will perform in advance. The higher the score, the better the chance it has to convert and engage. This virtually eliminates the need to run on-site A/B tests, and pay to test countless copy variations on your ads.
In addition, every text variation comes complete with a demographic histogram that breaks down the predictive performance score according to age and gender, which can help ensure the copy speaks to your desired audience. 
Do Even More with Pro
Users who upgrade to the Pro account get access to a greater range of features. These include "Custom" mode, which understands the nuances of any text and turns it into a style guide for creating variations. When combined with your product's messaging, you'll get numerous on-brand ad copy options in the style that you choose – even that of another writer. Pro users can also leverage Anyword's continuous optimization technology, which dynamically displays text on a webpage to maximize conversions. 
It May Seem Like a Lot, At First
One of the complexities of using Anyword is that it can take time to learn about all of its functions. Figuring out how to run that first optimization will only take a couple of minutes – it's a matter of a few lines of text and a couple of clicks. But understanding how far Anyword can take you, across all the major media platforms and through all of the mode and asset types, can take a little while. 
The other challenge with Anyword is that it works best when given the right information. It's up to you to correctly define your industry, describe your product, and understand your demographics. If you supply data that is not quite accurate, your results will be affected. For example, if you have provided text related to selling summer dresses to young women, but your merchandise attracts an older clientele, you will not get the best conversion rate possible, even with Anyword. 
Feel it out for Free
Another great thing about Anyword? It's free to try. Spend a few minutes playing around with actual websites and their ads – including your own – and see what Anyword can come up with. Just warning you: it gets addictive really quickly.