Audiobooks.com is one of the best places to get audiobooks and other spoken content. This Audiobooks.com review talks about how I used the service and how you can try it for free for 30 days.
How do you use Audiobooks.com? What do you get when you sign up for a Audiobooks Free Trial? What makes Audible different from Audiobook.com?
In this guide, I'll answer these and other questions to help you decide if Audiobooks.com is worth it.
Audiobooks Free Trial 2023
How does Audiobooks.com work?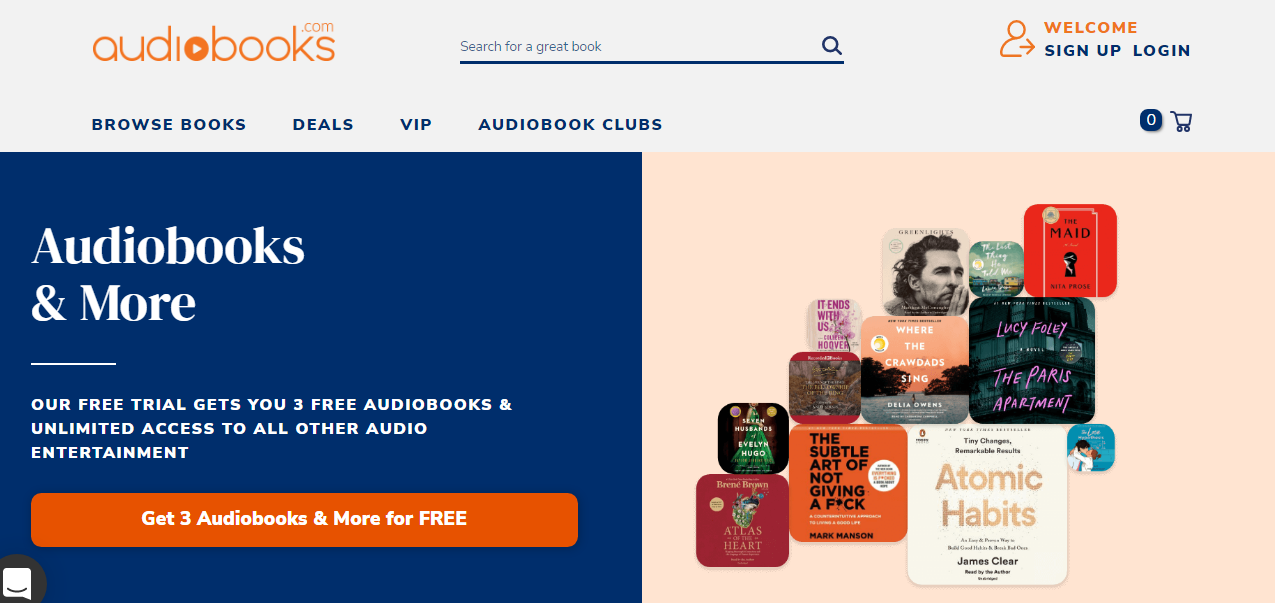 Since 2011, Audiobooks.com has been a successful online service for audiobooks.
You can buy audiobooks and other spoken-word content one at a time or as part of a subscription plan that gives you credits with an Audiobooks.com membership.
Audiobooks.com has more than 350,000 titles in its library, which is always growing. Mobile phones and tablets can stream or download audiobooks from Audiobooks.com apps.
There is a 30-day free trial for Audiobooks.com that lets you try out the service.
What are the benefits of Audiobooks.com membership?

It's quick and easy to sign up for Audiobooks.com. You can sign up through email, Google, Apple, or Amazon. There are also different ways to pay, such as PayPal, which I like.
As soon as I signed up, I started using the service and found that being a member has a number of benefits:
Great selection. There are more than 350,000 premium titles available on Audiobooks.com. Their book lists, including 'Perfect First Listens,' make it easy to find a great listen:
Many other lists exist, such as Books With Buzz, New York Times Best Sellers and Bestselling Audiobooks of All Time.
Unlimited access. A curated selection of audio magazines, audio news, and sleep and meditation audio content is available to members:
Listen anywhere. There are apps for both iOS and Android on Audiobooks.com. I liked how easy and fun it was to use the iOS app. From the ratings and reviews on the App Store for the iOS app, it seems that most people have the same experience:
A sleep timer, customizable narration speed, and offline access are all included in this audiobook app.
Podcasts. With the Audiobooks.com app, you can listen to more than 100 million free podcast episodes. Note: Audiobooks.com doesn't make podcasts, so you'll have to look elsewhere to find these episodes. The app does, however, make it easy to find and listen to podcasts.
Member sales. Members of Audiobooks.com can get discounts and buy two books for the price of one. Every month, there are new audiobooks and genre choices.
All of these are great benefits, but Audiobooks.com doesn't start to stand out from the rest until I find out about its Audiobook Clubs.
Audiobook Clubs
What are Audiobook Clubs?

Audiobook Clubs are a unique service from Audiobooks.com. You can join one of eight clubs and listen to as many best-selling and classic audiobooks as you want for 30 days.
Audiobook Clubs work by giving you a monthly credit that you can use in either of these ways:
You can listen to any of the more than 350,000 audiobooks in the catalogue, or you can join one of eight Audiobook Clubs and listen to as many audiobooks as you want for 30 days..
You can decide what to do with your next credit once your 30 days of unlimited access are over.
Using your monthly credit, you can choose from over 350,000 audiobooks, or renew your unlimited audiobook club membership for another year.
Audiobooks.com Free Trial
What is the free trial period for Audiobooks.com?
A 30-day trial membership is included with Audiobooks free trial. During that time, you can get any book you want, plus two VIP bonus books.
You can stop the free trial at any time, there are no obligations.

There are more than 350,000 best sellers, new books, and old favourites.

Get to more than 10,000 free audiobooks.

You can listen to more than 100 million podcast episodes.
Quick Links:
Verdict: Is Audiobooks Free Trial Worth It? 2023
Does it pay to use Audiobooks.com? Audiobooks.com is a great place to find high-quality audio stories, like podcasts, audiobooks, and everything in between.
I like the easy-to-use app and how big the library is. I also like how the book lists are put together. I'm not a big fan of the Audiobook Clubs, but I can see how they might interest people who listen to audiobooks often.
So, yes, Audiobooks.com is worth your time and money, and I'm happy to recommend it.
If you're still not sure, I think you should just try it! It's free for 30 days, and you can easily stop using it whenever you want.