Windows 8 Operating System, was a very different experience for Windows users. It was entirely different from its predecessors and brought in new features into it too. 
Windows 8 had a major UI overhaul than its predecessors. And users really needed a tutorial class, before they could actually start using Windows 8 as a daily driver.
Some major design changes include the introduction of Start Screen, the removal or the Start Menu etc.
Talking about the Start Screen, people using Windows 8 would first boot into the Start Screen, from where they could shift to the Desktop manually.
Since the preview version of the Windows 8 was launched, users really felt this feature really annoying. As now, they would be booted into the Start Screen, from where they needed to manually shift to the Desktop view.
To solve this issue, many third-party developers made tools that would help Windows 8 users boot into desktop directly, without being taken to the Start Menu. 
These utilities for Windows 8 were free of cost, and anyone could easily download these utilities over the web, and then set it up to directly boot into desktop view.
Understanding the popular demand to boot directly into desktop view, Microsoft has finally built-in this feature to their upcoming update to the Windows 8, the Windows 8.1. 
Therefore, you don't need to download a third-party utility anymore to boot into desktop directly, and this can be directly done from the Navigation settings menu, without any software.
This feature was released with the Preview version of Windows 8.1, and you can easily download and install Windows 8.1 into your computer.
If you're new to the Windows 8.1 platform, here we are today with a short and sweet tutorial on how you can boot into desktop directly on Windows 8.1 without using any third party software.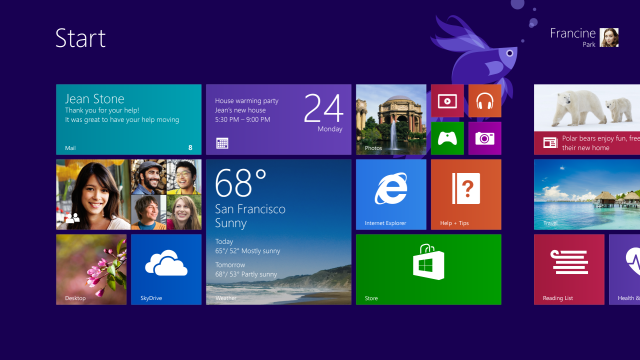 How To Boot Into Desktop Directly In Windows 8.1?
As I said before, this feature was built-in to Windows 8.1. So if you're using Windows 8 currently, you'll need to install the preview version of Windows 8.1, before attempting to perform this tutorial.
And if you have already installed Windows 8.1 onto your computer, then below is the tutorial on how to boot into desktop directly in Windows 8.1:
First of all, boot into the desktop mode on your computer running Windows 8.1.

Now, hover over an empty area of the taskbar on your computer, and right-click the mouse button.
Now a popup box will appear. And from the popup box, choose properties.
After clicking Properties, a new window titled "Taskbar and Navigation properties" will open.
From the window, move to the

Navigation

sub-tab.
From Navigation, look

into

the Start Screen sub-menu.
And from the start screen sub-menu, you can see an option titled "Go To the Desktop Instead Of Start When I Sign In"
All you have to do is to tick this particular option and you're done!
Finally, you have set your computer to boot into desktop directly, without moving on to the Start Screen. Therefore, you'll no more need to download any utility on your computer, to serve the purpose. If yo wanted to remove the Password from Windows 8, you should see that.