CCleaner for Mac is just like the house-maid for you, what it does is pretty clear from the name itself. It cleans your Mac, as simple as that. Ever wondered how to clean up a mac? Well, this article will show you how to Install CCleaner for Mac, so that you never have to wonder again,"How do I clean my Mac?"
Now, what does "clean your mac" means?  I know you love your Mac and don't let it get dirty, that's cool, but that's not the kind of cleaning I'm taking about. I'm talking about the internal cleaning of your Mac, internal as in the sense of programs , unwanted files, etc which are just present there, but not needed.
Ever wondered "Why is my mac so slow"? Ah Duh, you saved up for couple months to buy this Mac, and now it's lagging like a piece of old junk, right? I know that feel, that's one of the reasons I took up to compiling this post over here, to show you how to clean Mac.
Well, it's kind of a fault in the codes used to program the computers, be it a Windows, Mac or any other OS, the codes aren't advanced enough to self-clean themselves. Meaning, the computers still don't know which files you might want to keep and which not. Which files are needed and which not, so in response, it saves all the files that are required during running a process, and when you quit the application, the files are still there, and over time, there is a big enough army of files to clog your Mac and make it crawl.
So that's exactly what the Ccleaner for Mac do? It cleans up those unnecessary, unwanted temporary files so that your Ccleaner can keep on running with the same speed as when you bought it. It's kind of the disc cleanup thing for Mac.
Apart from just "cleaning" files, there's a lot that your CCleaner does for you.
What exactly does the CCleaner do except Cleaning?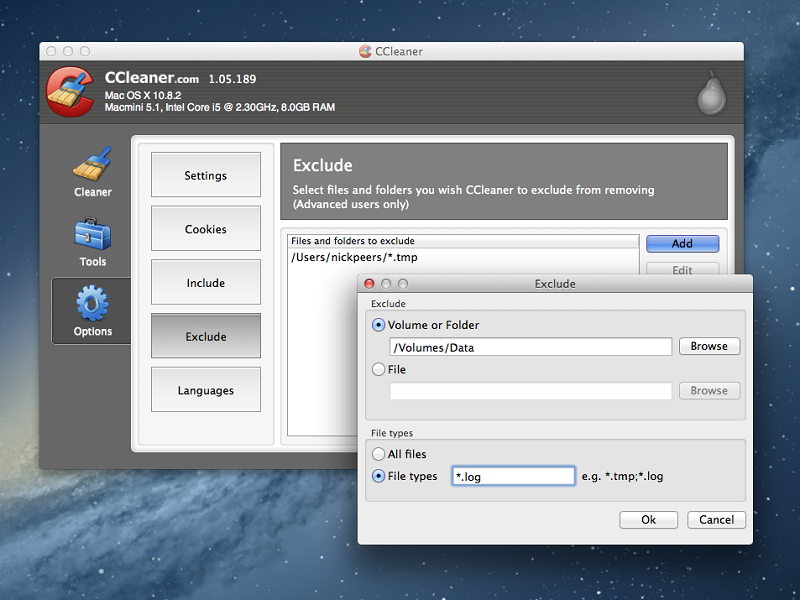 It most definitely speeds up your Mac, there's no doubt to that. Of course, when unwanted files and junk is freed off your Mac, there'll be more space available, more RAM available and more resources, so your Mac gets fast simple as that.
#1. Disk Cleanup Mac
Well, that's just a term I coined, no official declaration to that, but I did that for a reason.
It just removed all the clutter on my mac, with a single click, and that lead me to this term. Clutter, meaning the temporary files, and even broken file permissions, it was like the whole of my Mac automatically got organized, so it's only fair on my part to acknowledge the loyal cleaner's services. You might not notice it initially, but if your mac gets a lot of broken file permissions, over time this issue gets big, real big. Now the cleaner fixed it for me.
#2. Don't Track Me Mode
Almost all the websites store your cookies from your mac and those are like footprints of you online. Of course, they do so in order to give you a better and faster browsing experience, but if you have a fast enough internet connection, you might not need the help of cookies from the browsers.
Also, even without a fast connection, some people, at least, me, don't like to leave my footprints on the internet, come on, it's just freaky. So the CCleaner has this little superpower to erase your browsing history, and cookies and all other footprints from the internet.
#3. Custom Tasks Mode
You can configure the CCleaner according to your own needs. If you don't want the "don't track me mode" it's your choice. If you want to keep certain files and don't want them removed, it's your choice again.
So in short there's a complete control you get, no hard & fast rules to it. And that's just another aspect why I'm so in love with my loyal warrior.
Download CCleaner for Mac
It's simple, before you can install it you need to download it.
So head over to PiriForm. And click on the Download Free Version Button.
Now Choose the Free download option on the next screen.
Now on the next page just click download. (don't worry this is the last time you're doing so. )
Now just head over to the newly downloaded Ccleaner icon, and integrate it with your applications.
The next screen should look something like the below screenshot. Once it's in the applications folder, you should know that your task is done.
So that was about it. Now feel free to explore it and play around, that was just about the installation of CCleaner on Mac.
Summing it up:-
The whole process is just as simple as 3 basic steps.
Download> Click on Downloaded Icon > Integrate to Applications folder.
Done. Yes that's how simple it is. So probably you don't need to search on Quora or other networks and wait for days for questions to simple answers like "How to clean up my mac", instead just make the 3 clicks and don't ever worry about your Mac lagging or getting slow.
And with that, we come to the end of this article. If you have any questions or queries, do leave them in the comment section below. We will try our best to quell your doubts. If you liked this article, don't forget to share it on social media! It helps us out a lot and who knows, may help someone else who's dealing with a sluggish Mac as well!