Welcome to the modern Internet, a world of connected devices and accounts. A world where your digital persona is interwoven across different websites and social platforms through multiple accounts, logins and of course passwords.
And the only one standing between you and a hacker looking to steal your identity is just one password.
Did that freak you out? Scared you a bit? Maybe you want to bolt right away and put more complex passwords on every one of your social media accounts. Well, there's one tiny problem with that as well! Turns out human brains are really bad at remembering passwords, especially complex ones.
So what happens if we forget the password to our Facebook account? Well, that's why I'm here today. If you want to change your Facebook password be it because you've forgotten it, or some other reason that you'd rather keep to yourself.
This article will set you on your way to Facebook password recovery and reset!
Social media has taken our lives by storm completely revolutionising the way we communicate as well as express ourselves online. With selfies for every event and status updates to reflect our every mood, the denizens of the modern Internet love to wear their emotions on their sleeves.
The Importance of Passwords in Our Digital Life
Now, while anyone might be able to peek into our lives by going through our profiles, privacy settings on most social networks allow us to have granular control on just exactly how much we want the world to know about us.
Anyone can see our profile, but he/she does not have access to post anything on behalf of us.
Privacy settings are the single most important outcome of advancements in security technology of social networks and playing a significant role in protecting your security are all of your passwords.
So if you ever face a moment when you're like," I forgot my Facebook password! What do I do?", don't panic, just remember what you've read in this article!
Facebook is one such platform which is widely used by billions of people around the world, and as such provides features by which you can get access to your Facebook account even if you forgot Facebook password and need to change the Facebook password to regain access to your account!
Here, in this article, we will guide you through the entire process and will equip you with the knowledge of What if you forgot Facebook password and how to change the Facebook password in order to get access to your account back.
How To Change Facebook Password
So, here we start the step by step guide on How to get my forgot Facebook password. Kindly pay heed to each and every single step as every single step is crucial for you to use Facebook login change password.
Step #1: Go to the login page of Facebook that is www.facebook.com and click on the link named as forgotten your password?


Step #2: After that, you will be redirected to a page and it will ask you to type in either your E-mail or Phone number with which the Facebook account has been registered or your Facebook username. Once you have typed them in, click on the search button.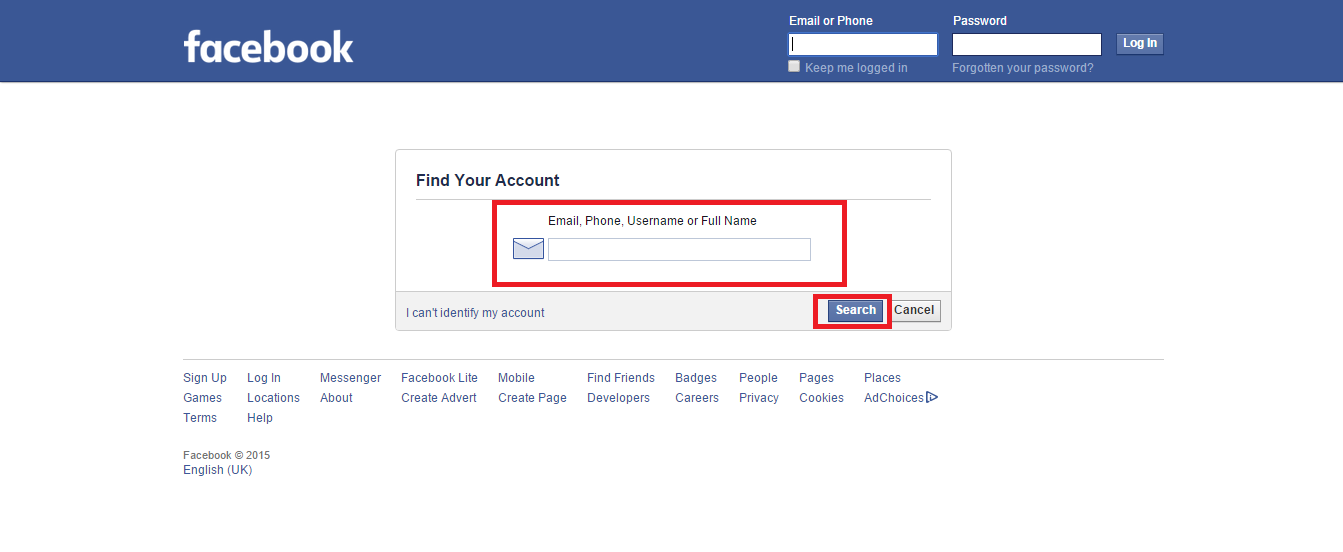 Step #3: After completing step number 2 you will be redirected to "Reset your password" web page where you can proceed to the next phase of your Facebook account recovery. You will be provided with 3 options.
The first one being "Use My Google Account", second being "Email me a link to reset my password" and the third being "text me a code to reset my password".
Choose the option which you're most comfortable with! Here for the sake of simplicity, we are using the second option that is "Email me a link to reset my password".
However, if you have forgotten Facebook password and email both, then facebook password recovery can be initiated via a registered mobile number as well!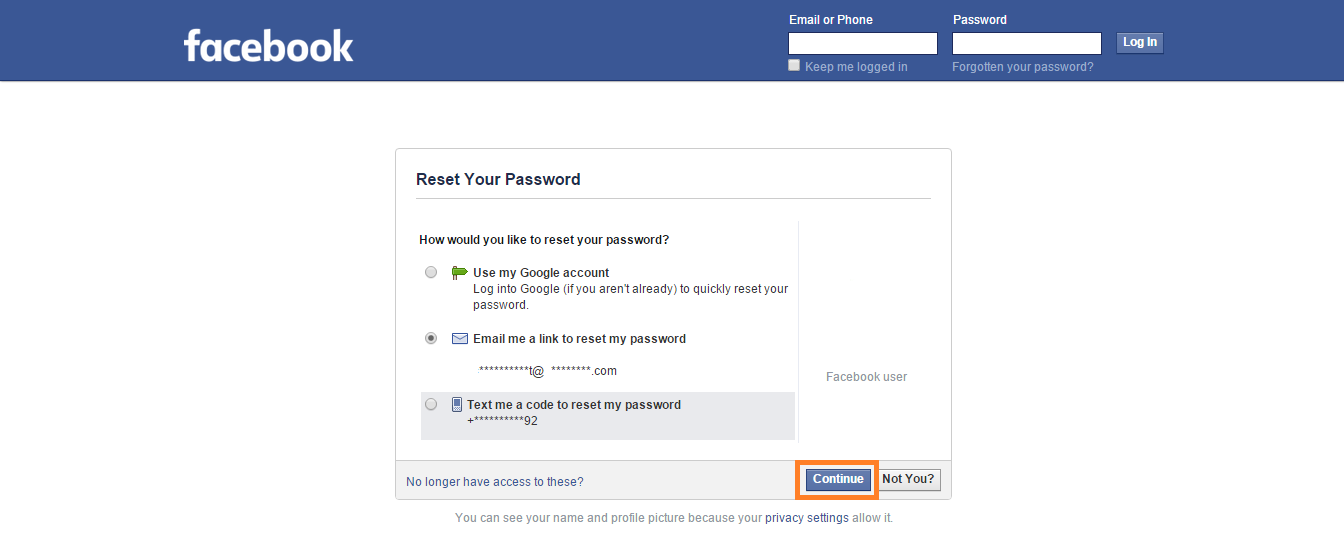 Step #4: Facebook will then ask you to enter a six-digit code that they will send you through the mail to your registered E-mail ID. Open up your E-mail ID account and get the code from there and type in the code.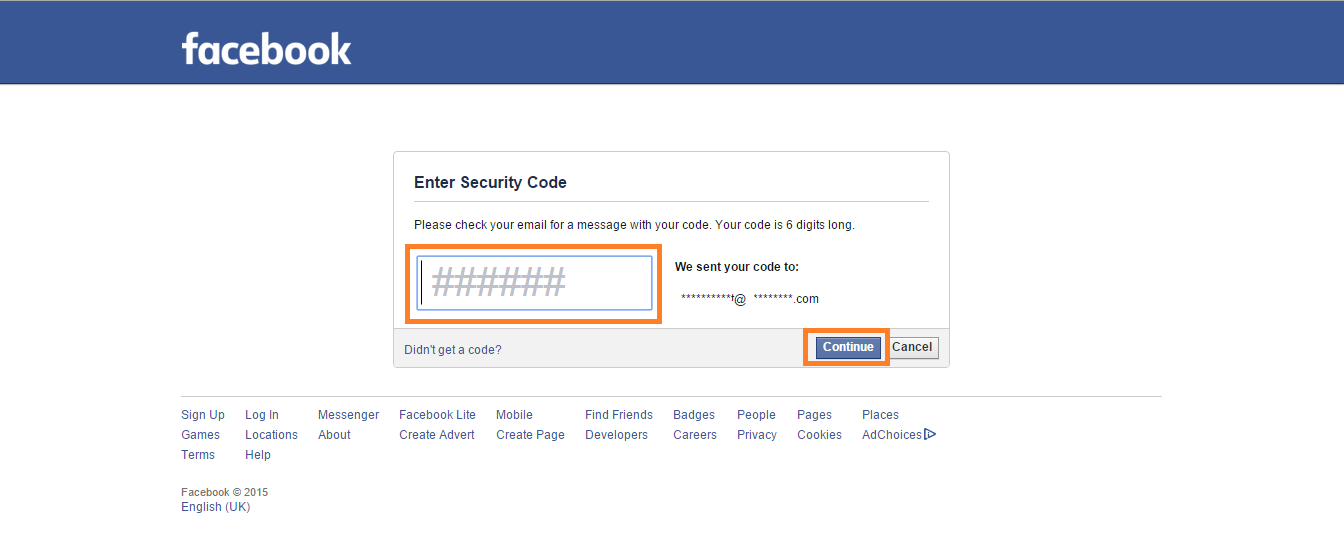 Step #5: Facebook will redirect you to a password reset page where you will be asked to type in the new password and to confirm that. Type in the password and confirm it and then hit continue and whoa you are done!!

You can also try the alternative methods like going for the reset option through text message or through your Google account, which solely depends on you, go for whichever you suits you the best!
So, here we showed you how to change facebook password. For those who might be facing a, "Oops, forgot my Facebook password" moment, this article can be a lifesaver.
Kindly share it with your friends and do let us know if you have any queries regarding this article through comments. We would definitely love to help.
Stay tuned and keep visiting. If you want more of such articles, kindly visit this link. Thank you for giving it a read.