How to Change Relationship Status on Facebook:- That's what you wanna know? You're at the right place, because that's what you'd have a clear idea about by the end of this piece.
The memory of the scene from "The Social Network" where Mark Zuckerburg overhears a conversation between two of his friends, "is she single", asks a guy. And then the reply comes "How would I know? Does she wear a sign indicating her relationship status" from the second friend.
And that's how the idea of "Relationship status's on Facebook" came into being. Mark wanted to let people put up signs of their relationship status's. If nothing else, it's just a complete expression of yourself, something Facebook always believed in.
So if you've ever remotely wondered how to change your relationship status on facebook, then this piece is for you.
What are Facebook Relationship Statuses?
Facebook has this awesome feature to let the world know what's your current status of relationship. It let's you put up almost all the possible relationship status's:-
Single:- When you're the driver of your life without any second person.
In a Relationship:- When you've got your better half, but aren't married yet.
Engaged:- You know the meaning, right? When you've put the ring in the finger.
Married:- Ofcourse. No one on this page "can't not" know the meaning.
In a civil union:- It's the "advanced, modern" version of marriage. In short, it's everything that "Marriage" is, but it's still not marriage.
Domestic Partnership:- It's the same thing as living relationship.
Open relationship.
It's complicated:- When the status of the relationship isn't crystal clear to either of the party.
Seperated:- When the person was in a previous relationship, but is no more.
Divorced:- Legally separated from the spouse.
Widowed:- Left alone due to the death of one of the spouse.
So see? There's almost no kind of relationship that you're into, but can't list on Facebook. (Unless ofocurse you're in some kind of weird relationship with yourselves.)
Benefits of Relationship Status's on Facebook:-
If you've asked yourselves how do I change my relationship status on facebook,haven't you asked yourselves why would you even want to list your Facebook status on Facebook?
I mean what's the point? In putting up a sign for the rest of the world to know if you've got a better half or not, right? Matter of fact, it is important, and that's the reason before explaining to you how do you change your relationship status on facebook, let me answer this.
Less Stalkers:- Well yeah, the chances of your profile being stalked are comparatively higher if you're "single", compared to you being in a relationship.
Lesser nonsensical messages:- Facebook is a hub of things that shouldn't happen. You get all the wrong kind of messages and pictures and what not! Guess what, that number goes down significantly too if you're in a relationship.
If you're single, then the status can probably help you find your right guy! Or maybe you just have crush on someone, and  without you knowing he has on you too! Putting this "single" thing online publicly confirms to them that they're safe to approach in the least.
Right kind of ads:- Well yeah! In my last article on How to Hide Facebook ads, I explained how Facebook ads work! Guess what, the advertisers target people on the basis of relationship statuses too. For eg. a travel company might be targeting married couples, a jewelry page might be targeting people in a relationship and what not. So yup putting it up publicly helps you get the right ads, and maybe even the right products.
How to Change Relationship Status on Facebook:-
Okay so by now you know that it's possible to change relationship statuses on Facebook, right? So here's how to change them:-
Go to your Profile by clicking on your Name on the Homescreen.

Then click on "About' section.
Then you should see a "Family and relationships" option on the sidebar. Do click on it.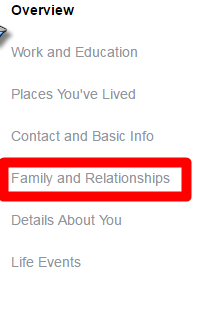 And then, just click on the "edit" button.

A slider-popup would come up with all the available relationship statuses possible! Just select the one you want to set, and click save.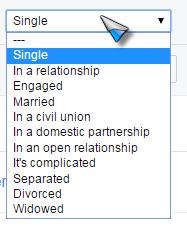 So yeah that was the answer to your question on how do you change your relationship status on facebook. But hey, maybe you don't want to announce your status to the world, right?
How to Hide Relationship Status on Facebook:-
In case you're more of a private person and want to hide your relationship status from Facebook, here's how to do it. Now I totally understand that not everyone wants everyone else to know what they're going through in life, right?
A relationship status is something extremely private, so no doubt or surprise if you want to hide it. So let me explain to you how to do it.
(I'm not listing the steps again because it's already listed in the above section, no use repeating the same thing again and again, right?)
So once you're on that page, click on the small "lock" icon next to your relationship status.

This will bring it in the "edit" mode, so again click on the Lock icon.

And then finally choose your status from the list that pops up, and click save.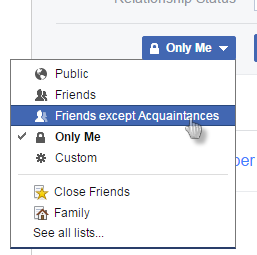 Over to You:-
Hope that piece answered your doubts regarding how to change relationship status on Facebook. I'm pretty sure I also discussed how to hide your relationship status on Facebook, didn't I?
If you still got some questions or doubts left, do make use of the comment box! That's what I'm here for.