Facebook is becoming such an advanced social network that, it's becoming almost like an OS in itself! It lets you play games, video-call, write your own apps, and whatnot! So one such question that's related to the "advancement" of the social network is How to change the thumbs-up icon in Facebook Messenger chat? That's exactly what I'll be answering over here.
In fact, it's strange that I'm writing this article down, considering I use "emojis" to communicate most of the time instead of text. Well yeah, I know it makes it hard for my friends, but that's what friends are for, right?
Facebook recently made some huge changes on its part, and the latest update came just last night, they changed the chatbox to let you use different colors for different people. Even the look and feel of the chatbox have been changed.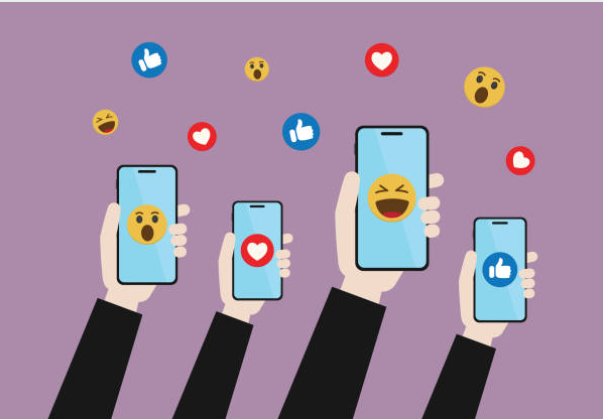 So I'm sure you already know about the default "thumbs up" icon that came up for a Facebook chat, right? You can use it on messenger as well on PC, so ofcourse I'll be showing you How to change the emoji on messenger on pc too!
What Does The Thumbs Up Emoji Imply:-
If we're talking about the evergreen "thumbs up" icon on Facebook, you already know that it's one of the "signature" marks of Facebook, isn't it? It's there even on posts and lets you like posts, yeah a "like" button that's what it initially was.
So what will you be using it for in the Chat boxes? A legit question, I mean it's not like you'll just "like" someone's "Hey are you coming" message, right?
On the Chatbox, the "thumbs up" symbol means, "O.K". It implies that you're agreeing, or saying "yes" to the message or question. It is something that was integrated into the Facebook chat recently and has acquired huge popularity.
If nothing else, it saves you from those "K" messages you have to type when you either are busy, don't want to talk, or simply are saying "Okay I get your point, and I agree".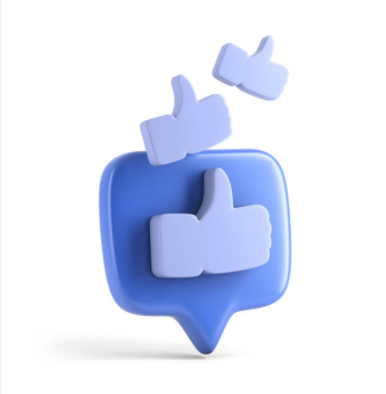 Is It A Trick/Unethical To Learn How To Edit Default Emoji To Something Else On Facebook?
Most of the time, something like this comes with a taboo that if we're changing something on a platform as big as Facebook, it's illegal, or that it's unethical.
Let me just make this clear for you, changing the default Like icon on chatboxes isn't illegal or unethical by Facebook standards or policy. In fact, the method we would be using is a "Feature", invented and incorporated into Facebook by itself.
So nope we won't be using any kind of third-party plugin or tool, instead just use the in-built Facebook feature to change it.
How Does Changing The Like Button Impact Your Profile?
If I'm talking about something, I believe in covering all the possible points. So well let's get to it.
When you change the like button in the chatboxes on Facebook:-
You can change it specifically for every friend. Meaning if you change for one person, it doesn't change for the whole of your friendslist. The default-like symbol would be changed only for the friends you select.
Changing the like button is mutual. Meaning when you change the like button, the button changes on your friends' sides too.
Your friends' have complete control over changing the like button back to the like button, or any other emoji, and when they do, it also automatically changes for you.
You can not disable the "change" option. Meaning there's no option to disable yourselves or your friends' from changing it. The most you can do is, you can leave it as-is if you don't want to use it or change it.
How To Change The Thumbs Up Icon In Facebook Messenger Chat?
I'll be covering:-
How to change it on any android device.
How to change the emoji on messenger on pc.
How To Change It On An Android Device:-
Login to your Facebook account on messenger for android. Once you're in, click on the name of the friend for whom you want to change the symbol.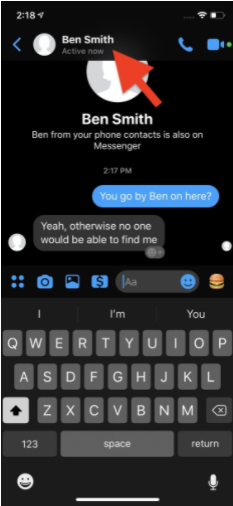 Click on the little "info" symbol at the top of the screen.
It will bring up the settings for the chat. Click on the "Emoji" button.
A popup would come up and would let you choose the emoji you want for the conversation.
Just select it and you're done!
How To Change It On A PC:-
In case you're browsing Facebook from a PC, here's how to change the like symbol on a Pc.
Visit www.messenger.com from your PC and log in.
Once you're logged in, click on the name of the friend for whom you want to change the like symbol.
Click on the  "change emoji"  option.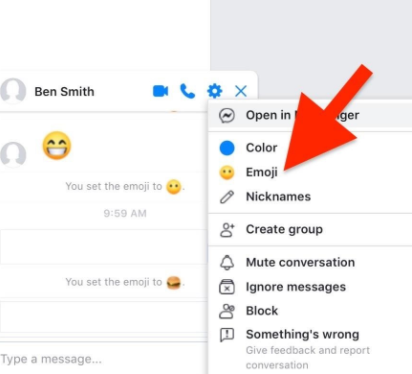 Select the emoji you want to set for the conversation from the popup. Facebook really has a broad list of emojis you can set for the conversations.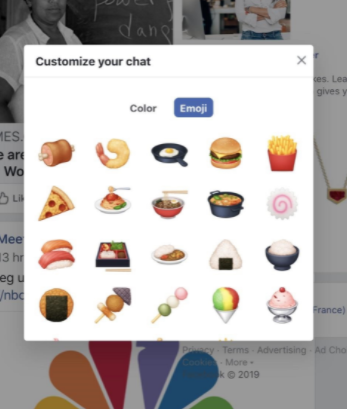 And then you'd get the confirmation that the emoji has been changed by you.
Done! Mission accomplished!
Quick Links 
Conclusion | How To Change The Thumbs Up Icon In Facebook Chat 2023
So that was it folks on How to change the thumbs-up icon in Facebook Messenger chat. Doesn't matter if you're on an android device or a PC, cause I've covered how to change it for PC as well, right?
I'm sure this one might have taught you something new, if it did, would you mind letting us know if it worked for you in the comments? Or maybe you could hit the share button?