Pop-ups are the small windows, which appears suddenly in the foreground when you visit any web page. These pop-ups can be really useful sometimes and at other times, they can be the cause of some major annoyance and irritation.
So, due to the excessive importance of pop-up blockers, this option comes inbuilt now in most browsers such that users can disable and enable pop-up blocker as per the requirement. Since google chrome is one of the most loved web browsers, we have decided to provide a comprehensive guide on how you can use the chrome pop up blocker.
There are also a number of third-party pop-ups and ads blocker available out there. But, the most useful and easy to handle is google chrome pop up blocker which comes inbuilt in google chrome.
Along with its easy navigation, pop-up blocker google chrome lets you enable or disable pop-ups for all websites altogether. But, if you want to allow pop-ups for all the websites except a few or vice versa, you can do that too!
But what, if you have enabled pop-ups for all the websites and if you visit a website which has something additional and informative to show you in the pop-up window, then?? Well, pop up blocker google chrome has a solution for your every problem. So, le's go ahead and see how many steps are involved there in chrome disable popup blocker.
How to Enable/Disable Chrome Pop up Blocker
Google chrome is a very popular chrome browser not only among desktop users but, for android, iPad, iPhone users as well it's equally loved! So, here we will learn to turn on and turn off pop-up blocker in chrome in all the popular devices. So, let's get started with how to disable pop up blocker chrome!
#1. For All the Websites:
I've described below the method to enable or disable pop-up blockers for all the websites.
# Disable pop-up blocker in Computers:
If you are a computer user, then follow the below steps to block or allow pop-ups.
Open your chrome browser and click on the chrome menu i.e. three horizontal lines  on the top right corner.
In the drop-down list provided, go to Settings.
Now scroll down the page and click on Show advanced settings at the bottom.
Under Privacy, click on Content settings.
In the Content settings window, scroll all the way down to Pop-ups. 
Under Pop-ups, you can see two options Allow all sites to show pop-ups and Do not allow any site to show pop-ups (recommended). In these two options, you can choose any one of them, as per the requirement.
If you want to allow or disallow pop-ups for any specific website, don't panic, I'll tell you how to do that just keep reading!
Once you are done selecting the option, hit the Done button at the bottom of the page.
# Turn off pop up blocker in chrome on Android:
If you are an android user and prefer to use google chrome to surf the web, you might think how to enable or disable popup blocker chrome on Android?? Well, as I promised in the beginning of the guide, I've a solution for Android users too! read the below steps.
First of all, go to the app menu on your android and click on the google chrome app.
Now tap the chrome menu icon i.e three dots on the top right corner of the window. See the screenshot below, in case any doubt.
Once you will click on these three dots, a drop down list will be opened containing a handful of options. One of them is Settings, tap on it. (I've highlighted Settings option in the above screenshot)
Scroll down the Settings page and tap the Site settings under Advanced option. See the below screenshot.
Now make sure to check the option Block pop-ups ON, in case you want the pop-ups to be disabled for all the sites and uncheck it if you want to disable pop-ups for all the sites.
Once done, come out of the window and you'll never ever see pop-ups for any site.  
Note: The method to reach to the site settings can be different on your phone. It can vary as per the version of the Android. If you don't have the latest version of android you might have to go to,
Chrome menu(touch the menu button on your phone)> Settings> Content Settings> Block pop-ups
So don't panic if you don't see the same options I describe above, just make sure to reach to the Content Settings or Site Settings option.
# Disable popup blocker chrome in iPhone/iPad
Though, the method to turn off pop up blocker chrome in both iPad and iPhone is identical, but I've described it below to avoid any confusion.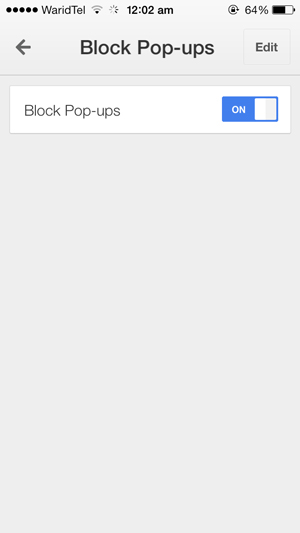 Go to the chrome app.
Now tap the chrome menu, the three dots located on the top of the window.
Go to Settings> Site Settings.
Here, check or uncheck Block pop-ups.
# 2. For Specific Website:
Now, if you have blocked pop-ups for all the websites following the above method and you visited a website which has something important to offer in pop-ups, then what?? Um, don't worry I've a solution for that to0.
Go to the website, which you want to unblock pop-ups for.
Click on the pop-up blocker icon at the end of your address bar.
If you always want to see pop-ups from that particular site, select Always show pop-ups from [www.xyz.com] and click on Done. 
Moreover, you can always manage pop-up blocking settings for a specific website by going to Manage exceptions. For this,
Go to Chrome menu > Settings> Show advanced settings.
Now under privacy, click on Content Settings.
Scroll down to pop-ups and click on Manage exceptions. Here, you can allow or disallow pop-ups for certain websites.
With this, I'm wrapping off the article. I've told you all the possible ways to allow and disallow pop-ups in chrome using the inbuilt chrome pop up blocker.
If you know any other way to block pop-ups in google chrome browser, let us know in the comment section. We would love to hear back from you!