ClickFunnels vs Ontraport are two solutions that may be compared when looking for an all-in-one digital marketing platform and funnel-building solution.
It can be difficult to decide between the two platforms due to the wide variety of available plans and features.
With ClickFunnels, you can get everything you need for your company in one convenient place.
When it comes to leveraging technology, Ontraport is a platform that lightens the load for small businesses.
Find out how ClickFunnels stacks up against Ontraport in the details provided below.
ClickFunnels vs Ontraport 2023
ClickFunnels

There are several services offered by ClickFunnels, which are self-hosted: 
Affiliate management system

Landing pages and funnels

Membership sites

E-mail marketing platform
ClickFunnels 2.0 was launched recently in October 2022. New and improved capabilities are being introduced in CF 2.0.
Because ClickFunnels 2.0 includes so many extra features and capabilities that weren't available in the first version, it's now possible to use it as a one-stop-shop for your online business needs.
Ontraport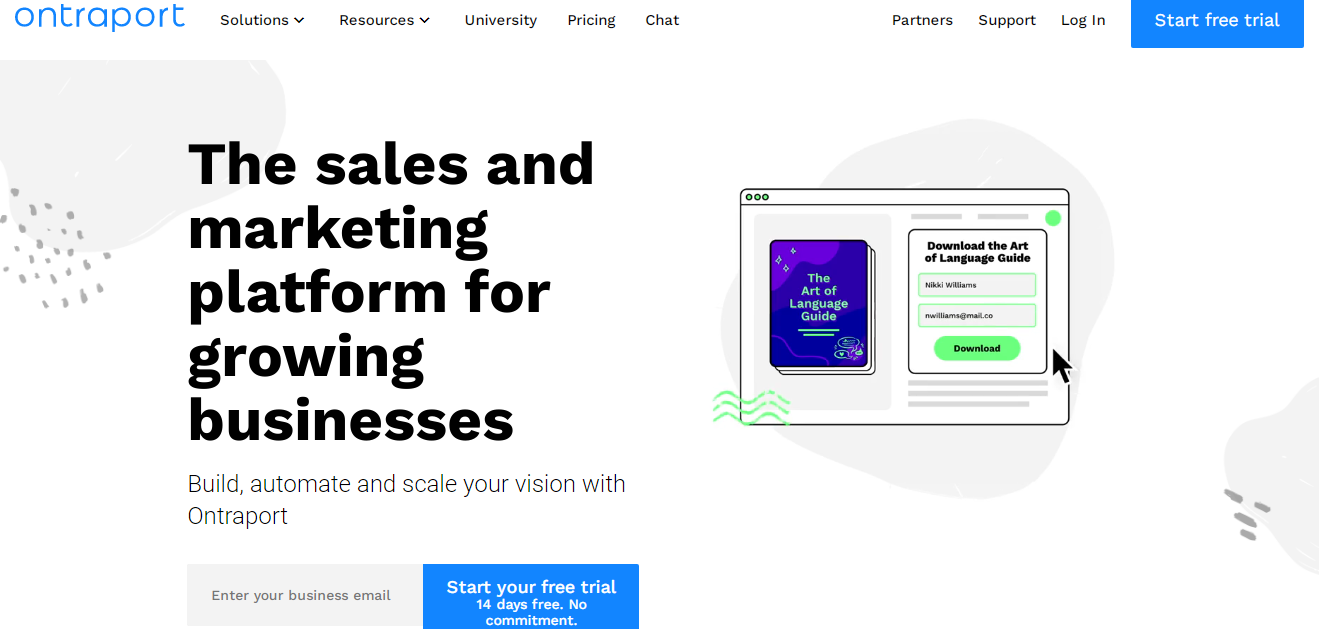 With Ontraport, you get everything you need in terms of CRM, marketing, and sales:
Website builder

Affiliate management system

Landing pages and funnels

Membership sites

E-mail marketing platform
ClickFunnels vs Ontraport at a Glance
Free Trial

Yes, 14 days

Yes, 14 days.

Best For

An all-in-one business tool and sales funnel creator

Those who want an all-in-one CRM & marketing software that can grow their business

Page Builder

drag-and-drop interface

Ease of use

User-friendly interface

There are many tutorials available

Drag-and-drop interface

Ease of use

User-friendly interface

A wide variety of tutorials are available

Most Notable Features

Tools for creating sales funnels

The website builder

Sites for members

Online store funnels for your e-commerce store

Web hosting

System for affiliate management

An e-mail marketing platform

Webinar hosting

Automates sales, marketing, and operations

Built-in landing page builder that leads the industry

E-mail campaigns that are automated

All data in one place.

Management of leads.

E-commerce options and multiple payment gateways
In addition to being great platforms for automating marketing, both have a few key differences:
Fast, multi-channel support is available for all Ontraport accounts (not just the top-tier accounts).

The Ontraport platform provides detailed reports on sales, refunds, leads, and customers. You gain more insight with this granular reporting. 

For the Follow-Up Funnels tool, ClickFunnels requires the Platinum plan. Both platforms let you create e-mails.

Membership sites can be hosted on both platforms. Some management features, including WordPress integration and a Customer Center, are only available through Ontraport. 
The Ontraport platform provides a comprehensive way to automate marketing tasks, including refunds and payments.
ClickFunnels vs Ontraport: A Comparison of Features and Tools
When comparing features, it's important to think about which platform is cheaper.
We also need to look at the price difference between the competing platforms for similar features and talk about whether extra services are needed.
Funnel Builder
Both ClickFunnels vs Ontraport make it easy to build funnels with drag-and-drop editors and ready-made templates that are easy to change.
Which platform gives you the best way to make funnels?
ClickFunnels is simpler and easier to use, and it has a lot more templates.

On the other hand, no matter what level of account you have, you can make as many funnels as you want with Ontraport. But with the Standard plan from ClickFunnels, you can only have up to 20 funnels. Also, if you want to use the follow-up funnels, you will need to upgrade to a Platinum account (e-mail marketing tool).
Page Builder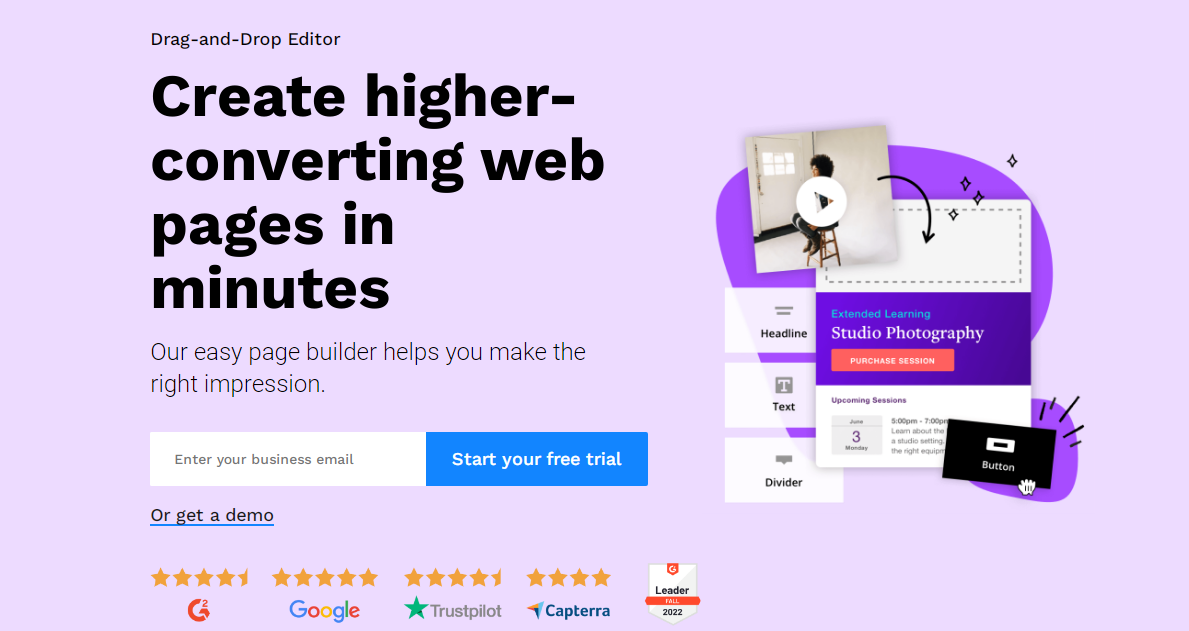 Ontraport and ClickFunnels both offer drag-and-drop  page builders or customizable premade templates.
What is the best platform for building pages?
ClickFunnels makes it easier to build simple landing pages.

You can build pages with Ontraport's drag-and-drop page builder thanks to its integration with WordPress. WordPress, however, adds to the cost. 
Sales & Marketing Features
You can create e-mails and include them in your funnels on either platform, and both offer sales and marketing tools. 
What is the best platform for sales and marketing?
As a result of its funnel-driven marketing and sales approach, ClickFunnels is the clear winner here.

It offers a wide range of features that are designed to optimize marketing and sales funnels.
E-Commerce Features
Ontraport offers a more streamlined way of managing your sales pipeline than both platforms. 
What is the best platform for e-commerce?
E-commerce features are available in ClickFunnels, but running a business involves much more than just taking payments. In addition to refunds and payment issues, Ontraport automates all internal sales tasks. 

With Ontraport, you get an integrated sales solution for your entire company.
Analytics Features
In terms of analytics, ClickFunnels is good, but Ontraport really stands out.
Can you tell me which platform offers the best analytics features?
Ontraport helps you figure out if your sales pipelines are working by giving you detailed reports, complete data, and customizable trend charts. You can easily keep track of your sales, refunds, lead and customer activity, page visits, e-mail stats, and more.

With ClickFunnels' "Follow-up Funnels," you can look at how people in your sales funnel behave on social media and how they decide to buy. To do this, you need to upgrade to the Platinum plan.
Customization Features
The customization features of ClickFunnels are simple enough for beginners to use. Your business will grow much easier with Ontraport's advanced features. 
What platform offers the best customization features?
Creating funnels and landing pages is a breeze with ClickFunnels and Ontraport's drag-and-drop editors. Additionally, both of them offer templates that you can easily customize. 
With Ontraport, you can create a truly unique page for each visitor based on their purchase history, interest, or demographics.
Customer Support
ClickFunnels offers live chat support Monday through Friday from 8 a.m. to 8 p.m.
ClickFunnels tries to answer questions within 24 hours during the week, but wait times may be longer on the weekend.
There is also an official ClickFunnels Facebook group where people can ask questions about a wider range of topics (that is, essentially any subject).
But when you use it, you depend on other users more than the ClickFunnels staff. So, this way of getting in touch does not guarantee quality or wait times.
Ontraport has a Support Center with a knowledge base, a Facebook group, an email service, and a live chat service.
Monday through Thursday, support is available from 6 a.m. to 12 a.m. PST, Friday from 6 a.m. to 9 p.m., and on the weekends from 9 a.m. to 9 p.m. Live support also ends between 1:30 and 2:30 PM on Wednesdays.
Ontraport's customer service is responsive and has an easy-to-use interface, but its hours aren't always the most convenient.
Quick Links:
Final Thoughts: ClickFunnels vs Ontraport 2023
Choose ClickFunnels if: Your website isn't powered by WordPress and you need an easy-to-use sales funnel and landing page builder.
Choose Ontraport if: If you already have a WordPress website, you want an all-in-one marketing and CRM system that helps you grow your business.
Even though the prices of ClickFunnels vs Ontraport look similar at first glance, Ontraport is different because it does more than just funnels.
ClickFunnels is great because it has a builder for sales funnels and landing pages that is easy to use. If funnels are your top priority, ClickFunnels is the best option.
Ontraport is a good choice if you want a solution that does everything.
With this software, you can design and send emails without having to add anything else. With Ontraport, you don't need any other tools to automate your sales and workflow.