In this technology-infused era, everyone wants to have an edge over others. For this, expeditiousness and use of trending technology is a must. Gone are those days when we used to stick to a particular technology for a long period of time.
With the serial advancement, first came the technology of Bar Codes which was derived from the concept of storing some sort of quick information or data in a flat piece. Then came the successor of Bar Codes, QR code (a two-dimensional Bar Code) with some great features.
QR codes facilitated us with the facility of storing data that is very often used such as name, address, contact details, certain URL's, social media profiles and much more, all confined in a square grid comprising of certain standardized patterns.
See Also: How to Find People on Snapchat
QR codes have revolutionized the way that information is being transfered.
So, let's dig a little deeper and find out what are QR codes and How to create QR codes in easy steps.
What is a QR code?
Quick Response codes, often abbreviated as QR codes are a kind of matrix Bar Code or two-dimensional Bar Codes (a machine-readable code represented in the form of patterns of parallel lines and numbers usually used to store information's like price, index of an object to which it is attached ).
QR codes came to us all the way from the technological hub Japan where they were first designed for the automotive Industry.
A QR code uses four industry standard encoding modes to efficiently store information about the item to which it is attached and those are:  Numeric, Alphanumeric, Byte/Binary and Kanji (漢字 logographic Chinese character).
A QR code consists of Square dots (black modules) systematically arranged in a square box with a white background and can be read by imaging devices like scanner or camera.
Fact: the QR code system was invented in 1994 by Denso wave (a subsidiary of Toyota) with the sole purpose of tracking vehicles during manufacture. QR codes can store more than 4,000 alphanumeric characters in a limited space.
What purpose are QR codes used for?
QR codes are quite popular in the industry because of its quick readability and larger storage capacity as compared to the usual Bar Codes.
#1: QR codes can be used to link directly to a URL
#2: QR codes can be used to store data like name, address, numeric values like price, phone numbers etc.
Examples:
#1: One can add QR codes to his/her business cards that could store name, address, contact numbers, links to the social media presence.
#2:  QR codes are quite often used in product packaging.
#3: QR codes can be used in print advertisements to boost reach and earnings.
How to create QR codes in easy steps?
See Also: How to Make Emoticons for Facebook?
If you will follow these steps carefully then you will get to know how to create QR codes easily.
Step #1: Search for an online QR code generator. If you will Google it by the keyword "QR code generator", you will find a plethora of them. Some of them are QRstuff and the QRcode generator. For the sake of instance and simplicity, we will be using QRstuff at first.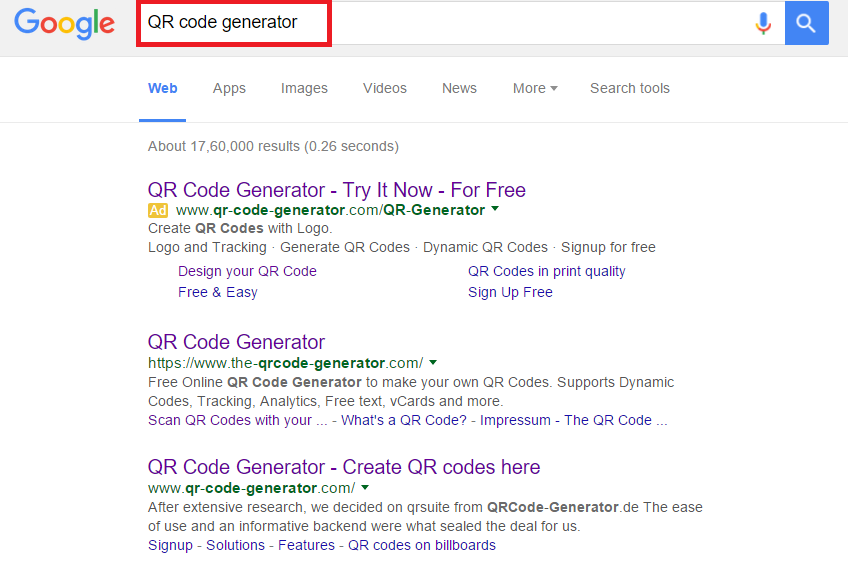 Step #2: Select the Data Type (basically the type of information you wanted to convey through the QR code) of the QR code. You can choose from various options like: Website URL, YouTube Video, contact details etc.
Step #3: Type in the details corresponding to the data type which you have chosen.
Step #4: Select the type of color of the QR code. You can select your desired color from the user-friendly multi-color swatch.
QRstuff also facilitates the user to have a preview of the QR code which has been created.
Step #4: Download the QR code. It equips you with the PNG file of the QR code. Moreover, one can even print and E-mail the QR code directly from the website itself.
QR codes created by these methods will work perfectly fine but going with the paid platforms obviously has its perks, here we list some of those perks:
1: you can edit the content without playing with the design of the QR code.
2: you can have multi-user accessibility for managing QR code campaigns.
3: you will be equipped with the facility of tracking the number of scans corresponding to the geography, device and time.
4: you can have the desired resolution, scalar or vector image, format, and quality.
Here are few paid online websites: QR-CODE-GENERATOR  and Kaywa
Alternatively, one can also use software for creating QR codes easily.
QR codes work like a charm, You have to see it to believe it. Hope we are efficient enough to make you aware of the basics you need to know while creating you first QR code.
If you have any query regarding QR codes, do let us know via comments. We'll surely get back to you and will try our level best to solve your thing.
If this piece added some worthwhile value to your knowledge base, then don't forget to show your appreciation. Do share it on your social media profiles. Thank you for the same in advance.