Before we dive deeper into our guide on how to install cute Tumblr themes, let's get started with the introduction of Tumblr.
Tumblr is a social media platform that allows users to create micro niche blogs known as tumblelogs. Tumblogs are basically charactered limited short blogs, where you can share anything from stories to tv shows, photos, links, videos, art, fashion and what not!
As of now, Tumblr hosts around 275 million different blogs. It's more like a social media website where you can follow your friends and  people of your choice and they can follow you.
Once you start following other blogs on Tumblr, you can view their new posts on your dashboard, reblog them and put comments on them. Well, the list of features of Tumblr doesn't end here.
Unlike other social mediums, you are not restricted to use same boring theme all the time here. You can make your Tumblog look cool by installing cool Tumblr themes, minimalist Tumblr themes, dark Tumblr themes, custom Tumblr themes and a lot more.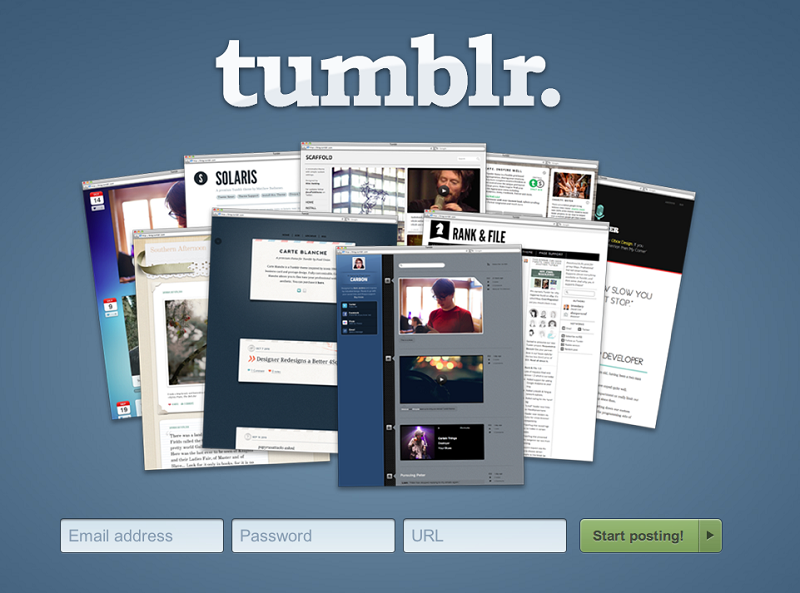 But the question arises where to find such themes and install cute backgrounds Tumblr?? Let's check it out!
How To Install Cute Tumblr Themes:
If you have decided to make your Tumblr look beautiful with best Tumblr themes and don't know how to do it, then here goes your solution, just keep reading. But before we could start installing the cute Tumblr backgrounds, we have to find the Tumblr themes first.
Tumblr themes can be purchased from Tumblr theme garden or Creative Market. The Tumblr theme garden is a big collection of free Tumblr themes and premium themes.
I have divided my guide into two sub-sections. The first section will show you one method to put minimal Tumblr themes or any other directly from the Tumblr theme garden and the second part will show you an alternate method for the same.
#Method 1.
As I said, Tumblr offers a lot of free and premium themes to its users. Check out the below steps to know how to get on to these themes and install them.
Step 1. There are two ways, you can reach to the theme garden. Both the ways I have mentioned below. First of all, click on the Account button, placed on the top right corner. In the drop-down menu, there are two sections Account and Blog. Under Blog, select the one you want to install the theme for. If you don't understand what I mean, see the screen below.
Step 2. Once done, click on the Edit appearance located on the right-hand sidebar, below Posts. The screenshot is given above.
Step 3. On the Edit appearance page, you can see multiple options. One of them is Website Theme. Next to Website Theme there is a button called Edit theme. Click on it. I've given a snapshot below to make you understand better.
Step 4. Now on the Edit theme page, click on the Browse themes option, on the left sidebar. There, you can view all the themes and select one for you.
Step 5. Next to the ALL THEMES option, you'll see a drop-down menu, click on it to view all the categories available. For example Premium theme, Free themes, minimal, grid etc.
You can select any of them as per your requirement. See the screenshot below in case any doubt.
Step 6. The very next moment, you'll be provided with a list of themes available on that particular category. Click on any of them you liked the most.
Step 7. Now it's time to take one step ahead and install the theme. For this, click on the Use button at the top right corner. You'll see this option only after selecting the theme.
Step 8. After doing that, just tap on Save button to save the changes.
Isn't the method simple?? But if you think that it's a difficult method for you, I've given another method to install Tumblr themes.
#Method 2
Another method to install Tumblr themes is given below.
Step 1. You can directly access Tumblr themes by navigating through the URL www.tumblr.com/themes. As sooner you go this URL, you'll see the below page.
Step 2. Now you can browse the themes directly by scrolling the mouse. Those with the blue tag are the premiums themes and rest of the free once. Else you can browse theme as per the category. Click on the down arrow next to the Categories and select the theme as per your need.
Or click on the Popular tab to view the most popular themes.
Step 3. Once you are done selecting the theme, click on it.
Step 4. After clicking, you'll see the same windows we saw in Step 8 in method #1. Rest of the procedure is same. Just preview the theme and install it, if you liked the preview.
That's it. You are done. For a newbie, changing Tumblr theme can be a little tricky but if you are used to of it, I'm sure you find it easy. It's not a one-click procedure, though. But once you know the procedure, its just a matter of few clicks.
By following any of the above-given methods, You can install a number of cute Tumblr themes, and make your Tumblr look cool and attractive. Because seeing the same thing, all the time can make you feel bored!
Do you still think that installing new themes on Tumblr is difficult?? I guess No. In addition to this, you can even customize the themes further and can tweak its design, color, and fonts, if you want. All you need to have is the choice and this guide, through which you can know the procedure to do this.
If you liked the guide, please share it on your social mediums. We'll really appreciate it. And if you have still any doubt, comment below, we are here to help.