Being an avid user of the Mac devices, I recently had a rather chilling experience when I authorized a friend's PC to access my iTunes account. I won't bother with the details, but it's safe to say that it's not a mistake I plan to repeat ever again. Since I had a bit of trouble figuring out how to Deauthorize Computer iTunes, I decided to make a note of it to share it with all of you.
Deauthorize iTunes Computer is a fairly simple process, but nothing is simple when you don't know about it, and there is more than one way to do it as well. With this in mind – its important to understand the structure of iTunes and why it is the way it is.
See Also: How to Authorize a Computer on iTunes
About iTunes Access
iTunes uses an electronic authorization system to make sure that only a select group of computers can access your purchased music, videos, and other content at any given time.
You should deauthorize iTunes from a computer that you've allowed access to, before getting rid of it or reinstalling Windows.
The authorization system is based on  DRM(Digital Rights Management) guidelines, it's made specifically so that it limits access to your purchased content to other people.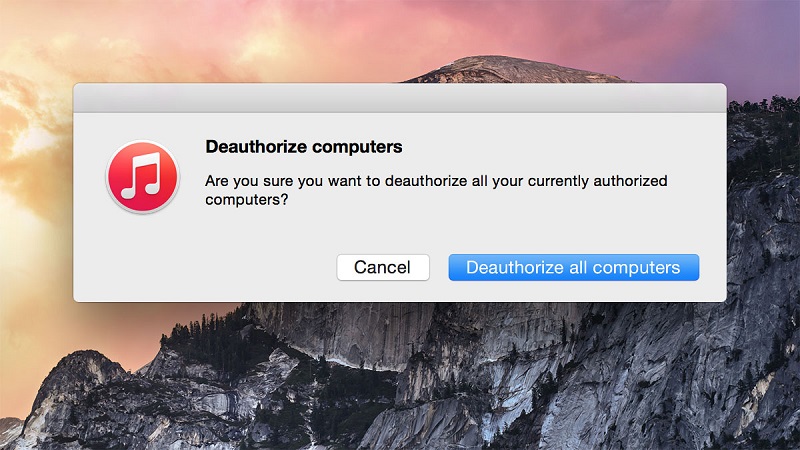 You have to grant access to a computer (Mac or Windows PC) in iTunes before that computer utilize your Apple ID to download and use all of your purchased music, eBooks, audiobooks, apps, and other media content. Thankfully this only applies to media with DRM.
Most of the music on iTunes don't implement DRM, so you don't have to grant authorization on a computer to play them.
Up to five authorized computers can be logged on to your Apple ID at the same time. Macs and Windows PCs both count towards this combined total, so keep this in mind when you grant access to a system.
On the bright side, iOS devices aren't counted towards the authorization limit tally, so you connect numerous iPhone, iPad and iPod devices to your iTunes account to access all your content remotely without a PC.
How to Grant Access a PC to use your iTunes Account
Authorizing a computer is a very easy process. On Windows – just click the menu button in the iTunes window, point to the iTunes Store tab, and click "Authorize This Computer".
On the Mac, all you have to do is go to the Store menu and select the same "Authorize This Computer" option. On the window that appears, enter your Apple ID credentials to Sign in and finish the process.
Once you do this, your PC should be allowed to download, sync, and play all of your iTunes purchases and data.
How to Deauthorize Computer iTunes
If you're thinking "how to deauthorize iTunes on a computer" – the most convenient way of doing so on iTunes is the "Deauthorize This Computer" menu option in the same place as the "Authorize this Computer" (It shows up once you authorize the PC).
This handy little menu option will remove the authorization on the said PC, preventing purchased iTunes content on your Apple ID from being accessed or downloaded on the computer.
See Also: How to Transfer Music from iPhone to Computer
You should deauthorize your computer compulsorily in some cases. Like:
When you're about to uninstall iTunes from a PC
If you're about to reinstall Windows or other OS's on your PC
When you're done with your computer and want to get rid of it.
If you don't plan on using your purchased iTunes content on another computer and you've already capped the limit of PC's you can connect to it.
When your computer dies
It's also advisable to deauthorize your PC before you upgrade its hardware. If you fail to do this, iTunes may count it as a different computer and allot multiple authorizations to it.
Deauthorizing a computer when you're not using iTunes on it is important since it gives you back one of your limited five authorizations.
How to Deauthorize iTunes on a Dead Computer
If your computer dies and you can't deauthorize iTunes from it, or you get rid of your computer before deauthorizing iTunes, you probably have misallocated authorizations.
The old systems you used to count towards your maximum of five authorized computers unless you deauthorize them. If you repeatedly authorize iTunes on different computers or reinstall your OS frequently, you may soon be unable to access any of your synced content (Paid or not) because all your authorization allocation spots are filled with your old PCs and OS's.
The good news is Apple only allows you to fix this – the bad news is that there's only one way to do this. Instead of accessing your account and remotely disabling individual computers' access, you have to deauthorize all computers' iTunes attached to your Apple ID in one go.
To do this, go to the iTunes Store in iTunes and log in to your Apple ID. Click the name of your Apple ID once your logged in, and select Account to open up the Account Settings tab.
Here, you will find the "Deauthorize All" function placed next to the Computer Authorizations tab. This button appears only if you have multiple computers authorized on your Apple ID.
Click and grant permission to your Apple ID to remove all the authorizations from all the authorized computers, allowing you to start authorizing computers from scratch.
See Also: How to Reset Apple ID Password Easily
That concludes this little shindig of information I wanted to share with you. Remember, Apple is really strict about its policies, and if you're not aware of them, it's easy to get confused and frustrated at the way your Apple products work.
So when you buy a product from Apple, do some due diligence and read up on the manual and online about things that other people are confused and frustrated about. It's a lot better than making stupid mistakes with your account and blaming the company we all love for incompetence and over prioritizing security.
It was a lot of fun writing this article for you, and I hope you enjoyed it. As an Apple enthusiast, I hope I helped you all solve whatever problems you had with your iTunes access and helped to learn to Deauthorize Computer iTunes. Have fun using it!