Internet Explorer needs no introduction. It is the inbuilt internet browser that comes with every Windows machine.
IE was a widely used browser having made its first appearance in 2002. But the success of Mozilla Firefox and Google Chrome has given strong competition to IE, thereby preventing it from grabbing more market share.
But still, many people still use the default browser bundled with Windows. Developers can't just avoid IE as many legacy software is made to support only Internet Explorer.
That's why today I am here with a post that makes every IE lover happy. Microsoft had rolled out many Internet Explorer updates. But we can't trust any of them blindly.
If you are using IE 11, you might have faced many issues with it. Many users have reported issues in it. So, in this post, I am sharing a way to downgrade IE 11 to 9.
How to Downgrade IE 11 to 9?
You may feel this task a walk in the park. But, the fact is different. You can't just uninstall IE 11 as any other software and install IE 9 right away with a setup file.
In the case of ordinary software, you have to open Programs and Features (Windows 7). Then, double click on the particular software you want to uninstall from a list of all. The process will be started soon.
If you want to install an earlier version of the same software you have just uninstalled, downloading the setup file and installing will work. But it is not the same case with IE.
The main problem is it can't be seen in the list of all software. When you try to install IE 9 from an executable file, you will get an already installed warning (Refer to the image given below).
Is it really a walk in the park?
Now, we can proceed to the following steps to downgrade IE 11 to 9.
Step 1: Open Control Panel. For that, click on the Start button or hit the Win key. You will get the start menu. The Control Panel option is available on the right column. Click on it.
Step 2: You will see a window like an image given below. Here, every control option is available for your computer. Click on Uninstall Programs under Programs.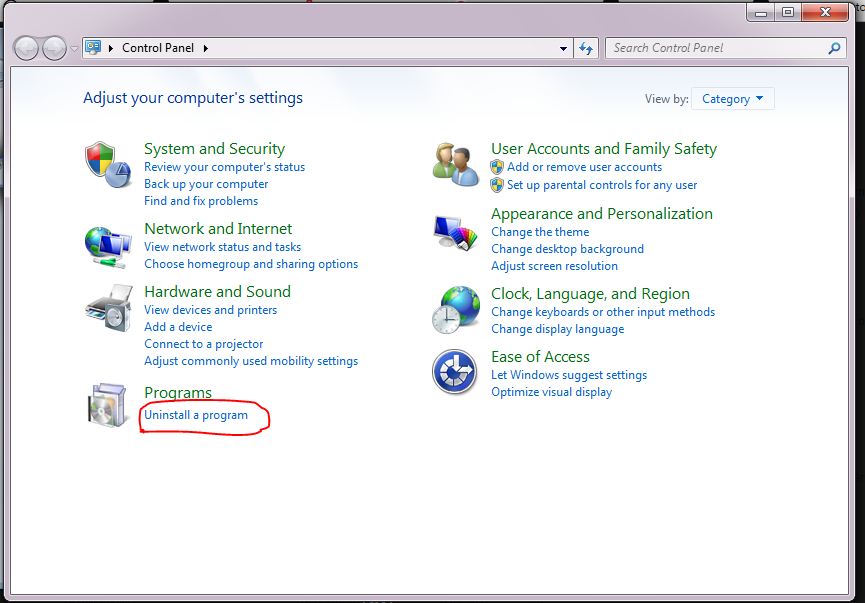 Step 3: Now, a list of installed software will be shown. If you are still hesitant, check yourself in the list to find Internet Explorer. You can't find any system application there.
So, Click Turn Windows Features On or Off.
Step 4: You may be asked for administrator access. Click on Yes if it prompts. A small window will get opened which asks you to Please wait.
After some time, you can again see a list of checkboxes.
Step 5: Uncheck Internet Explorer 11 folder. Microsoft never wants to see their users turning off default services. So, they will give you a caution.
See the image given below to see what exactly they say. Don't hesitate to choose Yes. Click OK to save your latest change.
Step 6: Click on View Installed Updates just above Turn Windows Features On or Off using that you have unchecked IE 11.
Step 7: Now, you will be shown with a list of updates. As IE 11 is an upgraded version, you can spot it right there.
Right click on the same and choose Uninstall.
(If you are flooded with a massive list of updates, utilize the search bar to find IE 11).
Step 8: Windows will ask you to restart the system. In case you want to use IE urgently, restart without any delay by selecting Restart Now. Or else, go with Restart Later option.
Step 9: After restarting, open Internet Explorer. You should confirm the version of IE, which you have now on your PC.
Step 10: Click the gear button on the right top of the IE window and below the title bar. You will get a menu with 10- 11 options. Select About Internet Explorer at the end.
You can see something like this.
See, mine was downgraded to IE 10. But seriously, you need to downgrade IE 11 to 9, right? What to do if you get the same outcome.
Follow Step 11.
Step 11: Don't worry. You can quickly revert the version to 9. Repeat the process from Step 6. (Note that you will see Internet Explorer 10 everywhere. So, you have to uninstall the same as you have already done 11).
That's all. You now know how to downgrade IE 11 to 9.
What do You Think?
I have provided you with an easy and step by step process to downgrade IE 11 to IE 9. The process is very simple than you think. You were not aware of the solution. That was the problem.
Now, you have got everything. Try yourself to downgrade IE 11 to IE 9.
Follow the exact steps given above. I am sure that it will help you. In case of any issues, feel free to ask via comments.