Many browsers are out there, Mozilla Firefox, Google Chrome, Opera, Netscape, Microsoft Edge and the notorious Internet Explorer. Don't get me wrong! Most of the people don't IE due to its clumsiness.
But if you are a conservative computer user who doesn't like to surf the web without Internet Explorer, it's better to upgrade to IE 11 or just download it. Things are much better with that version.
So today I am here to help you download Internet Explorer 11. Don't worry I will also show you how to download the latest Internet Explorer.
How to Download Internet Explorer 11?
Internet Explorer aka IE is the silent companion of Windows. Most probably it is the software, which is present on most of the computers with the least usage. People just started ignoring it with the arrival of Firefox and Google Chrome.
I have divided this tutorial into several sections. If you are a Windows 10 user, there is no need to download IE 11 as your Internet Explorer is already 11 version. So bear in mind that, this is the tutorial for those who use Windows 7, 8 and 8.1.
How to Install Internet Explorer 11 via Windows Update on Win 7?
Follow this guide to download IE 11 if you are a Windows 7 user. Here, we are going to make use of the default Windows update feature on the OS.
Step 1: Open Control Panel. I hope you know where it locates. Then follow the same path as Control panel>> System and security>> Windows update. Or, directly get the Windows update screen by searching for it on the start menu.
Step 2: There, you can check for the latest updates. The process may take a while depending upon the speed of your internet connection.
Step 3: Have a look at the optional tab. There, you can see the latest update of Microsoft Internet Explorer 11. Turn on the checkbox on the left side of the same.
Step 4: Click on OK (You can select any other update you want to download).
At this stage, you will get another window from where you should select the Install Updates button.
Step 5: Now, you can see a progress bar of the updates get downloaded. After every update you selected gets downloaded, the installation process will be started.
Step 6: Then, a Restart now button appears because the entire process and updating of certain files can't be done as the system still use them. So, a restart is highly recommended if you want to get the process finished at once.
That's all. You can see the new icon of Internet Explorer 11 as a quick launch icon on startup.
How to download and Install Internet Explorer 11 Manually?
Sometimes, you don't like to update IE via Windows updates. In such a scenario, the manual downloading is the best you can do. The perk of doing it is, the process can be done with a download manager like IDM to boost the speed.
Follow the steps given below to know how you can install IE 11 manually.
Step 1: Click here to get into the official download page of Internet Explorer.
Step 2: There, you can see some versions. As you can see in the image, the versions are classified based on the language. The first step is choosing the language you want to download IE in.
Step 3: Look at the right drop-down menu to select the platform. You will get three options, Windows 7 SP1 32 bit, Windows 7 SP1 64 bit and Windows Server 2008 R2 SP1 64 bit. Select any one of them that suits your computer.
Step 4: Click on the Download button to the right of every chosen option. You will see the simultaneous beginning of the downloading process. If you have a download manager installed, proceed to the steps involved with it.
Step 5: Find the downloaded executable file and open it. You may be asked to provide admin rights. Do it right away and proceed with the entire installation process.
Step 6: A restart is needed here too. So, do it without any delay.
That's all. Now, you can see that the icon is updated a bit.
Alternative way
Do you want to know how to download Internet Explorer 11 without visiting the official Microsoft website? Follow the steps given below then.
Step 1: Click here to go to Filehippo's Internet Explorer 11 downloading page. (I expect you already heard about Filehippo. It's a platform for free desktop tools).
Step 2: On the right side of the screen just a few inches down below, you can see a green Download button. As you can see in the image, the setup file is only 29 MB.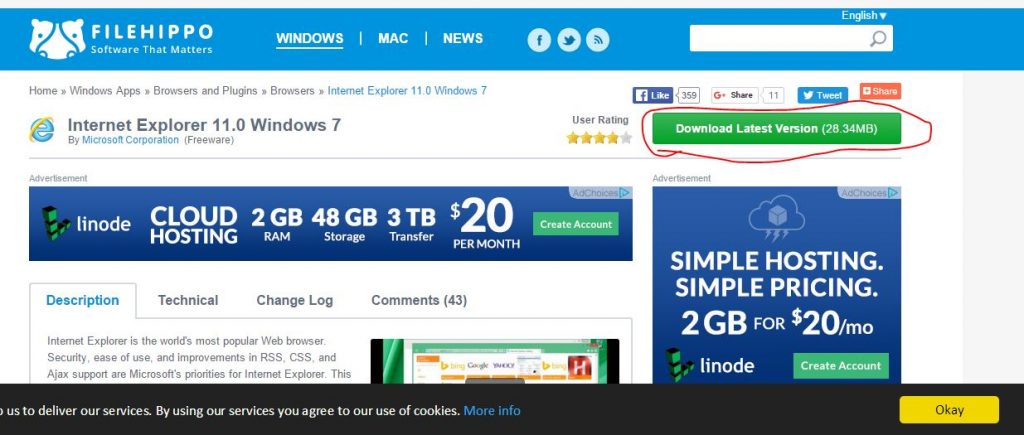 Step 3: Proceed with the download process and locate the downloaded file when the process gets finished.
Step 4: Open the setup file and go with instructions given by the setup. That's all. In a while, you will see that the Internet Explorer gets updated.
Want to Download Every IE Updates Automatically?
A question may haunt your mind that is how do I update internet explorer automatically? You can set it up with a few steps in an easy manner.
Step 1: Go to Control panel>> System and security>> Windows update.
Step 2: You can see a left pane there. Check for Change settings there and click on it.
Step 3: Lookout for Important updates. There click on the drop-down menu that says It should say Install updates automatically (recommended).
Step 4: Then, choose Download and to install. And finally, click OK to save the settings.
From this moment, your system automatically downloads when an update becomes available.
Haven't You Downloaded IE 11 Yet?
I hope you understood how easy it is to download and install Internet Explorer 11. Choose any method I have given above and proceed with the process.
The second step (Manual installation) works with everyone. So you will not have any issue using it.
If you are a Windows 10 user and craving out to use a default browser, migrate to Microsoft Edge soon. It is better in every mean comparing with Internet Explorer.
If you face any issue in updating IE, let me know in the comment section down below. And as always, do share this post with your fellas on social media.