We know many web browsers. Google Chrome, Mozilla Firefox, Opera, Internet Explorer and finally Microsoft Edge. Then, what on the earth this Safari can do??
Every browser has something unique to it. Even the IE has its own benefit. And you know what? Still many people prefer Internet Explorer over other browsers.
Likewise, there are tens of thousands of people using Safari over other browsers. Why they do this??
I will give you some of the incredible features of Safari at the end of this article.
So, now let me tell you how to download Safari for Windows.
How to Download Safari for Windows?
See Also: How to Turn on Bluetooth in Windows 10
As we all know, Safari is an Apple product. Apple is very protective of their product. That is the case of Safari too. No official methods are available to download Safari for Windows.
Here, I am sharing some unofficial ways to get Safari to your Windows computer.
Method 1: Use Filehippo
Filehippo is a freeware sharing website. You can download tons of freeware and demo software from Filehippo.
#1. Click here to visit Filehippo (or, enter filehippo.com into the address bar of the browser).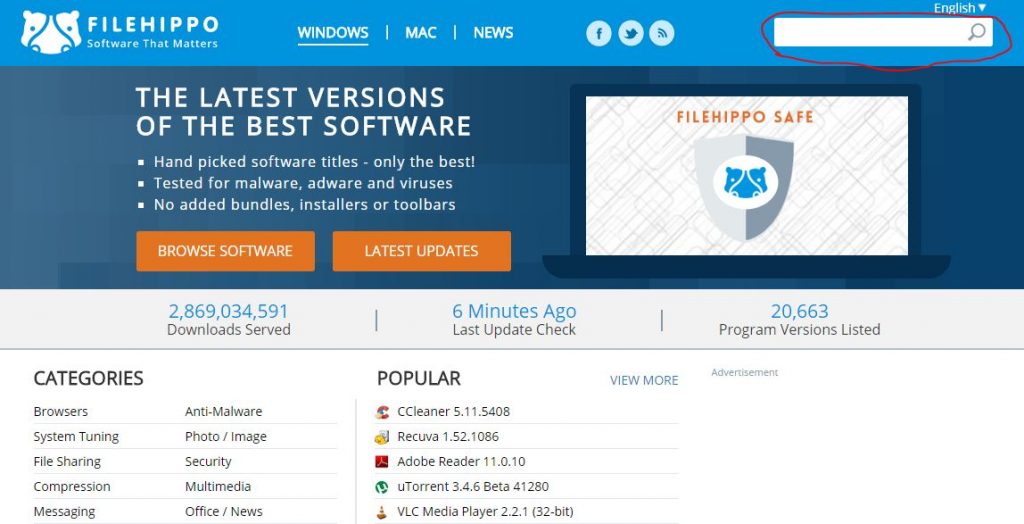 #2. On the top right portion, you can see a search field. Just type Safari for Windows in it. And, hit Enter or click on the magnifying lens icon to the right of the field.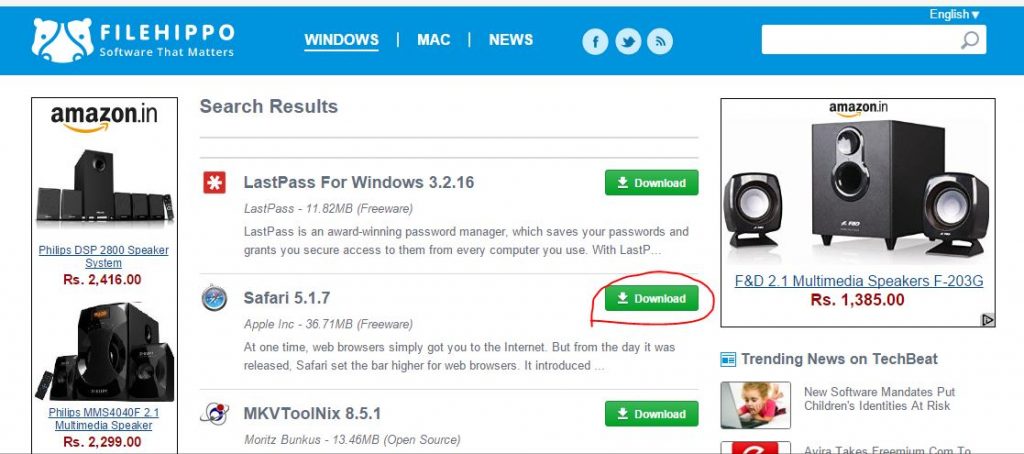 #3. You will get a list of results. As you can clearly see in the image, Safari is shown as the second result. Click on it.

#4. On the next page, a greenish download button will be provided indicating the file size. Click there.
#5. You will see a page like the above image (see background). After a few moments, the file will be started downloading. (I am using Internet Download Manager. That's why I got an additional dialogue box).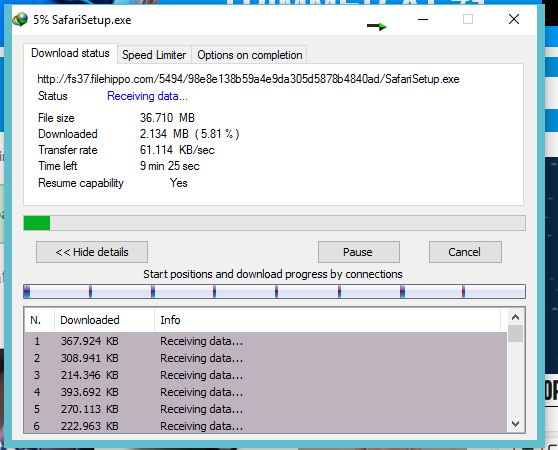 #6. The download process will take some time according to your internet speed. When the downloading gets completed, open the set- up file (the one you have just installed) and proceed with the installation.
Hey, congrats. Mission accomplished. You can now use Safari on your Windows machine now.
Method 2: Use Softpedia
Softpedia is a similar to Filehippo. It is also used to download free Windows, Mac, and Linux Software.
Step 1: Click here to visit Softpedia.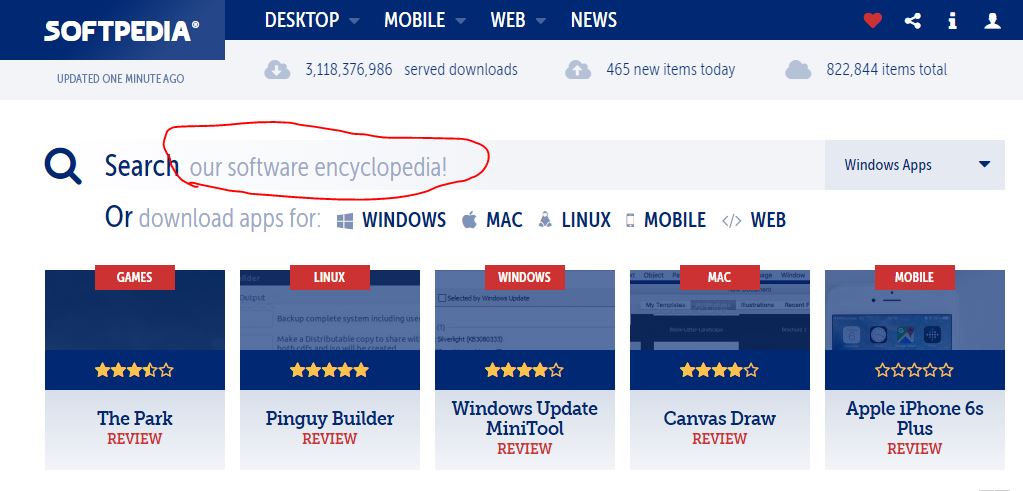 Step 2: On the homepage, you can see a search form just below the logo and navigation bar. Click on it and enter Safari for Windows. Then, press enter.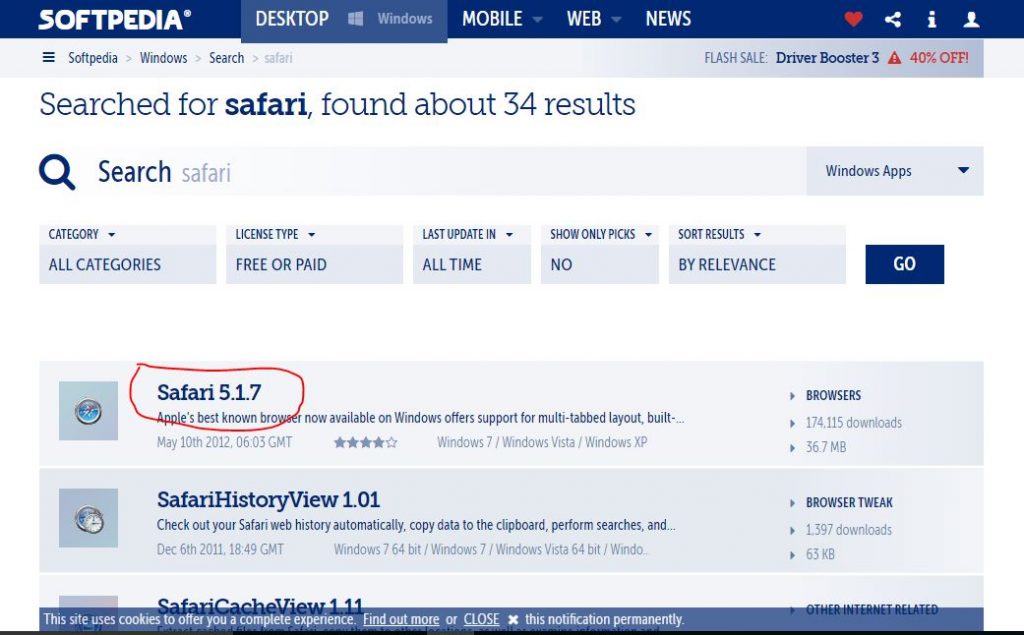 Step 3: I got Safari as the first result (check image). Click on Safari.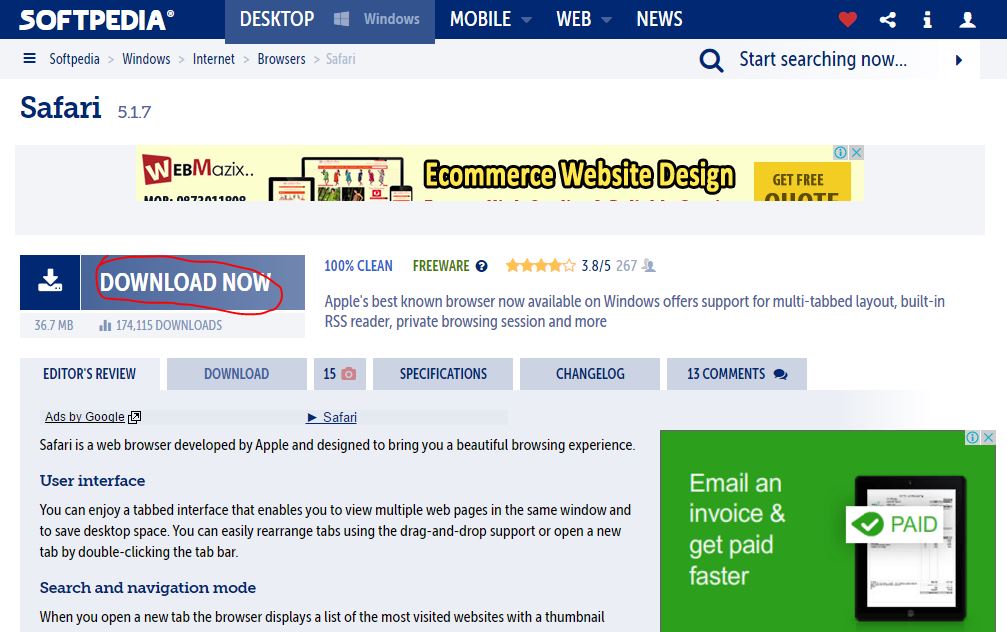 Step 4: Click on Download Now from the upcoming page.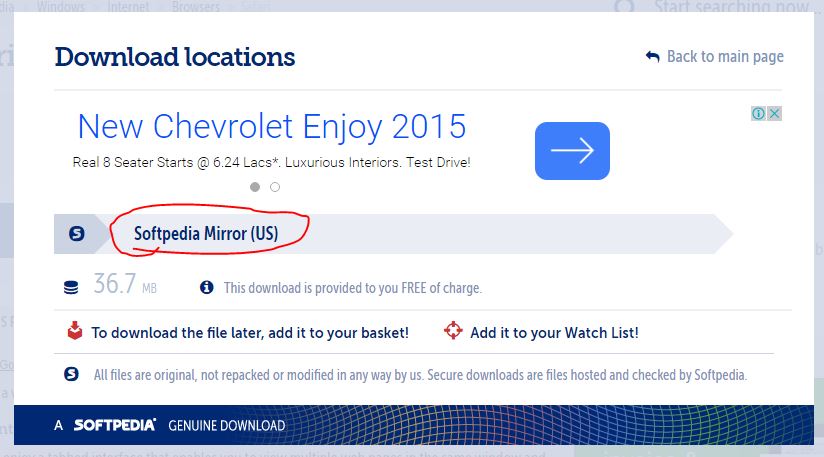 Step 5: You will be asked to choose a mirror. Here, I got only one mirror. If you too get the same, click on it.
Step 6: The download process will be started in seconds. When the task is completed, proceed with the installation.
That's all. Now you know how to download Safari for Windows.
Features of Safari Browser
See Also: How to Speed Up Windows 7 Performance
Safari web browser was first released in 2003 with Panther version of Mac OS X. Since then, Safari is the default web browser in Mac.
A mobile version is also available for iOS devices. I already told you that no official downloading methods are available for Windows version of Safari.
Then, what you get from Filehippo and Softpedia are illegal??
Not at all. Apple made Safari for Windows in 2007, and it was available on the official site until 2012. Then, Apple decided to discontinue the Windows version.
The following are some of the remarkable features of Safari web browser.
#1. Elegant User Interface
The UI of Apple products allures everyone. Safari web browser is not an exception. Its minimal interface helps you focus on the web content rather than on the browser itself.
#2. Easy Bookmarks
We all know the use of bookmarks. The greater the number of bookmarks, the clumsier bookmarks menu becomes. But Safari makes it easy and organized.
#3. Snapback Button
Every one of us makes use of search bar in browsers. What if you want to land on the search results page by a single click even though you are pages away from it? Snapback button on Safari helps you to do the same.
#4. Resizable Text Fields
Not every website allows you to resize the text fields. But if you use Safari, you can resize any text area even though the site does not permit it.
Wrapping Up
I have provided you two easy ways to download Safari for Windows. It's so easy that a primary school student can do this.
I hope you have grabbed something helpful from this article. Share it with your peeps so that this would benefit to them too.
Chances are less for you to have any doubt regarding the Safari download for Windows. In case of an issue, the comment section is waiting for you. Let's talk there.