Are you tired of trying to manage every aspect of your ecommerce store? Finding reliable suppliers can be a daunting task, especially if you're just starting out.
That's why dropshipping is becoming increasingly popular – it allows business owners and entrepreneurs to access quality products without managing their own inventory or dealing with the hassle of traditional wholesalers.
In this blog post, we'll discuss how to find the best dropship companies and suppliers for your ecommerce store so that you can get up and running quickly.
Plus, we'll cover common tips to ensure successful business relationships with these types of third-party providers. Read on if you're ready to build an efficient supply chain for your online shop!
Dropshipping Companies & Suppliers for Ecommerce Store 2023
1. Spocket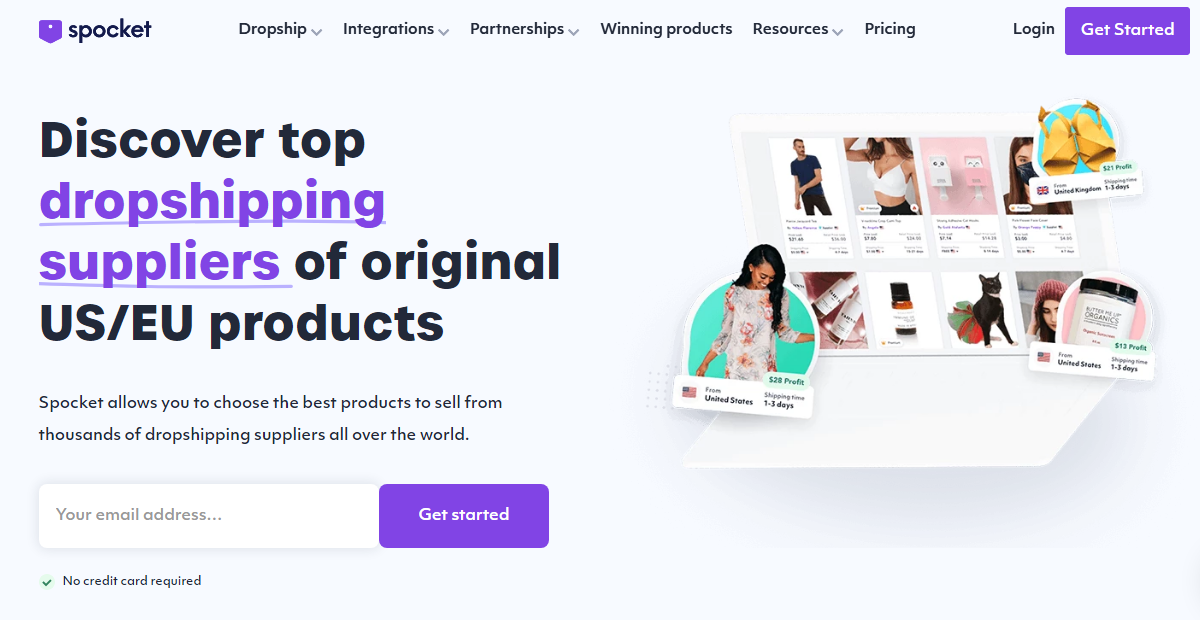 Spocket is a great platform for ecommerce entrepreneurs looking to start their own dropshipping business.
Dropshipping can be a daunting task, as you have to find reliable suppliers and wholesalers that offer products at competitive prices.
The good news is that Spocket makes this process much easier than it used to be.
With Spocket, you'll get access to an extensive catalog of over 20,000 suppliers and manufacturers from the US, UK, Canada, Australia, and Europe.
All of these suppliers are vetted by the company itself so you can rest assured that they all meet high quality standards.
Plus, they have low minimum order requirements which makes it easy for small businesses and those just starting out. 
The platform also allows you to easily import products from different suppliers into your store with just one click.
This means that you won't have to manually add each product individually or learn any new software platforms in order to get started.
You'll also be able to set custom pricing on products if you want to increase your margins or take advantage of promotional offers. 
In addition to importing products quickly and easily, Spocket also provides tools that will help streamline other aspects of your business operations such as order management and fulfillment tracking.
This includes automated invoicing and tracking capabilities so you'll always know where your orders are at any given moment in time.
Plus, the company also offers customer support via email or live chat in case you run into any issues along the way. 
Overall, Spocket is a great platform for entrepreneurs looking for an efficient way of starting their own dropshipping business without having to put in too much effort or money upfront.
With its extensive supplier database, automated product import capabilities, order management tools and customer support options; this service offers everything needed for launching a successful dropshipping store with minimal resources required from the user's end.
2. SaleHoo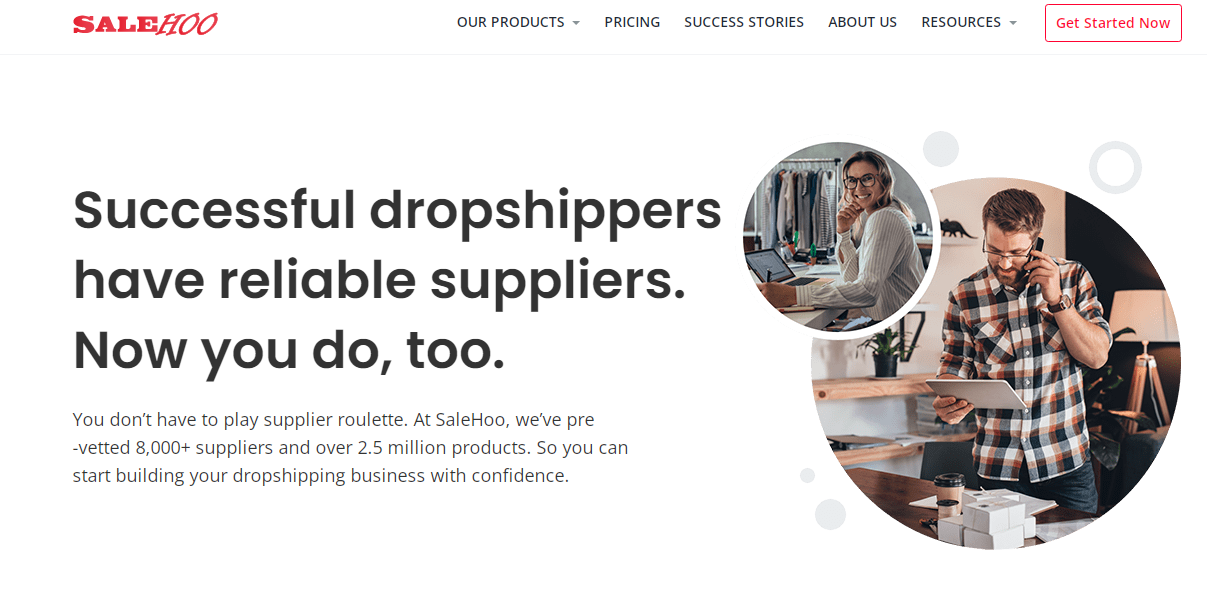 If you're looking to start an ecommerce business, it can be difficult to find a reliable supplier. You need a company that offers quality products, competitive prices, and fast delivery times. This is where SaleHoo comes in.
SaleHoo is an online marketplace for dropshipping companies and suppliers.
It connects entrepreneurs with suppliers who offer products from brand-name manufacturers, as well as unique items from independent sellers.
The service provides detailed product information—including product images, descriptions and features—as well as customer reviews and ratings. 
SaleHoo makes it easy to find the right supplier for your business needs. Their directory contains over 8 million products from more than 1 million suppliers across 100 countries.
You can browse by product category or search by keywords or price range if you know what you're looking for.
SaleHoo also offers advanced sorting and filtering tools so you can narrow down your search results quickly and easily. 
When you find a potential supplier, SaleHoo allows you to contact them directly through their website or email address provided on the supplier page.
You can also read reviews of the supplier from other customers in the comments section which helps you make an informed decision before committing to any purchase orders with them. 
In addition to helping entrepreneurs find trusted partners, SaleHoo also offers resources such as tutorials, forums, blog posts and webinars to help educate its users about ecommerce best practices like setting up your own store or using third-party platforms like Shopify or Amazon Marketplace. 
They also offer support if there are any issues with your order or returns process which is helpful if something goes wrong during the transaction between yourself and the supplier.
Furthermore, they have a team of experts available who can provide tips on how to optimize your store's sales performance or advice on cost saving techniques such as negotiating better pricing with suppliers if necessary. 
Overall, SaleHoo is a great resource for entrepreneurs who are looking for reliable suppliers at competitive prices while learning how to run a successful ecommerce business at the same time.
With access to over 8 million products from 1 million suppliers worldwide plus helpful resources and support services, SaleHoo makes it easy for entrepreneurs to find what they need without breaking the bank on unnecessary costs!
3. Modalyst
Modalyst is a global dropshipping platform that connects independent stores to suppliers they would not otherwise be able to access.
It enables entrepreneurs and small business owners to easily source products from hundreds of established brands and boutique wholesalers, including many that are not available elsewhere.
Modalyst has over 1 million products from over 10 thousand different suppliers, offering everything from apparel and accessories to electronics, home goods, and beauty items.
Every product found on the platform is ready for immediate dropshipping with no minimum order requirements, making it easy for online retailers to quickly expand their inventory and capitalize on timely trends. 
In addition to its vast product catalog, Modalyst offers store owners several features designed to make managing their store easier than ever before.
With real-time tracking information, stores can stay up-to-date on the status of their orders so they can answer customer inquiries without delay.
And with automated ordering process technology built into the platform, orders are sent directly from Modalyst's website straight to the supplier's warehouse – eliminating manual input errors – meaning stores can trust that all of their orders will be fulfilled as expected.
Furthermore, Modalyst provides analytics tools that help merchants measure their store performance so they can constantly improve efficiency and profits while staying competitive in today's dynamic ecommerce environment. 
Modalyst makes finding quality dropship suppliers quick and easy –
Just create an account on the platform by registering your shop name and website URL;

Select which countries you'd like products shipped from;

Add payment information;

Integrate your store with one click;

Fill out any necessary documentation (required by some suppliers);

Approve supplier applications (if desired);

Then search for products or specific brands directly on the platform or via Modalyst's Chrome Extension applet or Apple App Store app extensions (recommended).
There are also no monthly fees or commissions charged when using Modalyst; merchants just pay a wholesale price plus shipping costs each time an item is sold through their online store – simple! 
So if you're looking for new ways to expand your ecommerce business profitably without breaking the bank upfront, look no further than Modalyst!
With its expansive catalog of reliable dropshippers offering high-quality products at incredibly low prices combined with powerful analytics tools designed specifically for managing a dropship business more effectively than ever before – what more could any shop owner ask for?
Get started today and take your dropshipping venture to new heights!
4. AliExpress Dropshipping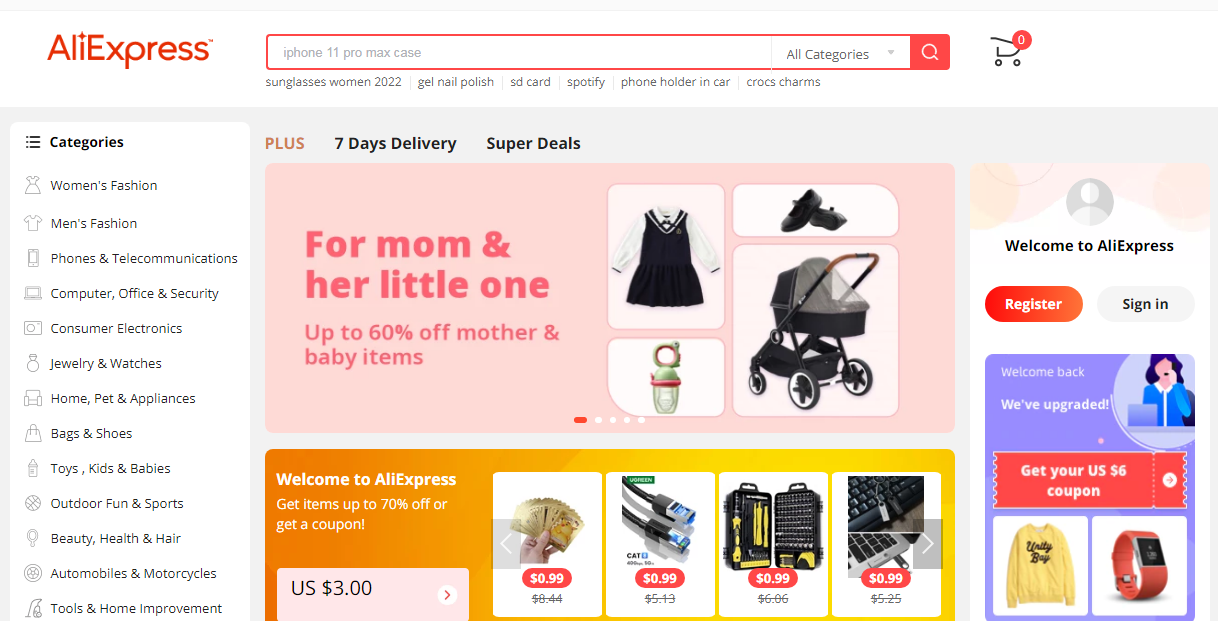 AliExpress Dropshipping is a revolutionary way of doing business that has become increasingly popular in recent years.
It provides entrepreneurs with the opportunity to start their own online stores without needing to maintain a large inventory or invest significantly in product sourcing and logistics.
By leveraging AliExpress as their dropshipping supplier, merchants are able to benefit from reduced overhead costs, lower risk, and more convenient shipping options. 
In this type of business model, an AliExpress dropshipper works as the middleman between the manufacturer and customers.
They purchase items from China-based suppliers at low prices, then ship them directly to customers.
This allows merchants to focus on marketing and customer service rather than managing inventory and dealing with international supply chains. 
The key advantage of using AliExpress for dropshipping is having access to thousands of products from different manufacturers without holding any physical stock.
This means entrepreneurs don't need to worry about overstocking or having unsold items sitting around in storage.
Furthermore, merchants can reach new markets with ease thanks to AliExpress's worldwide network of suppliers – giving them unprecedented access to global consumers at minimal cost. 
When it comes to setting up an AliExpress dropshipping store, there are several steps you will need to complete first: 
Register your store with AliExpress – You can do this by creating a free account on the site; 
Choose products – Pick products you would like to sell based on their popularity, quality, price and reviews; 
Configure your store – Set up payment methods like PayPal and credit card processing, tax settings and shipping options; 
Promote your store – Use social media campaigns and other digital marketing strategies such as SEO & PPC ads; 
Process orders – When customers place an order for your products via your store or marketplace sites such as Amazon or eBay, you'll need to forward the order information onto your product supplier who will then ship the item directly to your customer.  
Using AliExpress for dropshipping is an attractive option for merchants selling light products such as clothing accessories or electronic items since it doesn't require significant upfront investment or long-term commitment.
Moreover, since many sellers offer competitive wholesale discounts when buying in bulk (especially during promotional periods), you can achieve substantial savings compared with traditional brick-and-mortar businesses where product acquisition costs are typically much higher due to inventory expenses.  
Finally, by taking advantage of AliExpress' extensive network of suppliers across China and beyond (including Hong Kong & Taiwan), entrepreneurs can also get access to unique items not available elsewhere.
Giving them a competitive edge over others in their niche market while simultaneously allowing them to reduce overhead costs associated with product sourcing & international shipping.
5. Doba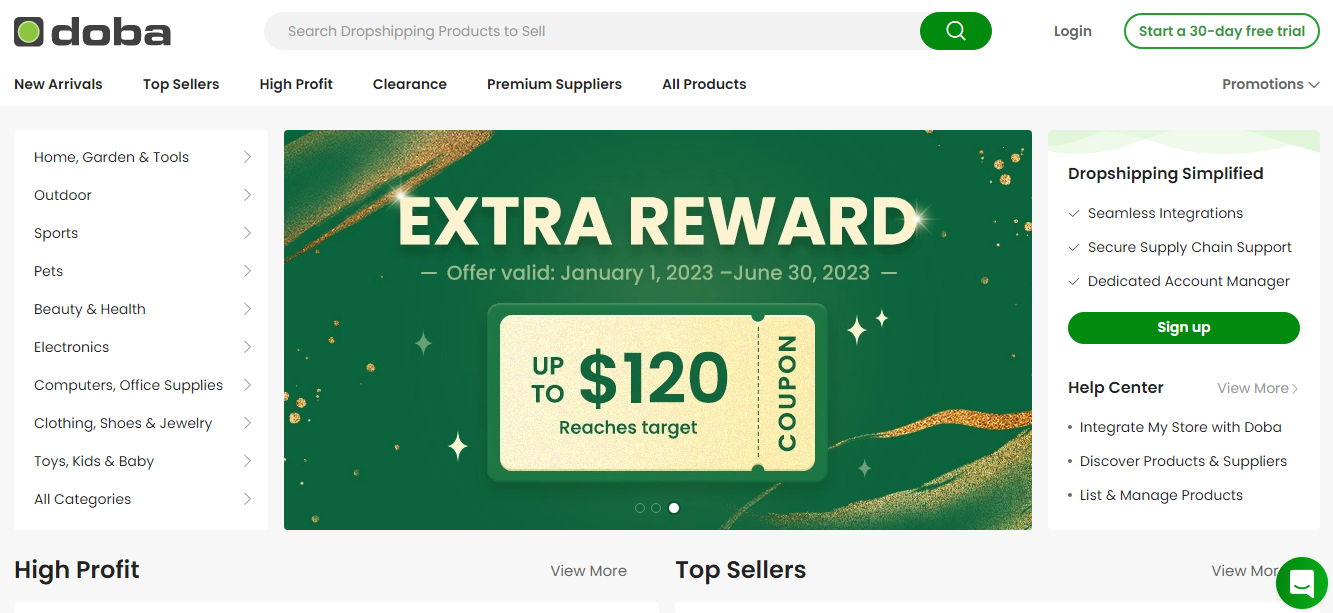 Doba is an online platform that helps people find companies to dropship their products.
It allows businesses to access a wide variety of products and manage orders directly from the company, eliminating the need for a middleman and saving time.
Using Doba, entrepreneurs can easily search through over 2 million products from hundreds of suppliers and wholesalers.
The platform also offers customizable filters to help them quickly find the exact items they're looking for.
Businesses can then purchase the items at wholesale prices with no minimum order requirements, allowing them to save money on their inventory costs.
Once purchased, Doba will automatically send orders to the supplier, who will then ship it directly to the customer.
This allows businesses to focus on marketing and selling their products rather than managing inventory or dealing with shipping issues.
Furthermore, Doba charges a flat fee for all orders – there are no hidden fees or additional costs associated with using the service.
In addition to offering high-quality product sourcing solutions, Doba also provides other tools that can help entrepreneurs increase sales and improve their bottom line.
For example, they offer a Dropship Automation tool that helps streamline order fulfillment tasks such as tracking shipments and sending out promotional emails.
They also provide extensive product content such as detailed descriptions and images which make it easier for businesses to get customers interested in their offerings.
And finally, they even offer marketing services such as SEO optimization so entrepreneurs can drive more traffic to their ecommerce store.
For those just starting out in ecommerce or those looking for an easier way to source products from suppliers, Doba provides an excellent solution that removes many of the hassles associated with dropshipping.
With its vast selection of products and its powerful automation tools, it's easy for anyone – regardless of experience level – to start selling online quickly and efficiently by leveraging Doba's technology.
Furthermore, because it only charges one flat fee per order regardless of quantity or size there are no surprises when billing time rolls around – making it an ideal solution for entrepreneurs who are just getting started in ecommerce or those already established but looking for ways optimize operations and cut costs without compromising quality or service delivery levels.
6. Wholesale2B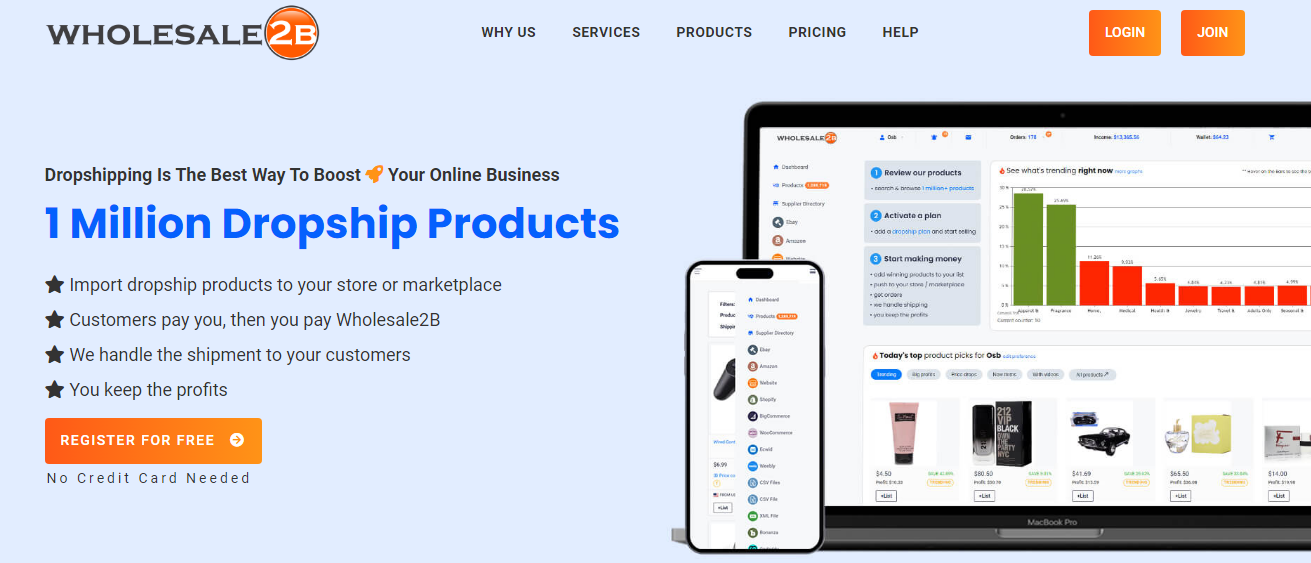 Wholesale2B is a revolutionary platform that has revolutionized the way eCommerce store owners find and work with dropshipping companies and suppliers.
With its intuitive dashboard, Wholesale2B makes it easy to quickly browse through thousands of products across multiple suppliers without having to manually search or contact each one individually.
This means that store owners can now access the best possible selection of products while saving time and money in the process.
Wholesale2B offers an array of features that make finding dropshipping companies and suppliers simpler than ever before.
With their powerful search engine, users can easily locate dropshipping companies and suppliers based on product categories, locations, price range, and more.
Through this feature, store owners can quickly identify which vendors offer the best prices for specific products, allowing them to maximize their profits by stocking only quality items at a competitive price.
Additionally, Wholesale2B allows users to compare different supplier's product availability from within their dashboard — making it easy to ensure stock levels remain high at all times.
Wholesale2B also provides users with simple tools designed specifically for managing dropshipping operations.
Users are able to place orders directly from within the platform using simple order forms — eliminating the need for manual inputting or extensive paperwork associated with traditional ordering systems.
Furthermore, Wholesale2B enables users to track order statuses in real-time — ensuring they always know where orders are at any given time.
Finally, customers can also benefit from automated shipping notifications — providing them with instant updates regarding their shipments as well as options for tracking packages online.
Wholesale2B's robust support system ensures that store owners experience minimal downtime while working with their dropshipping companies and suppliers.
The platform offers 24/7 customer service as well as a comprehensive knowledge base which contains answers to common questions about its features and services — allowing store owners to quickly access solutions when needed most.
Moreover, Wholesale2B boasts an active community forum where members are encouraged to share ideas on how best utilize the platform — providing additional insights into how other users have successfully implemented their solutions in practice scenarios.
In short, Wholesale2B is an innovative platform designed specifically for streamlining operations between eCommerce store owners and dropshipping companies & suppliers alike.
They provide an all-in-one solution for finding quality products at competitive prices while simultaneously reducing time & money spent on manual processes associated with traditional order management systems.
By leveraging powerful search engines and intuitive user interfaces supplemented by 24/7 customer service & an active community forum.
Wholesale2B provides eCommerce retailers with everything they need to efficiently manage their dropship operations on a single platform — making it easier than ever before to stock high-quality items while keeping costs low & profits high!
7. Worldwide Brands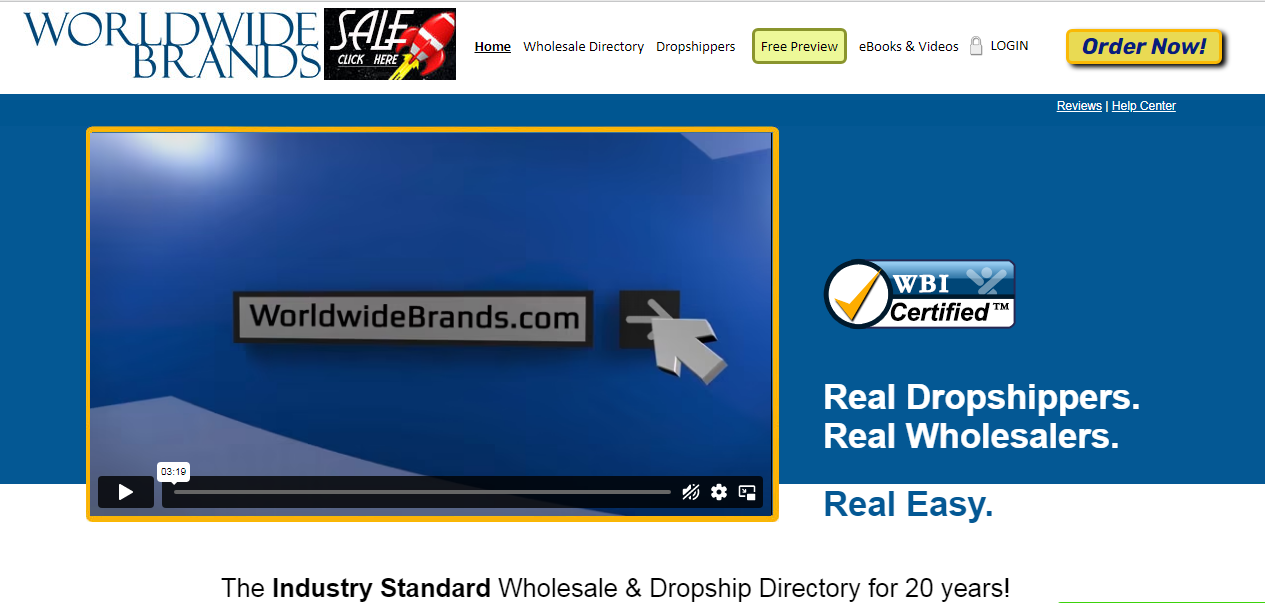 Worldwide Brands is an online directory of certified drop shippers and wholesalers that provides access to over 16 million products.
It is one of the most comprehensive and reliable sources for businesses to find suppliers and manufacturers that offer quality products at competitive prices.
With a membership subscription, members gain access to high-quality dropshipping companies and suppliers from around the world, including Asia, Europe, South America, Africa, Australia, and the USA.
Finding the right dropshipping companies and suppliers for your ecommerce store can be a daunting task.
Worldwide Brands makes it easier by offering an extensive list of certified wholesalers who have been thoroughly researched and verified by their team of experts.
All suppliers in their database must meet certain criteria before being approved for inclusion in the directory. This ensures that only reputable dropshipping firms are supplied to members.
When you join Worldwide Brands, you get access to a variety of tools such as their remote data feed (RDF) system which allows you to search through the entire product database quickly and easily.
You can also use their supplier pricing comparison tool to compare prices across different wholesalers so you can get the best deal possible on your products.
Their automated product sourcing system helps facilitate quick ordering processes via automatically generated purchase orders sent directly to dropshippers or wholesalers once customers place orders on your site. 
Worldwide Brands also offers additional services such as online tutorials, expert advice on choosing quality dropshipping companies or suppliers based on product availability, shipping rates, customer service reviews, payment methods accepted etc.
Webinars with industry professionals covering topics such as setting up a successful ecommerce store or understanding how various components work together in a complete business solution.
Plus support forums where members can ask questions about running their business operations more efficiently or getting help from other users in resolving various issues related to using Worldwide Brands' services effectively. 
In addition to all these benefits offered by Worldwide Brands, they offer several other features such as ongoing research & development into new products & services geared towards helping small business owners become more profitable.
They also offer 24/7 customer support via multiple channels such as email, phone and live chat; plus discounted rates on bulk orders placed with select suppliers through their system.
Whether you are looking for wholesale merchandise for your own store or drop shipped items for others – Worldwide Brands has got you covered!
8. Sunrise Wholesale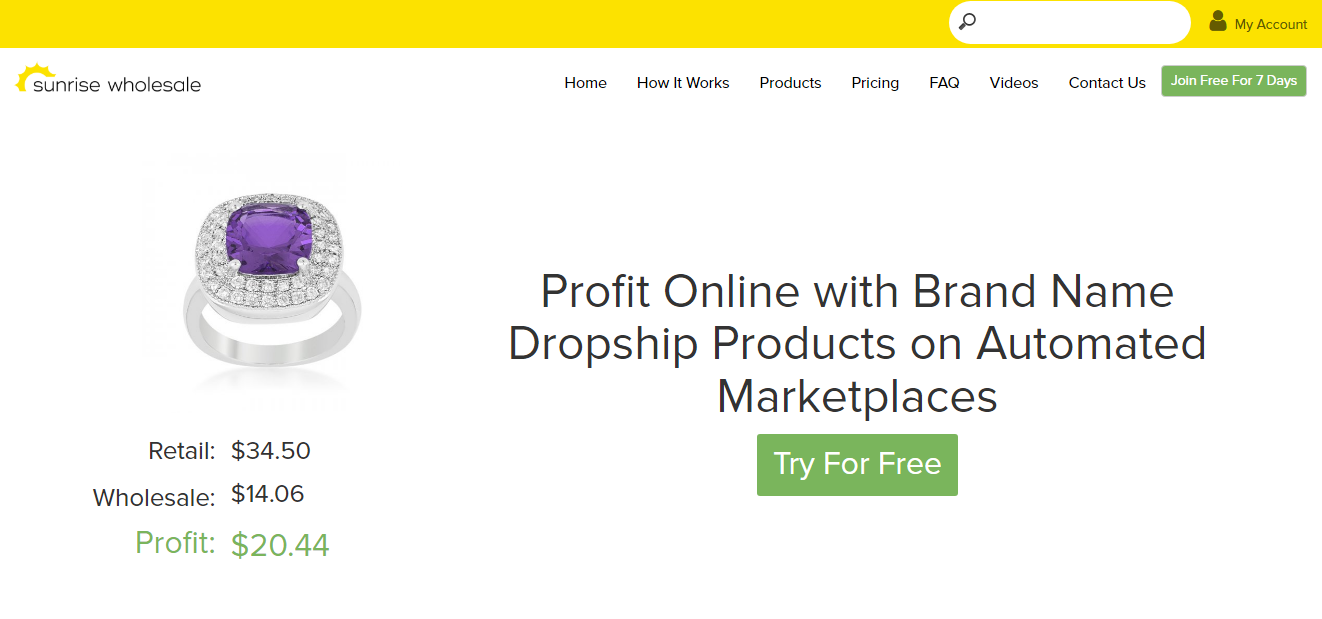 Sunrise Wholesale is an eCommerce dropshipping company that has been helping entrepreneurs and small business owners get started in the world of ecommerce since 1999.
The company offers a wide range of products such as electronics, furniture, jewelry, pet supplies, home decor and more.
Sunrise Wholesale offers services to make it easy for entrepreneurs to get their businesses off the ground and maximize their profits.
As a dropshipping supplier, Sunrise Wholesale provides access to over 15,000 unique products at wholesale prices.
Offering no minimum order quantities or setup costs makes it easier for entrepreneurs to test different product lines without having to invest much upfront capital.
A unique feature of Sunrise Wholesale's service is its ability to provide drop shipping directly from the manufacturer which eliminates unnecessary handling fees and paperwork associated with middlemen.
This helps customers save money while still taking advantage of wholesale pricing. 
Sunrise Wholesale also stands out in terms of customer service and support, offering personal assistance through live chat or by telephone if needed.
Additionally, they have developed an automated system that can help you manage inventory levels across multiple sales channels which helps keep your store stocked with the right items all the time.
They also offer a comprehensive guide on how to start a successful online store for beginner entrepreneurs who are new to eCommerce. 
Furthermore, Sunrise Wholesale integrates with all major online marketplace platforms such as eBay, Amazon and Shopify making it easy for customers to manage their stores from one central location.
They also provide access to popular marketplaces like Jet, Walmart Marketplace and Rakuten so that customers can reach an even broader audience when selling their products online. 
The team at Sunrise Wholesale takes pride in providing excellent customer service along with quality product selection at affordable prices ensuring that all customers have a great buying experience when shopping with them.
By working with Sunrise Wholesale you will be able to tap into a large selection of products and services that will help grow your business quickly and easily while minimizing the risk associated with starting an eCommerce business from scratch.
9. MegaGoods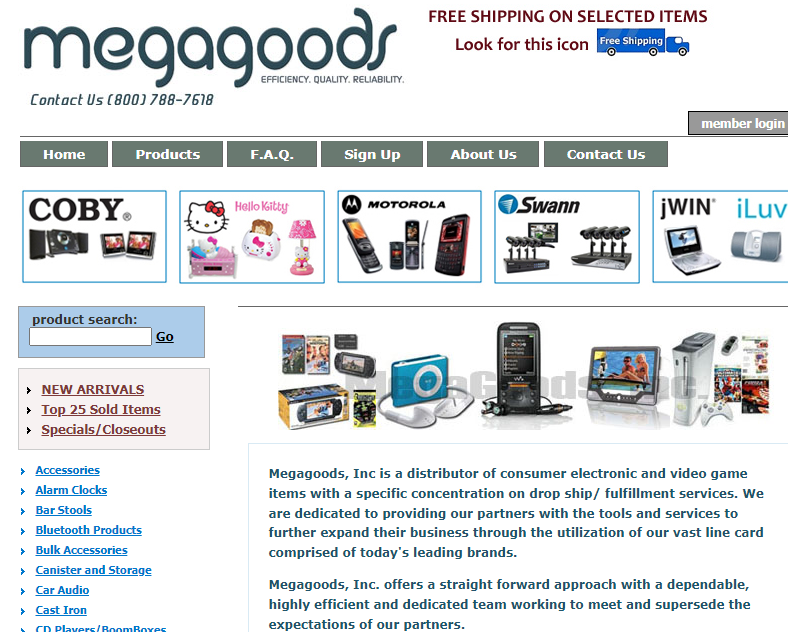 MegaGoods is a drop shipping company that specializes in providing ecommerce stores with the products they need to get their business up and running.
The company has been around since 2014, providing quality products at an affordable price.
With a wide selection of items ranging from electronics to clothing, MegaGoods provides customers with access to some of the most popular brands in the industry.
When it comes to finding dropshipping companies and suppliers for your ecommerce store, one of the top choices would be MegaGoods.
Not only does this supplier have a great selection of items, but they also offer competitive prices that won't break your budget.
In addition to having reasonable costs, this dropshipper also provides reliable customer service and fast delivery times – both of which are important factors when deciding on any type of supplier.
Another thing that sets MegaGoods apart from other drop shipping companies is their ease of use system.
This platform was designed so that beginners can quickly and easily set up their store without any extra help or support.
This makes it simple for those who are just starting out in the business world and don't know all the technical aspects involved with creating an online store.
Moreover, experienced ecommerce owners will also find it easy to navigate through their user-friendly platform, making MegaGoods an ideal choice regardless of experience level. 
On top of offering a straightforward setup process, MegaGoods also offers additional features such as
product filtering which allows customers to quickly search for specific items based on category or keyword;

multi-package orders so customers can order multiple items in one shipment;

local warehouses located throughout Europe;

secure payment gateways;

low price guarantee;

excellent customer service staff who are available by phone or email to answer any questions you may have; and more! 
Furthermore, MegaGoods is constantly improving their services through regular updates and special offers so you'll always be able access new trends and gain more value out of their services.
For instance, they recently introduced a rewards program where customers can receive discounts when ordering multiple packages or if they refer friends to join the program too!
Plus, once customers become part of their loyalty program they will receive even more special discounts on every purchase made within 12 months after joining! 
Overall, MegaGoods is one of the best suppliers available when it comes specifically to drop shipping services for ecommerce stores.
Their quality products combined with competitive prices make them an attractive choice for businesses looking for reliable suppliers.
Plus, the user-friendly platform makes setup quick and easy while additional features like product filtering and rewards programs ensure that you get maximum value out of your investment with them!
10. Inventory Source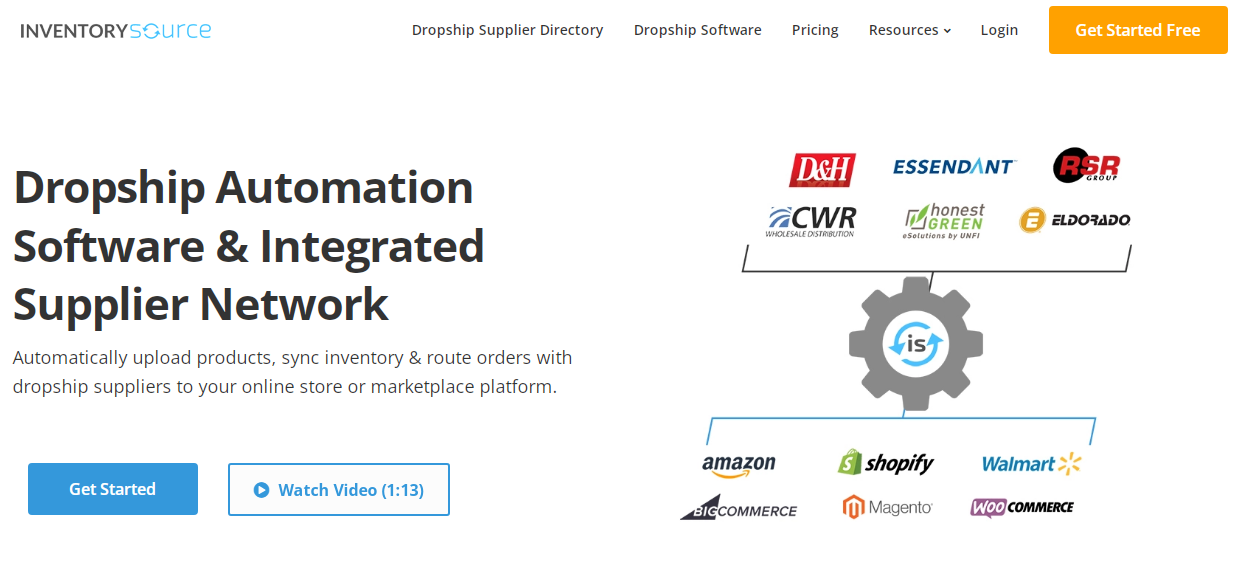 Inventory Source is a powerful ecommerce platform that helps you find and manage drop shipping companies, suppliers, and wholesalers for your online store.
With this service, entrepreneurs and business owners can easily locate reliable dropshipping companies to fulfill orders on their behalf.
The Inventory Source platform gives users access to a comprehensive directory of over 200 pre-vetted suppliers from across the world who provide quality products for low prices. 
Using Inventory Source is easy—once you sign up for an account, you'll have full access to the entire supplier directory.
From there, you can quickly browse through all the available products and find what you need. You can also filter by price range so you can budget accordingly.
Once you've found a product that fits your needs, it's just a matter of placing the order with your chosen supplier. 
In addition to helping businesses streamline their procurement process, Inventory Source also offers helpful features like automated order processing, which allows you to automatically transfer orders from your store directly to your supplier as soon as they come in.
This saves time since it prevents manual data entry errors while ensuring orders are processed instantly so customers receive their products quickly. 
Inventory Source also provides real-time inventory updates so you can keep tabs on when certain items need restocking or when additional shipments arrive from suppliers.
This makes operations more efficient and cost-effective since it eliminates guesswork in managing inventory levels.
Furthermore, the service has built-in integrations for major marketplace platforms including eBay, Amazon, and Walmart which makes uploading product listings incredibly simple and straightforward. 
Finally, Inventory Source offers competitive pricing plans that are based on subscription models instead of per transaction fees—which makes them perfect for businesses of any size or budget.
Plus, they offer a 60-day free trial so prospective customers can test out their system and see if it meets their needs before committing to a purchase plan. 
Overall, Inventory Source is an excellent resource for entrepreneurs looking to take advantage of dropshipping services without having to worry about finding reliable suppliers themselves or dealing with tedious tasks like inventory tracking and order fulfillment manually.
With its comprehensive selection of vetted vendors and extensive feature set designed around efficiency—this service definitely deserves serious consideration when shopping around for dropshipping solutions!
Quick Links:
Conclusion: Dropshipping Companies & Suppliers for Ecommerce Store 2023
Deciding on a dropshipping company or supplier is one of the most important decisions you'll make as an ecommerce business owner.
The good news is, there are plenty of great options out there. With a little bit of research, you can find a dropshipping company that's a perfect fit for your business. Thanks for reading and best of luck with your ecommerce store!