Storage is an illusion, if you've got a device that gives you 32GBs of storage, take my word for it that you'd not get 32GBs in usable storage anyway.
The point being the devices promote themselves as having those GBs of storage, but it's like promoting a 100-page book saying it's 102 pages, including the covers.
That's because the devices run on Operating systems and there are other system files that need space, and that space is included in your total space.
So basically at the end of the day, you end up googling answers to questions like How to fix the error: There is insufficient space on this device. Not just Android, iPhone users are also facing these issues. So, if you have an iPhone, here is how to get more storage on iPhone.
Now there's no way you can get to use the whole 32-64 of whatever GB of space your device claims to have, but there are solutions which will free up most of the space for you so that instead of losing 10% of the space, you'd be compromising only around 5%.
But before I can answer your question on How to fix Android's 'insufficient storage available' error message, let's start from the basics, why does this space-scarcity occur in the first place?
What Eats up Android Space?
1. Operating System:- This one is the prime space-eater. Well, you can't exactly blame it because you need an operating system to run your device on. Also, you need to understand that it's "unchangeable". Meaning whatever space your OS is consuming, it can't be "cut" or deducted.
2. Apps Cache/Junk Files:- Whenever you run an app, be it Messenger or just your gallery, it saves certain preferences and data in your apps cache.
I'm sure you might have noticed that the pictures in your gallery load slower the first time, but if your open your gallery the second time, the picture previews come up exceptionally fast.
That happens because the gallery stored the data the first time and hence it didn't need to load it the second time. Now that data needs space to be stored right?
Although I think you've already figured out that the cache is actually beneficial for you and makes your cellphone experience much more "faster".
3. Browser Cache: Browser cache is also just about the same thing as the app cache, just that it stores data about websites and your choices.
Meaning it speeds up your browsing experience if you visit a website regularly, it remembers if you like ads or not, and other personal details as such.
Again this is something that is actually "helpful" and not something that's totally harming you or your device.
4. Updates:- They can be whole system updates or just third-party app updates. Most of the time a newer version is at least some megabytes heavier in size than the last version.
Now take that and calculate it for all the apps you have on your device, even if just 50% of them auto-update, I would say you're looking at quite a bit of storage space.
Not to mention the "system updates", which normally come in sizes over 200-300mbs. So bottom lime, updates need space too.
And these are just some of the most common "space-consuming" elements your device has, there are other technicalities too but they're too complicated as far as boundaries of this article go.
How to Fix Android's 'Insufficient Storage Available' Error Message:-
So we're down to the part you've been waiting for. I'll walk you through clearing (or disabling) the elements which cause the error, so here goes your solution to How to fix Insufficient Space on Device.
Method #1:- Use a Cleaner:-
Now it totally depends on your Android version and OS. I've got a LeEco 2 Max which has an in-built cleaner. In case you don't have one, you can just go to Playstore and download Turbo Cleaner (It's one of the many available free cleaners you can go with.)
In my case, I just fire up the cleaner and it shows me my junk data.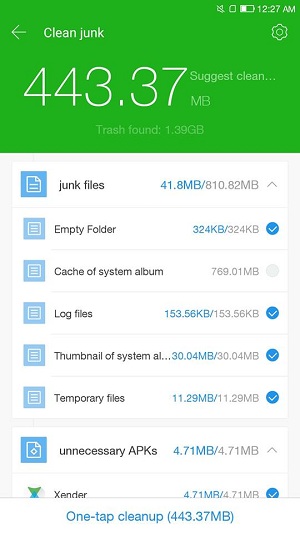 As you can see, I've over 1GB of junk files! That's a lot of junk, so all I've to do is, tap on the cleanup button at the bottom of the screen.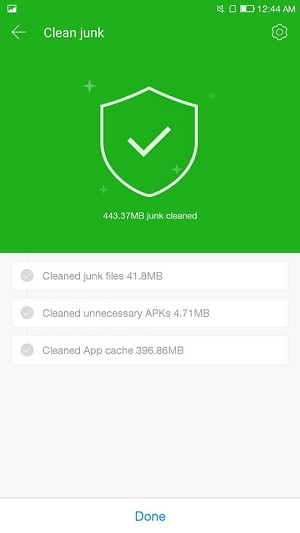 See? It's all gone.
Now in case you're using any other cleaner, the interface might be a bit different but it'll be more or less similar, you just have to tap once on the "clean" button and it'll do the job.
Method #2:- Manual Cleaning:-
In case you don't have any cleaners, you can also clean the junk files manually. (Not as efficiently and thoroughly as the cleaners may be but you'll free up considerable space.)
Go to your settings, and then click on Apps.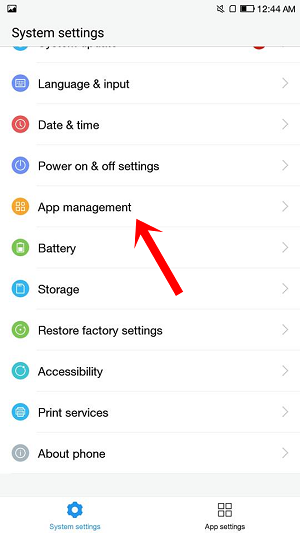 And then slide left till you reach the "installed" apps screen.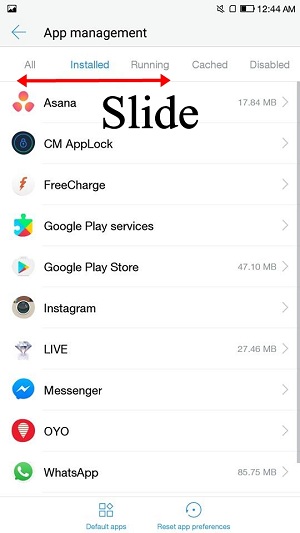 Now just tap on the first app > click on Storage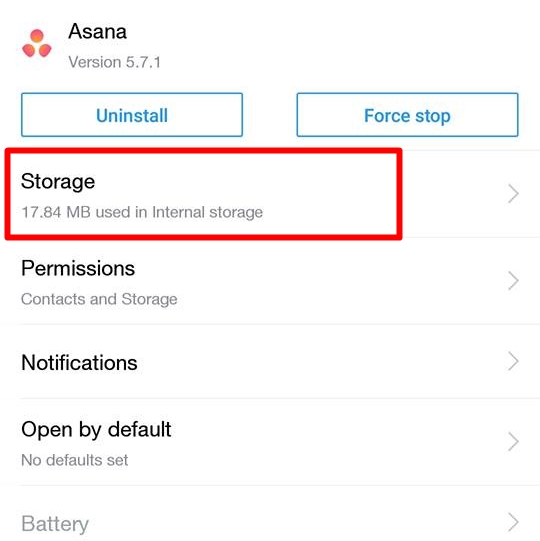 And then tap on the "clear cache" button. (Remember that you can also "clear data", but in some cases that would lead you to lose all the "progress", so in short clearing "data" is fine with apps, but try not to tap that if you're cleaning a game or something that has your progress saved".)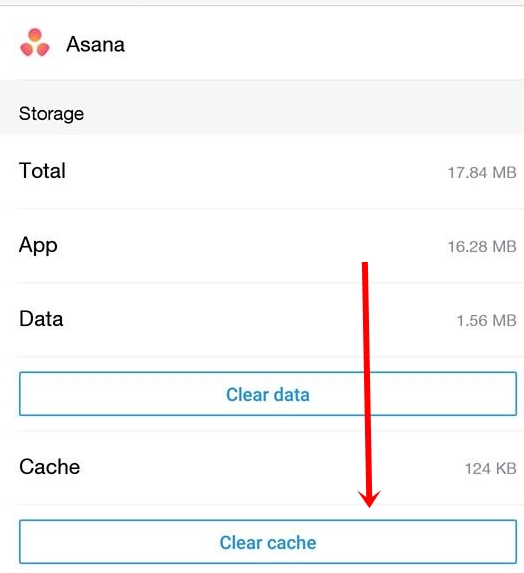 As you can see I don't have lots of data as I just cleaned my system. Well, that's about it, you'll have to manually tap on each app and repeat the process till all the apps have been cleaned.
(That's the reason I prefer the cleaner apps! Much faster.)
So yeah mission accomplished, this should also answer your questions like How to Fix "InSufficient Space On The Device" Download Error in case you had them. Also see, how to check data usage on iPhone.
Final Words:-
So that was it, folks, that's all I had on How to Fix Android's 'Insufficient Storage Available' Error Message. I hope this solved your problems regarding android storage space? Along with storage data, internet data is also limited. If you want to reduce data usage on a Smartphone, here are 5 ways to reduce data usage on a Smartphone.
If it did, I'd appreciate your feedback in the comments section. If it didn't, you can also leave your questions, problems, and doubts over there.
Also if you've got better and easier ways to accomplish this, you can use the comment box for that too.
Disclaimer:- I or Knowledgecage isn't in any way affiliated to TurboCleaner or any other app used in this tutorial, you're free to use any other app according to your own preference. They were used just for the sake of explaining the process and steps.