Apple's iPad is a mobile gadget that's capable of pulling off an extensive variety of amazing feats effortlessly, but sadly it can't play Adobe Flash content without assistance. Want to see Flash videos, play Flash games and browse through Flash websites on your Apple iPad?
You can! This gap has been bridged by establishing remote desktop applications.If you are wondering how to get Flash Player for iPad, it's possible. Though, it's a little problematic as Apple devices don't support Flash.
The VirtualBrowser for Firefox App makes this possible with a simple app download. It opens up an extensive range of games and apps such as iPad Flash Player, thanks to the power of virtual cloud technology.
There are several apps offered on the iOS App Store for iPad that will help. In this post, we'll get to learn how to get Adobe Flash player for iPad.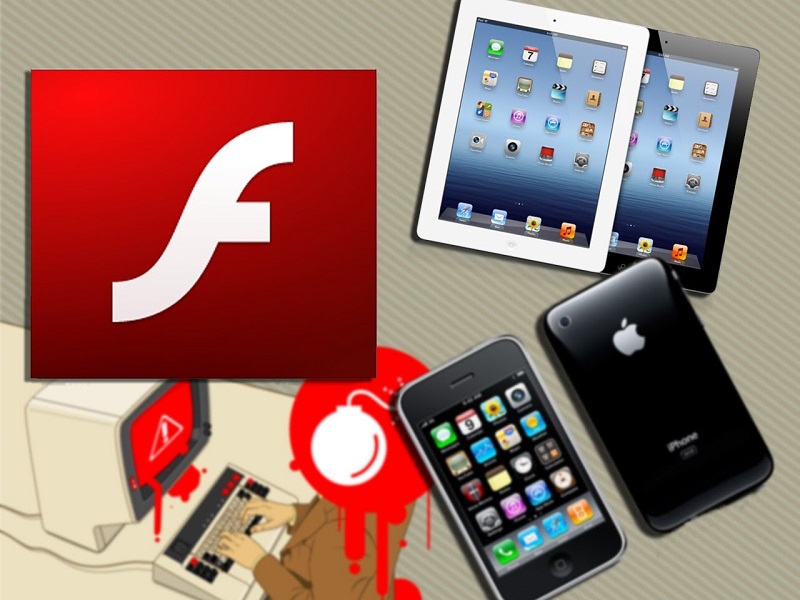 Most solutions don't allow users to natively play Flash on gadgets. Rather, they remotely transcode it and allow them to view the results.
Be aware that the process may make iOS Flash playback experience laggy similar to the real Flash, though you can gain access to the content with adequate control for playing Flash-based games.
How to Get Flash Player for iPad?
With the power of the innovative cloud computing technology, the Virtual-Firefox app allows users run the actual desktop-class Firefox browser through a virtual system, thus overcoming the restrictions of iPad browsers that don't support Adobe Flash, Add-Ons Plug-Ins, Java Applications, Extensions, and Themes or Skins.
These main features are delivered by the Virtual-Firefox App so that users can take advantage of flash player for iPad. Adobe Flash for iPad is absolutely easy to access. Read on to find out how to do it.
Why iPad Doesn't Support Flash?
Apple decided to abandon Flash completely few years ago, and it seemed to be a sensible decision as the cumbersome format consumed a lot of battery and system resources. Adobe was also not able to change over successfully to the needs of the contemporary mobile gadgets.
Just in case, you are wondering to jailbreak the iPad, here is How to Jailbreak iPad.
Steve Jobs stated –"New open standards created in the mobile era, such as HTML5, will win on mobile devices (and PCs too). Perhaps Adobe should focus more on creating great HTML5 tools for the future, and less on criticizing Apple for leaving the past behind."
And this created quite a huge ruckus. Adobe continued with Flash for mobile till it gradually put the project out. The format is now being substituted by more contemporary mobile multimedia formats.
Best Flash Player for iPad

Some of the common and popular browser applications that help users play Flash games and videos on iPad are Puffin and Photon Browser. Unfortunately, iSwifter Browser and Skyfire Browser aren't available, though they are used for displaying Flash content.
The other third-party browsers like Operate, Firefox, and Chrome no more provide support for Flash on iOS gadgets. Many users who find Flash content on Apple's mobile gadgets tend to avoid it, though there might be times when they may have to access it urgently.
This is where these solutions come to the rescue.
Photon Browser
Photon Browser is a very popular choice for iPad users who need Flash support. It's a great alternate choice for Safari as it also comes with Flash mode that can be turned on by clicking on the lightning bolt icon in the right top corner.
It's the most consistent and versatile choice in the category since it displays all kinds of Flash content, including websites, games, and videos. It behaves similarly to a normal browser till you click on the lightning bolt icon – at this instant, a remote streaming session lets users to see Flash content.
Switching on Flash makes the browser a bit slow and it might not be the smartest interface, but still it does the trick. Users can play Flash videos and games without any issues.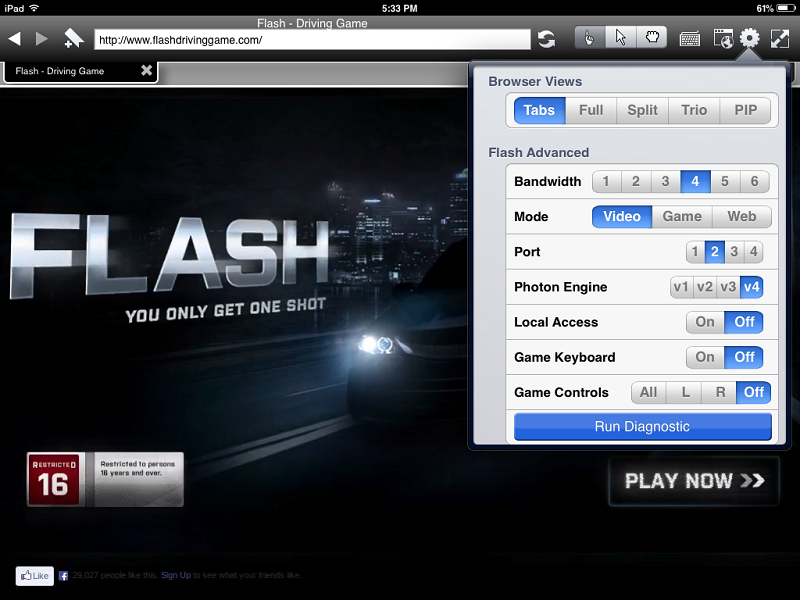 If you find Photon to be very slow, you can try to tap the settings icon on the right top corner and adjust the settings to suit your needs. One of the best aspects is that it lets users set their desired bandwidth for usage. None of the other apps are so easy to use on these many websites as Photon.
Puffin
This is one of the most popular browsers for using Flash Player iPad. It's a real advantage that users can first opt for the free trial edition to see how it works and later buy the full iPad version. This lets you decide whether it suits your requirements.
It's perfect for one-off circumstances when you need Flash. From Marvel Digital Comics to Amazon Instant Videos, it's capable of handling everything that's thrown at it.
The full-screen video feature of Puffin is one of its best aspects. However, the app, as a whole, doesn't work as consistently as Photon. Moreover, it's frustrating to use as it fails to resize the screen of the remote computer to the screen of the iPad – this implies that users will have to scroll in almost all directions to view a website completely.
Parallels Access
There are also services like Parallels Access that gives a way for accessing Adobe FlashiPad by directly streaming from PC or Mac. It allows users to access PC or Mac desktops from any part of the globe, helping you to use applications, including Flash Player, Internet Explorer, Microsoft Office, and Flash-supported browsers.
Parallels Access might not be a good solution if you're looking forward to accessing only Flash player as it's quite expensive, but if you also want a way to access your Mac or PC remotely or run PC or Mac apps on iPad, this solution is worth considering.
Running out of iPad's storage? iPad getting slow? Clear iPad cache for more storage and faster processing.
Final Thoughts  
For using Adobe Flash Player, iPad offers these methods. The next time you want to view some Flash content on Amazon Instant Video or any flash video for that matter, you can use the above-explained ways to use your iPad flash player. Though, the quality of video can be either a hit or miss as with all kinds of streaming.