Are you looking for the best free PDF editors to help streamline and improve your business operations?
Look no further! We've rounded up the top 10 options that provide plenty of features to easily create, edit, and convert digital documents.
Whether you need a tool to quickly annotate or markup files, fill out forms efficiently, or integrate with other platforms – this list has something for everyone.
Read on to find out more about each of these powerful yet easy-to-use PDF editors and how they can benefit you and your business!
6+ Free PDF Editors for Your Business Needs 2023
PDF24 Creator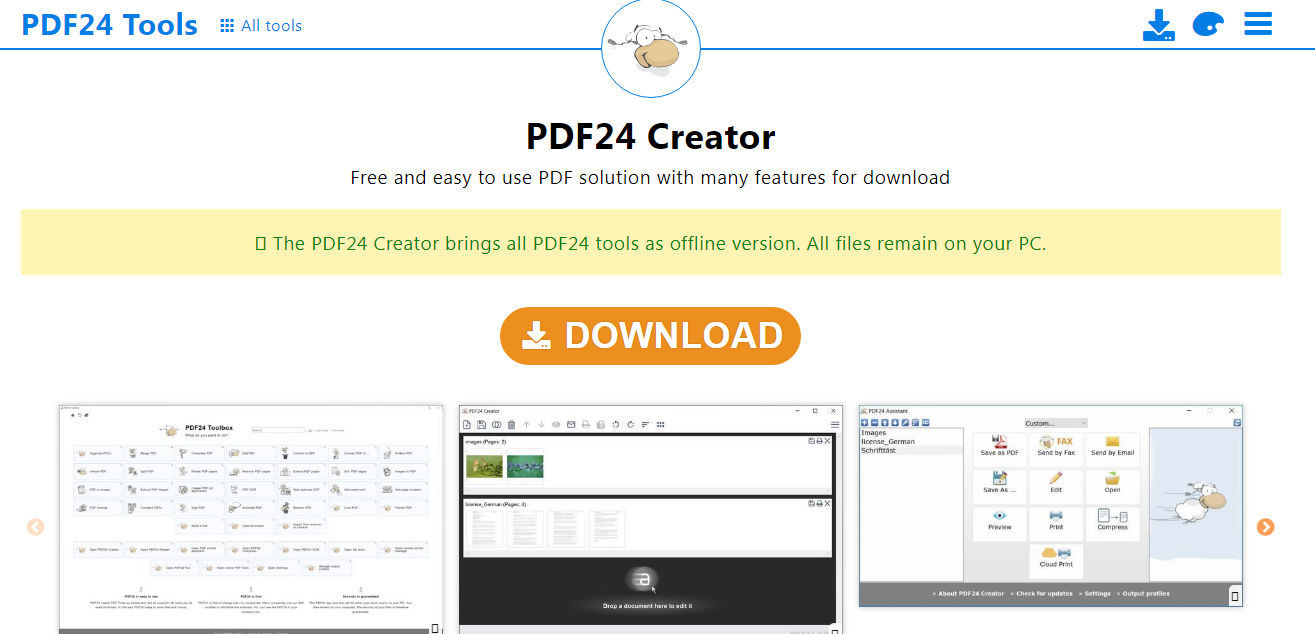 PDF24 Creator is a powerful and convenient desktop application that can be used to create, edit, convert and merge PDF files.
It provides users with an intuitive user interface, allowing them to work efficiently even if they're not familiar with the technical aspects of PDF editing. Plus, it's free! 
The application offers multiple features including document merging, text editing, image and page insertions, splitting and combining of documents into one single file, password protection for documents and more.
All these features make PDF24 Creator a great choice for businesses looking to manage their documents more effectively.
The software also supports a broad range of output formats such as JPG, PNG, BMP and TIFF which makes it suitable for multiple applications.
Furthermore, it also features OCR (Optical Character Recognition) technology which makes it easier to use scanned images or paper documents as source material for conversions or edits.
Additionally, PDF24 Creator also includes an in-built printer driver that allows you to create PDF files directly from any application without having to install additional software. 
Beyond its easy-to-use user interface and versatile set of features, PDF24 Creator also offers great support services with both email and forum support available for users who have questions about the software.
In addition, there are plenty of tutorials available online that can help users get up to speed quickly when using the tool.  
Overall, PDF24 Creator is a great choice for businesses looking for a free yet powerful solution to manage their digital documents efficiently.
From its extensive feature set and versatile formats supported to its excellent customer support services – this tool has everything your business needs to make the most out of your document management tasks while taking minimal effort on your part!
Price: Free!
Smallpdf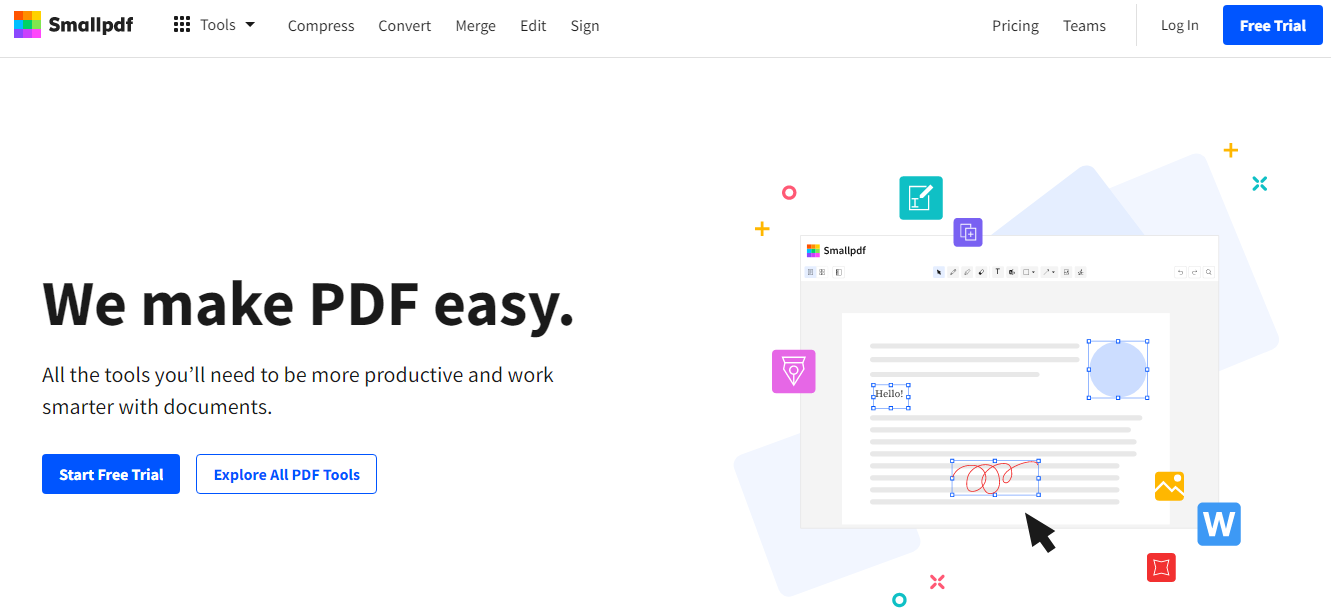 Smallpdf is a free online PDF editor that offers users the ability to edit and convert their PDF documents.
It is one of the most popular and widely used PDF editors, being used by millions of professionals from all around the world.
Smallpdf provides users with a range of tools to be able to manage their documents easily, quickly, and efficiently.
The Smallpdf editor allows you to add text, images, shapes and so much more to your PDF document.
You can also rearrange pages in your document and delete unwanted pages as well. Furthermore, you can also insert page numbers or Bates numbers into specific locations in your documents.
Smallpdf also provides options for merging multiple PDFs into a single file or converting them into various other formats such as Word, Excel or PowerPoint.
Additionally, Smallpdf also allows you to rotate pages, compress files size and unlock protected documents if needed.
Security is an important aspect when it comes to handling sensitive information in PDF form which is why Smallpdf enables users with two-factor authentication for added security when logging into the system.
In addition to this, Smallpdf's servers are hosted on Amazon Web Services (AWS), making it one of the safest online services for editing and managing your document securely.
Smallpdf also ensures that all data uploaded onto their system remains confidential between their customers only – meaning that no user's data will be disclosed publicly or shared without authorization or consent given by either party first.
Overall, SmallPDF is one of the best free online editors available on the market today due its versatile features and top-notch security measures taken in order to protect customer information at all times.
It has become popular among many businesses across many industries due its ease of use and reliable performance which allows them to handle large volumes of documents quickly while providing highly secure environments for handling confidential data safely.
Price: Free. Paid plan starts from $9/mo.
Sejda

Sejda is one of the best free PDF editors available for businesses today. It is a powerful and user-friendly solution that offers a variety of features to help streamline operations.
Sejda has been designed to make it easy to edit, convert, and create PDF documents without requiring any specific technical knowledge or expertise.
The software offers an array of features such as merging multiple files into one, extracting pages from PDFs, splitting PDFs into separate documents, rotating pages, compressing existing files and more.
With the various tools available in Sejda, users can quickly edit and manipulate their documents in a matter of minutes.
The interface is intuitive and straightforward allowing for faster learning curves for those who are unfamiliar with the application.
Additionally, those who have prior experience with similar programs will find it easy to navigate and become productive quickly.
Sejda also provides advanced options that allow users to customize their projects according to their needs.
This includes support for a wide range of file formats such as Word Documents, Excel spreadsheets, HTML webpages and many more.
Furthermore, it allows for password protection so that sensitive data can remain secure at all times.
Furthermore, the program supports batch processing which makes it possible to work on multiple files simultaneously saving valuable time along the way.
Overall Sejda is an excellent choice if you're looking for an efficient tool to help manage your business's document workflow needs.
It is feature-rich yet simple enough that anyone can use it with minimal effort making this a great solution for businesses both small and large alike!
Price: Free. Paid plan starts from $7.50/mo.
CocoDoc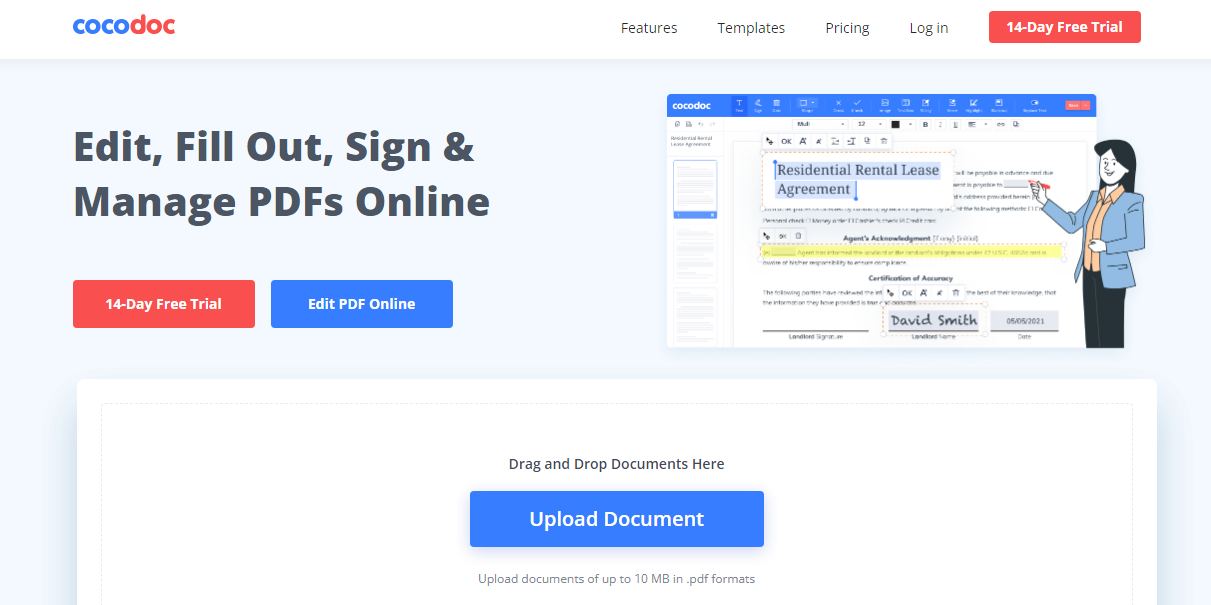 CocoDoc is an intuitive, free PDF editor with powerful features for business professionals. It allows users to easily create and edit documents quickly and accurately from any device or location.
Unlike competing software, CocoDoc is entirely cloud-based, meaning that documents can be managed from anywhere with an internet connection.
This makes it especially useful for businesses with remote employees or those in need of quick document editing while on the go.
CocoDoc's easy-to-use interface ensures that all users can get up and running quickly without any prior experience.
Its drag-and-drop design allows users to easily add images, draw shapes, and annotate text directly onto their documents.
There are a variety of tools to choose from including drawing tools, text boxes, stamps, arrows, signatures, and more.
Plus, it's fully customizable so users can tailor the editor to suit their individual needs and preferences.
In addition to its customization options and easy editing abilities, CocoDoc offers a range of features that make it ideal for business use cases.
For example, it supports simultaneous collaborations between multiple authors which speeds up the process of creating complex documents or contracts.
It also includes an integrated eSignature feature that allows parties to sign documents digitally with just a few clicks from anywhere in the world.
These features make CocoDoc great for teams who need to work together on projects or get important contracts signed off quickly without waiting for time consuming paper trails.
Another great feature of CocoDoc is its automatic document versioning system which stores all changes and edits made to documents over time so they can be tracked back even after years of use.
This means users never have to worry about losing important information when working remotely or across different devices as everything will be securely stored in one place. 
Overall, there are many reasons why businesses might benefit from using CocoDoc as their primary PDF editor – whether they work remotely or plan on collaborating on large projects between multiple authors at once.
It's clear why this cloud-based tool has become increasingly popular amongst busy professionals around the globe!
Price: Free. Paid plan starts from $9/mo.
PDF Candy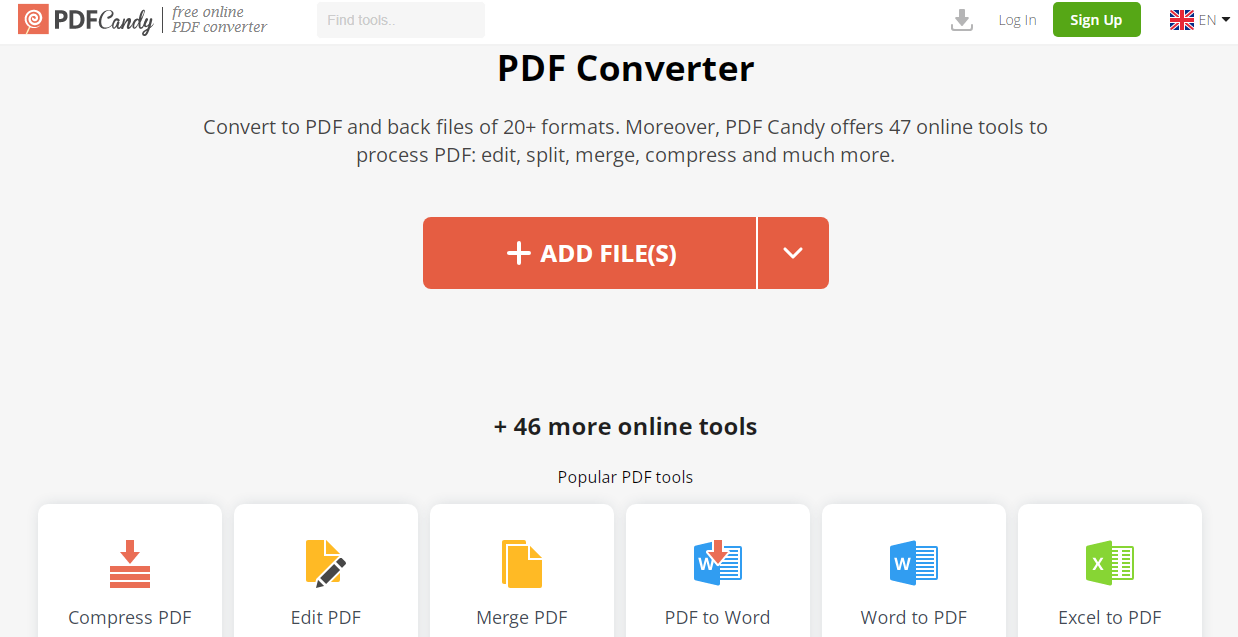 PDF Candy is one of the most popular free PDF editors for business needs, offering a comprehensive set of features and tools that make it easy to edit and work with PDF documents quickly.
It supports conversion from other formats (such as Word, HTML, etc.) to a variety of PDFs, including PDF-A and Searchable PDFs.
It also allows users to combine multiple files into one PDF, split or merge existing PDFs into separate documents, add page numbers or page ranges to an existing document and extract images from a document.
With its user-friendly interface and intuitive controls, it's simple for non-technical users to work with this software.
The solution offers a range of tools such as editable text fields, annotation tools (including highlights, comments and annotations), graphics editor (for adding shapes and images) and more.
Additionally, it supports all major versions of Windows operating systems.
With excellent customer service available 24 hours per day through email support and the FAQ section on the website, users can easily get help in case they experience any difficulty while using the software.
PDF Candy also allows users to share documents online via FTP server or via direct link so others can view them without downloading anything extra.
Furthermore, its security features like password protection make it ideal for businesses that need to securely share confidential documents across their network or between departments.
The solution also takes care of proper document formatting when transferring from one system format to another.
Other key features include:
document signing capabilities with digital certificates for authenticity verification;

automated Bates numbering;

automatic OCR scanning; batch processing;

encryption/decryption capabilities;

auto-translation options;

language support for over 100 languages including Chinese Simplified & Traditional characters support;

viewing & printing options as well as multiple editing functions like paragraph alignment etc.
In short, PDF Candy has everything you need in one place – powerful editing tools combined with ease-of-use – making it ideal for businesses looking for an efficient yet cost effective solution for handling their PDF needs.
Price: Free. Paid plan starts from $6/mo.
pdfFiller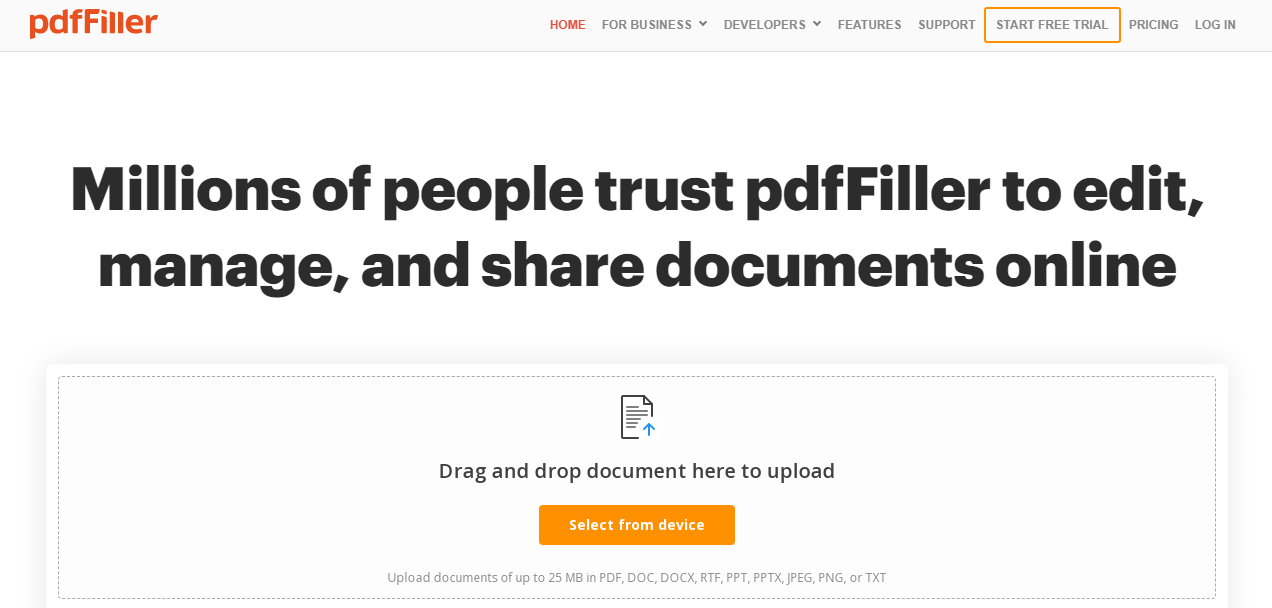 pdfFiller is one of the best free PDF editors available on the market today for business needs. This powerful editing tool offers a range of features to help streamline any task related to PDF documents.
It provides users with a simple and intuitive way to create, edit, convert, sign, share and store documents online.
pdfFiller allows you to upload any file format – including images and text – into its platform and edit it immediately without needing to download anything or install additional software.
You can easily add text, checkmarks, watermarks, digital signatures and other types of annotations directly onto your document with just a few clicks.
Plus, you can save your changes in multiple formats such as PDF/A, Microsoft Word or plain text for easy collaboration within your team or with external partners.
The tool also comes with an integrated eSignature feature that lets you quickly sign documents electronically from anywhere in the world at any time.
Using its electronic signature tools, you can make sure that contracts are properly signed by all parties involved and stored securely in pdfFiller's cloud service.
Furthermore, pdfFiller also includes an OCR technology that enables businesses to quickly convert scanned paper documents into searchable digital files without losing their original quality.
With this feature combined with its form-building capabilities we can create custom forms that include interactive fields like radio buttons and drop-down menus which make them easier to fill out accurately in no time.
When it comes to security & privacy measures pdfFiller is second-to-none; ensuring your data is safe at all times thanks to advanced security protocols such as 256 bit encryption technology (SSL) which guarantees the highest levels of data protection.
Additionally customers benefit from extensive user permission controls so only authorized personnel are able access specific documents or folders within their account if needed be. 
In summary pdfFiller stands tall on the list of best free PDF editors for business needs due its ability to complete complex tasks quickly & securely while being incredibly easy-to-use even for beginners.
With its impressive range of features and innovative technologies it makes it easy for everyone wants get things done fast but still maintain high standards when it comes to accuracy & security requirements
Price: Starts from $8/mo.
CoolNew PDF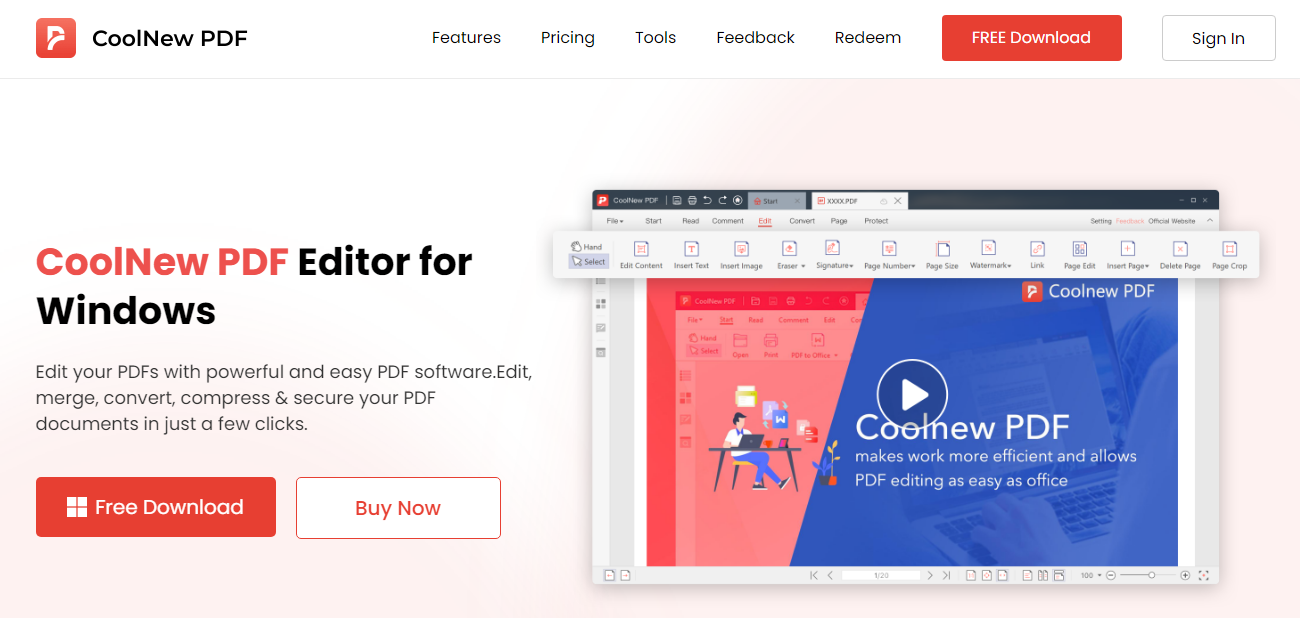 CoolNew PDF is a powerful and easy to use PDF editor that is ideal for businesses of any size. It enables users to quickly edit, create, and share documents with colleagues, customers, and partners.
With CoolNew PDF editor, you can quickly make changes to text, images, and other elements without having to download or install any additional software.
The user interface of the editor is highly intuitive and user-friendly. It provides multiple tools such as auto-formatting, spell-checker, automatic page numbering etc., which makes editing quick and simple.
Furthermore, you can also add comments or collaborate with other parties on your documents in real-time.
This feature comes in handy especially when working on long projects that require collaboration from multiple teams or individuals.
It also offers a wide range of features for creating professional looking documents. You can use its drag-and-drop feature to arrange objects easily across pages or layers.
The objects can then be resized according to your needs using simple controls like the 'Size' sliders located at the top right corner of the object window.
The option to export documents into different formats such as HTML5/PDF/JPEG/PNG etc., is also available which makes it very convenient for sharing files with teammates or customers instantly and accurately.
Moreover, CoolNew PDF comes packed with security features so you don't have to worry about unauthorized access or document tampering while editing important business documents online.
You can password protect documents, enable digital signatures on them and even revoke access remotely at any time when needed.
There's also an audit trail feature which allows users to track modifications made by anyone else who has access to the document in real time.
Overall, CoolNew PDF is a great choice for businesses who are looking for a reliable yet easy to use PDF editor that makes document editing simpler than ever before!
Price: Free. Paid plan starts from $6.50/mo
Wondershare PDFelement
When it comes to business needs, Wondershare PDFelement is one of the best free PDF editors available.
It is a powerful, user-friendly software that helps you edit, convert, create and secure your documents with ease.
Wondershare PDFelement is equipped with all the features you need for working with your PDF documents.
It allows you to create professional looking documents from scratch or from existing files, edit text and images with ease and even add annotations and signatures.
In addition, it supports OCR (Optical Character Recognition) technology that enables users to search for and extract text from scanned documents.
This powerful feature makes it possible for businesses to save time when processing large numbers of documents quickly.
This software also offers password protection solutions so businesses can keep their sensitive information secure.
This feature ensures that only authorized personnel have access to their confidential data and prevents unauthorized access by external parties or hackers.
Furthermore, Wondershare PDFelement has an integrated form recognition technology which simplifies the process of creating digital forms in no time at all.
Moreover, Wondershare PDFelement supports document sharing across different platforms such as Dropbox, Google Drive, OneDrive and Box so businesses can collaborate on projects more efficiently.
The software also offers cloud storage solutions so teams can collaborate online in real-time without having to worry about file transfer delays or disruptions due to incompatible systems or operating systems.
Additionally, users can use the built-in analytics tools to track activity within their organization or between multiple departments as well as analyze customer feedback in order to make sound decisions quickly.
Overall, Wondershare PDFelement is a great choice for businesses looking for an easy-to-use yet powerful free solution for editing, converting and securing their documents efficiently.
Its wide range of features provides users with everything they need to get the job done quickly without sacrificing quality or security standards.
Price: Free. Paid plan starts from $6/mo.
Adobe Acrobat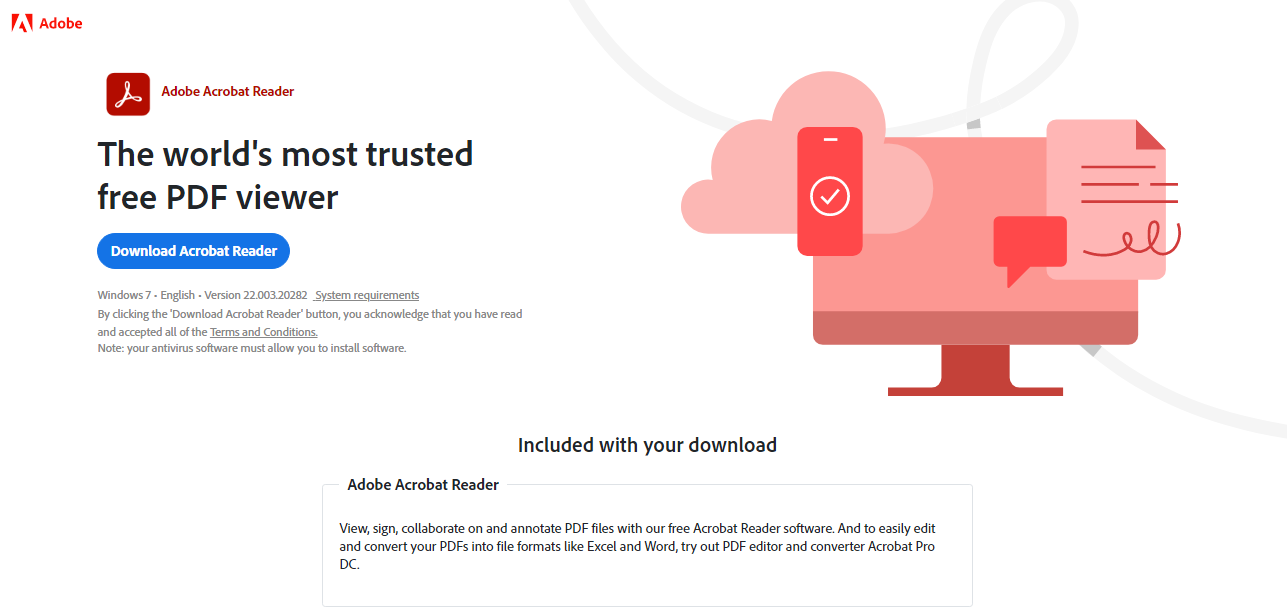 Adobe Acrobat is one of the best free PDF editors available for business use. It's simple to use and provides a wide range of features to make it easier to create, edit, collaborate on, and convert PDFs.
The software allows users to quickly add text, insert images, highlight areas of text, remove sections of text, and even add annotations – all within a few clicks.
Not only that but Adobe Acrobat also offers powerful tools for creating forms and scanning documents in order to prepare them for further processing.
One of the most attractive aspects of Adobe Acrobat is its online collaboration capabilities.
This allows multiple users to work on the same document at the same time without having to share files or send emails back and forth.
With the help of its commenting feature, you can make suggestions or ask questions directly from within the document in real-time so that everyone can stay on the same page.
Furthermore, with its integrated cloud storage services such as SharePoint and OneDrive you can store your PDFs securely in the cloud for easy access by anyone who has permission to view them.
In addition to these great features, Adobe Acrobat also provides users with some advanced options such as password protection and digital signatures – both of which are essential when dealing with sensitive information or documents that require secure handling.
It also comes with an enhanced security measure called Protected Mode which prevents unauthorized changes from being made within a particular application or document.
This means that any suspicious activity will be flagged instantly so that you can take corrective action before any damage is done.
Overall, Adobe Acrobat is an excellent free PDF editor for business needs thanks to its intuitive interface, comprehensive set of features, convenient file sharing capabilities and robust security measures.
It's definitely a great choice for anyone looking for an easy yet powerful way to collaborate on documents remotely or even just manage their own personal collection of digital files efficiently and securely.
Price: Starts from $9/mo.
Foxit PDF Editor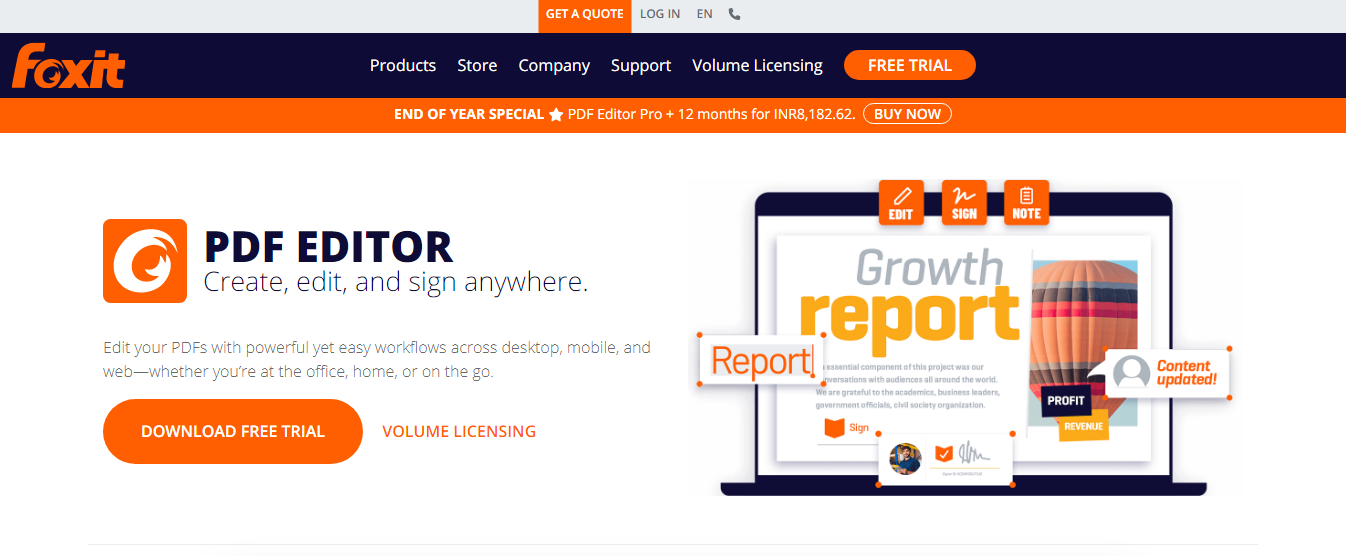 Foxit PDF Editor is a powerful and versatile PDF editing solution that provides users with the ability to quickly and easily edit their documents without any hassle. It is user-friendly, intuitive, and has a straightforward interface.
With Foxit PDF Editor, you can view, modify, enhance, protect, sign and annotate your documents in no time.
With Foxit PDF Editor's easy-to-use tools, you can easily edit text and images on your PDF documents without having to convert them into other file formats.
You can also add annotations such as comments, highlights or stamps all within the program itself.
Plus, the software enables users to integrate multiple sources of content into one single document.
This makes it perfect for businesses that need to combine multiple documents into one streamlined document for presentation purposes.
In addition to its impressive editing capabilities, Foxit PDF editor includes strong security features that protect your information from external threats.
The software also supports password protection for files which ensures only authorized individuals are able to access the contents of the file.
It also includes digital signature support which allows users to digitally sign their documents with ease.
For extra security there is also a secure sharing feature which prevents unauthorized users from accessing your files even if they have been shared over an unsecured network connection.
Foxit PDF editor also offers some great features such as batch processing options for quickly converting large numbers of files into different formats as well as support for Optical Character Recognition (OCR).
This means that scanned paper documents can be converted into searchable and editable text-based versions with ease.
In addition, the software comes with many useful templates so you don't have to start from scratch when creating new documents or forms.
Lastly, Foxit PDF editor allows you to preview your work before printing it out so you know exactly what it will look like before sending it off for final submission or publication purposes.
Quick Links:
Conclusion: 6+ Free PDF Editors for Your Business Needs 2023
By now, you should have a good idea of the best free PDF editors that are available for your business needs.
Each software has its own unique set of features, but all of them will let you create and edit PDFs with ease.
If you're looking for a more full-featured editor, then Adobe Acrobat DC is still the king of the hill.
However, if you need something quick and easy to use without all the bells and whistles, then one of the other options might be better suited for you.
Thanks for reading and we hope this helped you find the right software for your needs!