A domain or the URL is the first step you can take with your online career, and the most important one too. It's like naming your child, you are pretty careful about that huh? Domain names are cheap anyway, but I'll just be walking you through How to get a free domain name!
Ofcourse setting up a website is not "free", I mean a real quality website, but with the right strategies and methods, you can really bring the cost down, a lot! You may also need to know How to create a Website.
But hey, let's start from the basics, huh?
What is a Domain Name?
Okay so here goes, A domain name, is the URL of your website. Take this as the "address" of your home. That is how people reach you, that is your identity on the web.
For eg. Knowledgecage.com is what's the domain name of  this website, right? You have to type that in the address bar above to reach us. So yeah that's what a domain name is.
Types of Domain Names:-
The domain names are distributed into primarily two categories. The TLD's (Top-level domains), and the (Country Code Domains).
There are 100+ different domain extensions. in both the types, but let's have a look at the TLD's first, well because their extensions have a special meaning.
.com:- .com is the most popular domain extension. Primarily because it can be used with almost all kinds of websites. And it's the "traditional" one which makes remembering .com domain easier. Although technically, it should be used for "commercial" websites.
.org:- As the extension itself hints, it's for the "organizational" websites.
.edu :- Yeah you guessed it right, the Educational websites get an edge with this one.
.net:- Own a network of companies, group or anything? Then this one is perfect for you.
Country Code Domains:-
These are just the domains which are associated with specific countries.  For eg.
.in :- India
.co.uk- UK
.us:- America
.ru:- Russia
.pk:- Pakistan
And so on. If these domains have any special edge on the search engine, is still not clear. But well yeah they do give a sense of "localization" kind of feeling don't they?
For eg. if you're running an E-commerce website with yoursite.in, it'll directly tell your people that it's an Indian website, and thus it might have a psychological impact on them.
How to Register a Domain Name:-
Well registering a domain name is as easy as signing up on Facebook or creating a new Email ID.
Okay so if you want to buy  a domain name, all you have to do is head over to one of the domain registrars (below are some good ones):-
Godaddy.com
NameCheap.com
Bigrock.com
And well search for your domain. I'm taking Godaddy as an example but you'll see a similar interface on almost all the registrars, so just search for the domain name.

When you find a suitable one, just Add it to your cart, and checkout!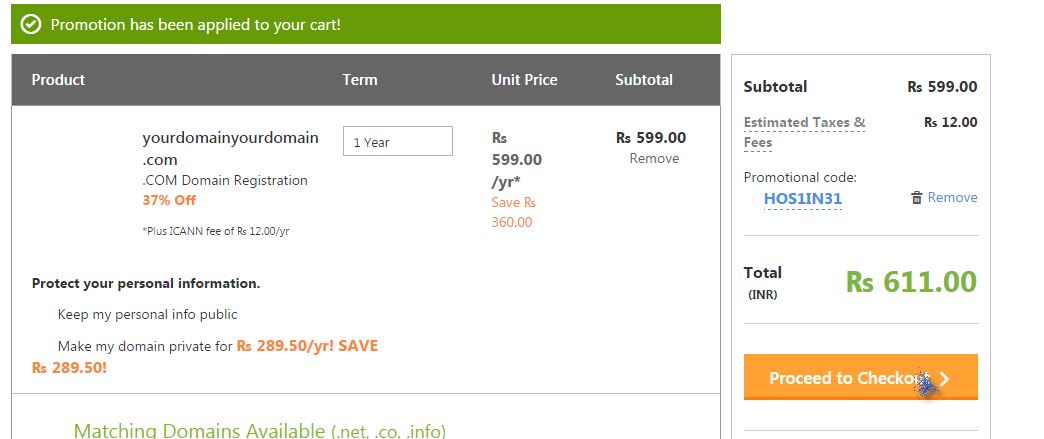 Well yeah that's the "standard" process to register a domain name. But it's not free, right? It would cost you somewhere between 600-700Rs. for the year.(Unless you're using our Godaddy 125Rs domain name trick!)
If you wanted to see a detailed blog post about buying the Domain, here is how to Buy a Domain Name.
So how about getting yourself a free domain?
How to Get a Free Domain Name:-
Well there are two ways I'll be walking you through of getting a .com domain for free.
#1:- Free Along with Servers:-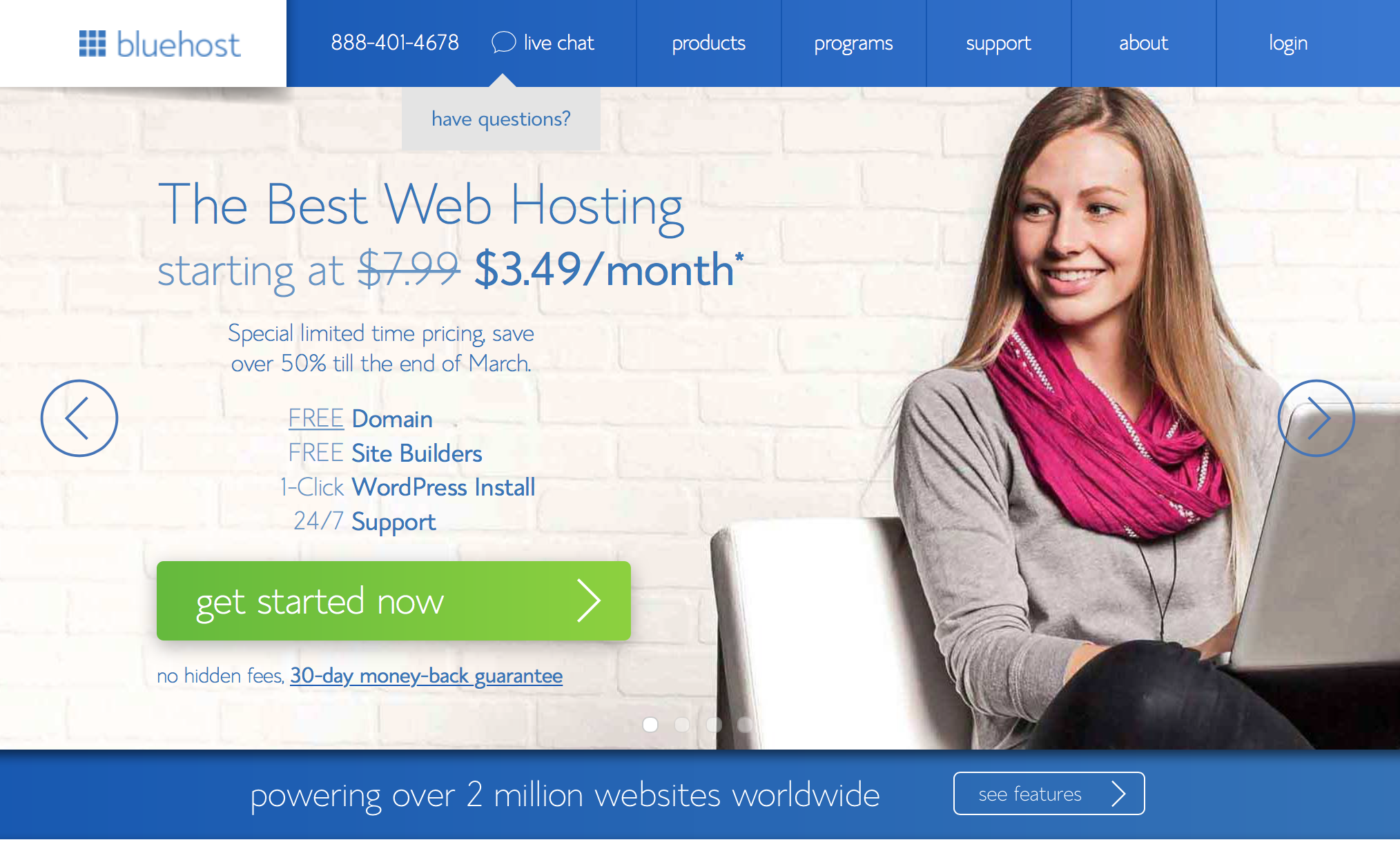 The one legitimate way I find of getting .com domains for free is, buying them up with servers. For eg. you can't use "only" the servers, right? All of us would be needing domains too.
So there are some top level companies which offer you a .com domain for free when you get a server from them. Now it acts "twice" in your favor, first, you don't have to change nameservers or link your server to anything.
Because your Server and domain registrar would be the same.
And secondly, you get to manage both of them in a single account. Trust me it's more important than it sounds, I've lost more than one domain names just because I wasn't careful enough to save the login details carefully.
Here are the companies that offer you a free domain along with their servers:-
BlueHost
Hostgator
Godaddy
You don't have to do anything from your part, just buy up the servers you need, and guess what, they'd treat you with a free domain!
#2 Getting .tk domains:-
These domains can be registered free, like totally, 100% free! The only downside, they aren't .com
But if you need only a "domain" without a lot of "professionalism" into it, then I'd say this is your way to go.
Just proceed to www.dot.tk from your browser, and search for your domain name.

Fill up the next form with the required details, and click on signup.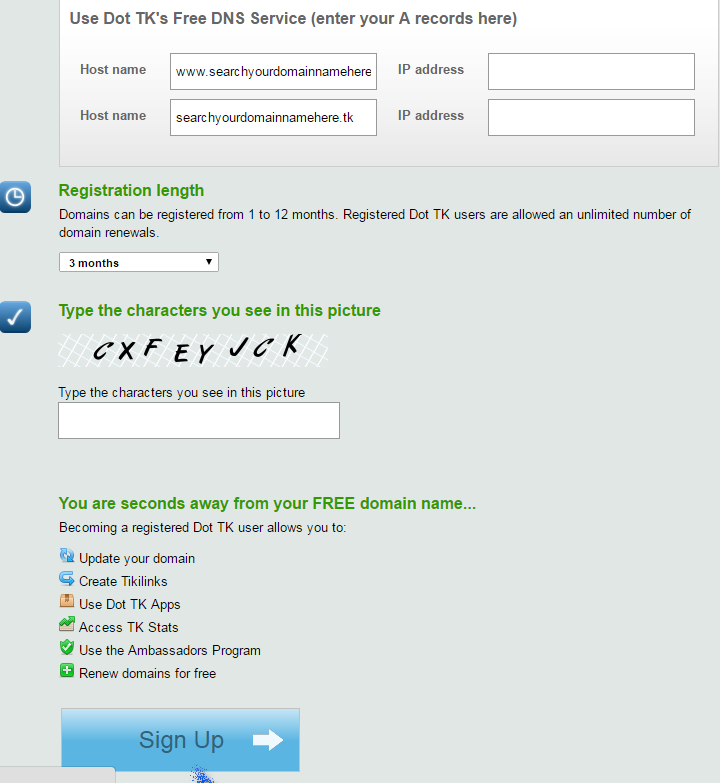 Now you'll just be prompted to create/signup for an account in order to manage the domain (which is free), just do that and congratulations! You just got your free .tk domain!
Final Words:-
Now all you need to do is login to your .tk account to access the domain! See you didn't need to buy the domain name, you got free, quite a method huh? If you wanted to contact the owner of the website, you can easily find out the person behind the Website. Here is how to find the owner of the website.
So yeah folks that were all I had on How to get a free domain name. If you're looking for free .com domains, I'd say go with the server method. Or if it's just the "domain" you want, and the extension doesn't matter a lot, well then the .tk one works just fine.
If this piece helped, do share it. Or hey, got a better idea of getting domains for free? I'm all ears! Make use of the comment box.