Facebook is a billion dollar company right now! But how on earth is that possible? The platform is totally free, and you don't pay a penny to use it, right? That's where this article is heading, and by the end, I'll answer your question about How to hide Ads on Facebook.
But first let's look into what Ads are, and why they're important to Facebook and then finally towards blocking them if you insist.
Well if you are trying to block Facebook ads, there might be quite a number of reasons for that. Starting from just irritation to being offended. And that's when answers to questions like how to get rid of ads on Facebook becomes important. And if you want to hide your friend list from the world, you can easily do that. Here is how you can hide friends list on facebook.
What are Facebook Ads?
Facebook ads are ads that come on the sidebar when you're in your Facebook profile. You must have noticed products and companies promoting themselves. Those ads are how Facebook makes it's money without charging a penny from you for using it.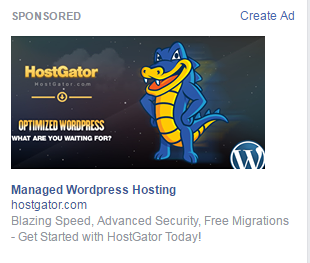 So those are Facebook Ads.
Why are Facebook Ads Important to Facebook?
Facebook is a free platform isn't it? You don't have to pay anything to use Facebook. But then again, Facebook has a staff whose combined salary is in Million dollars per month.
So how does Facebook pay them and save enough for itself when we aren't paying it anything? Well, it does that by the ads.
Yeah, advertisers are charged for showing those ads, and they pay up whenever a Facebook user clicks on the ads. Now Facebook being a "H-U-G-E" platform, it makes a potential platform for the advertisers to find their clients, right?
Cause no matter what you do, you're a Billionaire playboy, or a street-vendor, almost everyone has a Facebook account these days so yeah thats what makes it worth the ads. So advertisers start advertising on Facebook.
Thus whenever someone clicks on those ads, they have to pay a definite sum of money to Facebook, in return they stand a chance to make a sale from the customer who landed on the website from the Facebook ad. So Facebook makes money for the click, the advertisers make money for the sale, the client finds what he's looking for.
It's a win-win for everyone isn't it?
Why Would You Want to Block Facebook Ads?
A legit question, if it's making money for Facebook, then why to block them.
There are a number of reasons for that, for eg. first of all they aren't always what you want. For eg. you might not be at all interested in the ads that are being shown. If language is the problem for you on Facebook, it is always a good idea to change English language to your local comfortable language. Here is how you can change the language on Facebook.
Facebook ads operate on your cache, means Facebook knows which sites you visit, what products you're interested in and then it shows you ads related to that site or product.
But even then there are chances of the ads not being relevant. So yeah you might want to hide those.
Another reason when FB ads might be irritating is when they're offensive. For eg. they're promoting a person/product which you aren't comfortable with, so of course, having it pop up on the right side of the screen is not the best thing to have, right?
And yet again another reason is at moments the ads get clicked and there's an extra tab on your browser which leads you to a site or product you have no interest in. In addition to that, the click might have consumed extra bandwidth if you're on the limited bandwidth plans.
So yeah enough reasons for you to wonder how to get rid of ads on Facebook right?
How to Hide Ads on Facebook:-
It's extremely easy to block Facebook ads, in fact all it needs is two simple clicks.
Whenever an ad shows up that you want to hide, just click on the small "x" button on the right side of the ad.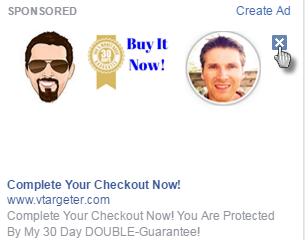 Once you click there, Facebook would like to retain some more information about why you opted out of that ad. So just let it know the reason why you're opting out of ads.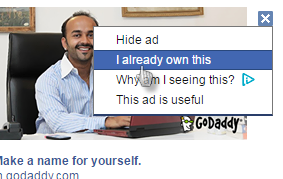 And done!
Now, the point is you can't permanently and totally block Facebook ads. Like, all Facebook ads can't be blocked. So, in that case, you can use the next option which comes up to customize your ads and preferences.

By clicking on the above button you can tell Facebook about what kind of ads you'd like to see. When you click on the button, you're presented with a vast category list. Just select the niche/topic you're interested in.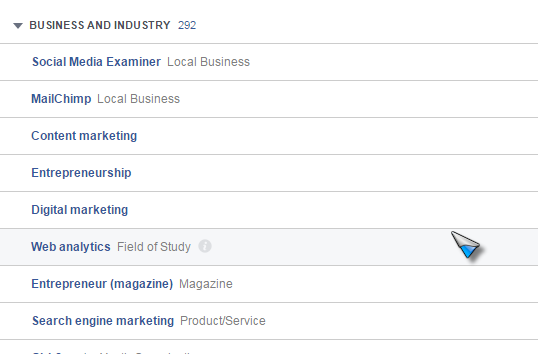 This way, you won't be blocking the ads, but atleast you'd be seeing ads that might be relevant and useful to you.
Over to You:-
So that was it, on How to hide Ads on Facebook. Ofcourse Facebook doesn't allow you to hide the ads completely. Because that's how it makes money. Also learn to send files on Facebook.
But the customization option which I talked about, atleast let's you choose the type of ads you're interested in. Or the industry. Now choosing the specific types helps you get exposed to the kinds of products of your interest, and many a times, great bonuses and discount offers are promoted via Facebook ads.
So yeah blocking Facebook ads is neither possible, nor recommended. Instead you can block a certain advertiser or ad by the method I've talked about in this piece.
If you've got a question or are confused, do let me know in the comment boxes. I'm here to answer each one of them.