Hotmail is a free email service provided by the Microsoft Corporation which is also known as Windows Live. If you have ever used Hotmail, you might know that it can also be accessed from outlook.com.
Hotmail email service is one of the world's first webmail services which are still used by millions of people.
While using email service, security is a must thing we should focus on. As sometimes we tend to send and receive confidential information via emails. We all know that once the credentials are leaked how risky it can be.
So in order to keep you account secure, you will have to keep changing the password regularly. Not only this but there are many more factors we should be following in order to prevent our accounts. We will be discussing other factors may be some other day.
Today, we will discuss the Hotmail password issues and Hotmail password reset.
If you are a user of Hotmail you might have faced the Hotmail login problems like if you forgot your password,  reset the password and so forth. If yes then this article is for you. Because today, I will let you know the procedure to change the Hotmail password and resetting it.
How to Perform Hotmail Password Reset
Follow the below step by step guide and learn to change Hotmail password.
Step 1: First of all, open your Hotmail account by entering your credentials.
Step 2: After logging into the account, click on the image icon just beside the gear icon from the top right corner and then click on Account Settings.
Step 3: After clicking on the Account Settings, you will be taken to a new page. Where you will see two options, edit page, and change password. 
Step 4: Now without seeing here and there click on the Change password. And you will see a window, where you will need to verify your account. Though it's not necessary but sometimes due to security purpose, you may be asked to verify it.
Now select your backup email address if you find it correct and click on Send code.
And If you don't have access to your provided email address, then select "I don't have these anymore" and click on Next. You will be asked to follow some other security steps. Once you complete that you will gain the access again to your account.
Step 5: Once you are done with the verification, click on Security and Privacy tab from the top of the screen and choose Change Password. See the screenshot to understand it better.
Step 6: Once done, you will see a new screen. There, you will need to enter the password.
In the above screenshot as you can see there are three fields, Current password, New password and Reenter the password. Fill all the required fields and click on Save. And you are done with Hotmail change password.
Resetting the forgotten password
In case you are unable to access through your Hotmail and have forgotten your Hotmail password then follow the below procedure to Hotmail reset the password.
Step 1: First of all, click on the can't access your account? From the login screen. You will find the option just below the Sign in button. See the screenshot below.
Step 2: After you click on the Can't access your account option, you will see a new window "Why can't you sign in?" 
Here you will see three options, 1. I forgot my password, 2. I know my password, but can't sign in and 3. I think someone else is using my Microsoft account. See the image below for better understanding.
Step 3: Now choose any of the options as per your concern. If the reason is Hotmail forgot password, then select the first option, and in case, if you suspect anyone using your account then choose the last option. Else go for the second option if you are not sure about the issue.
As we are here to learn to reset the password, click on the first option that is I forgot my password. And then click Next.
Step 4: As sooner you click on the I Forgot my password, you will see a new screen Recover your Account. Enter the email address or phone number associated with your Hotmail account. Fill the captcha on the box provided and then click on Next.
Step 5: Here, again you will need to confirm verification by providing the email ID. Choose the first option and complete the email address. If you remember the ID, if not then go for the second option. You will get it better if you check the screenshot given below.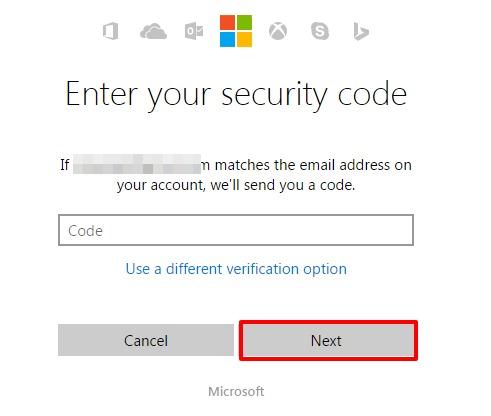 Step 6: After you click on the Send code button. you will receive an email containing a code. Paste it into the box you will see after clicking on the Send code button.
Step 7: Following the previous step, you will have to enter the code and click on Next. At the next moment, you will see a screen saying Reset your Password.  Fill the password field with the new password and click on Next. I have managed a screenshot see it below.
And you are DONE! You have successfully reset the password for your Hotmail account. Now you can log in any time that too without any obstacle.
This is how we change the password on Hotmail. Along with how to change password on Hotmail, I've also covered Hotmail password reset. In case, you forgot your password or you are unable to access your account then my this guide will surely be a helpful resource to you.
However, I have described a complete guide with each and every single step that too with the screenshot. So I am quite sure while changing or resetting the password you won't face any difficulty.
But in case, if you do, don't hesitate to ask. Drop your comment in the comment section below and we will be with you.
If you liked the article then consider sharing it on socials, we will heartily appreciate your share.