LinkedIn is regarded as one of the greatest social networks with regard to its privacy policy. In spite of the excellent user protections and standards, LinkedIn data harvesting is frequently avoided.
There are also numerous individuals who are unable to utilize the technology or platform and seek to deactivate their LinkedIn accounts. There are also a handful who do not know how to edit their LinkedIn account and hence find it easier to delete it and create a new one.
If you choose to deactivate your LinkedIn account, the process is straightforward and does not need much of your time or understanding. How do you close your LinkedIn account? Learn how to remove your LinkedIn account from your Android phone and computer by reading this post
Notes You Need To Know
Prior to deactivating your LinkedIn account, here are a few considerations that you may find important.
Just remember the following notes so that you do not become puzzled as to why your profile still appears in search engines after you have deleted it or why you cannot remove your premium membership account, etc.
After you delete your LinkedIn account, your profile will be removed from LinkedIn, but your information may still be displayed temporarily on search engines.

Do you have a premium LinkedIn membership? In such a case, you must either deactivate your LinkedIn account or cancel your premium membership and continue with the free basic membership.

You cannot communicate with any of your Connections.

Your accumulated endorsements and recommendations will be removed from your LinkedIn profile.

If desired, a copy of your LinkedIn information can be downloaded.

Have you created many LinkedIn accounts? You can delete or merge your LinkedIn account.

It is possible to reopen your LinkedIn account within 20 days, but you will lose data such as recommendations, pending invitations, followings, and group memberships.
You may also read:
Here's how you can delete your LinkedIn account on your PC
Step 1: Sign in with your username and password to deactivate your LinkedIn account. You may find the "Me" tab in the upper-right corner. Settings & Privacy is accessible via the "Me" tab's drop-down menu. Now, locate the "Account Management" option under the "Account" menu.
Step 2: Next, to "Close your LinkedIn account," locate and click the "Change" option. You will receive a warning if you are a premium user and attempt to terminate your LinkedIn account without canceling your premium membership. To access the membership cancellation page, click "You will need to convert it to a Basic membership."
Step 3: If you have a duplicate LinkedIn account, you receive too many emails, I'm not getting value from my membership, I have a privacy concern, I'm receiving unwelcome contact, and Others are some of the reasons why you may decide to deactivate your LinkedIn account. Below the page's content, click "Next." You are prompted for your password. Now, click the "Close Account" link.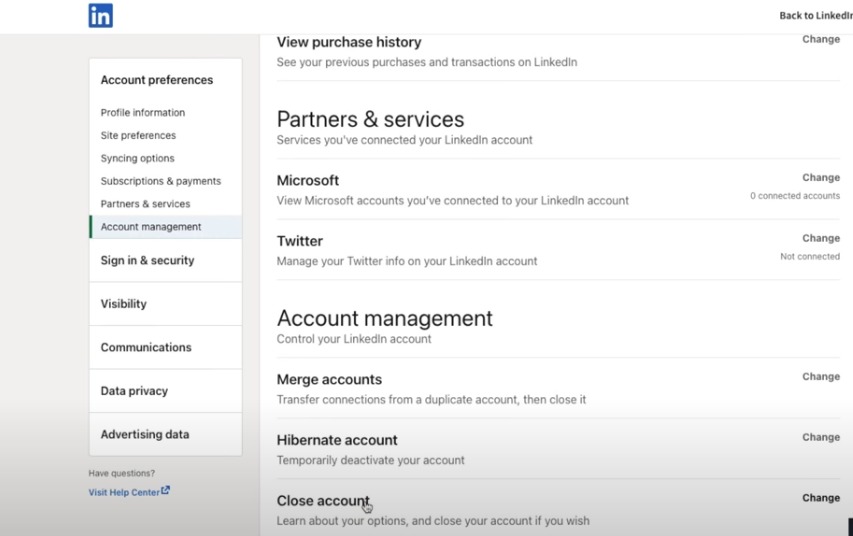 The LinkedIn account is automatically deleted, but it takes few more weeks before it is removed from the search engines.
How To Close Linkedin Account On Android Phone
There's nothing to worry about if you intend to delete your LinkedIn account from your Android device. It is pretty similar to how a LinkedIn account gets deleted on a PC.
Tap the LinkedIn app first, then click on the displayed profile picture. Then, in the upper right corner, tap on the Settings tab. Close the account by clicking the Account icon.

If you want to "continue," a notice comes, so tap on the continue option.

When you click the proceed button, a message similar to the one seen above in remove LinkedIn account from PC appears, asking why you want to deactivate your LinkedIn account. Click on any of the reasons for quitting LinkedIn and then press "Next." It will ask for your password to prove that it is you and for the security of your account, and after entered, touch "done."
Quick link:
Conclusion
LinkedIn is not rigorous when it comes to canceling an account or losing a member. If you want to delete your LinkedIn account entirely, that is entirely up to you and your convenience.
Whether using a mobile browser, an Android phone, or your computer, canceling your LinkedIn account is an easy process with a few important steps. To remove your LinkedIn account from your PC or Android, follow the steps outlined above.