iPhone is a product of Apple Inc. which is surely a whole lot more than a communication device, as one can run and play a variety of games, run entertainment and business applications etc in the best possible manner. It is designed in a way to facilitate people of every age group.
Besides everything else, one is also allowed to access the internet from his iPhone from any remote location, however if you are willing to run internet from any random location it is really very important that you should access iPhone VPN  and start using it in order to avoid any problem, and this is because using  any public Wi-Fi is surely not safe, as you would be giving a space for the hackers and intruders to get into your iPhone and steal / corrupt its data, hence iPhone VPN not only allows you to browse over the internet safely, but it also allows you to access any website even if it is not available in your region.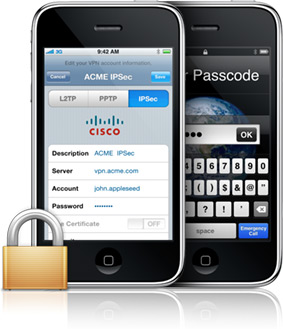 A good number of iPhone users really don't know how to access iPhone VPN from their iPhone devices, and in the following lines, you will get to know its method of access. And if you are really new into iOS, you may need to look for the ways to close the iPhone App.
Tapping Under VPN Network:
In order to enable iPhone VPN, all you have to do is to tap the VPN option that is found under the network option.
Adding VPN Service:
After you have entered into VPN settings, now the next thing that you need to do is to Add VPN service, as without that it is not going to work. For configuring iPhone VPN service go with the option "Add VPN Configuration" and then by clicking over defined protocols in your iPhone.
Configuring VPN service:
In order to get iPhone VPN service working for you, all you have to do is to enter all the configuration information that is offered to you by your respective company. This information includes the following details:
Account Name
Password
Encryption Level
These are the three details that you need to mention in your iPhone VPN at any cost, however, there might be other details too that you need to enter or VPN services require you to enter, but above-mentioned details are known to be the basic ones that should be filled at any cost.
Alternative Solution:
If you think that you are not able to do that on your own, and you might mess up the configuration settings than it is highly recommended that you should get it done by other techno-geek who is already using such service. You will surely find one in your workplace, neighborhood, friends and even in your family who will be more than happy to assist you in that and fill all the required information on your behalf, hence allowing you to make the most out of it.
So that's the procedure to access iPhone VPN and making it works for you in the best possible manner. The best thing about this is that it won't take more than 30 seconds in order to get the entire job done (including entering details). If you don't want to share your location on iPhone, you can turn off the location service on iPhone after which no app or service can track your location.