iPad is one of the most common devices in today's digital world. Most of the techies love to work on this gadget, and the most common query that most iPad users ask is – How to backup iPad? To keep your crucial data like documents, photographs, and account settings safe and secure, people always look forward to finding ways to back up the data in a secure location.
Apple, with its awesome features, makes things really plain sailing for users to create an awesome backup environment through iCloud. It is one of the lightest applications in the digital realm that helps users to save their information with just a few clicks.
See Also: How to Reset Apple ID Password Easily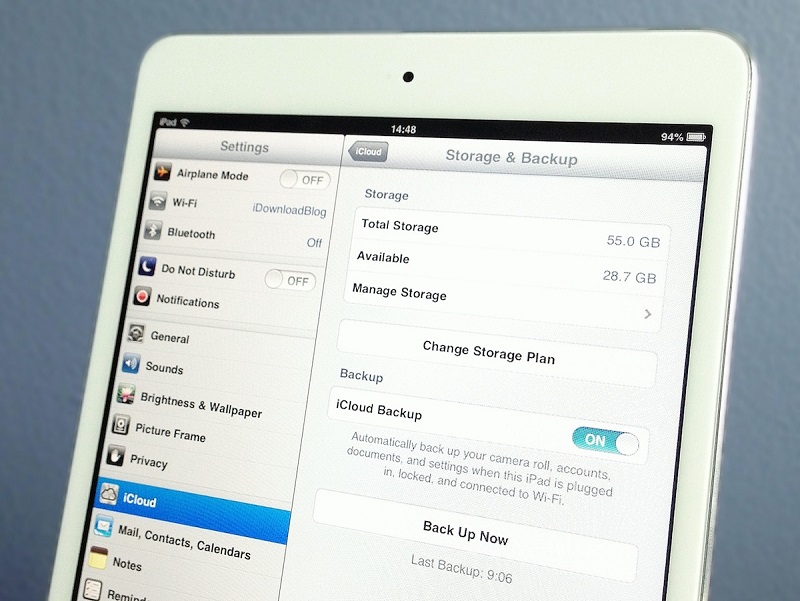 If the iCloud back up is turned on in your system, then the automatic backup takes place over the internet. When anything goes wrong, the application connects your iPad with iCloud and helps the information to be restored to your device. If you have been thinking that there is some kind of rocket science behind the mechanism to back up your iPad, you are absolutely wrong.
The intent behind developing iCloud is to give the users assurance that their data is completely safe and secure.
Setting up iCloud Backup offers peace of mind to know that your iPad's information is being kept safe. You don't need to do anything at all if iCloud Backup is turned on: your iPad takes care of the backup all by itself. If your iCloud is simply switched on, there is nothing to worry about as it is very easy for users to stay back at their home and enjoy the security.
See Also: How to Restore iPhone from Backup?
How to Backup iPad – in Simple Steps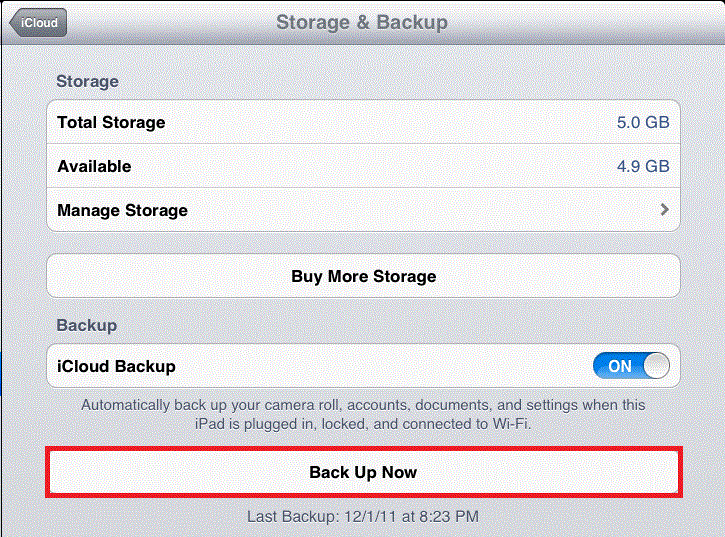 Now let us understand the steps for how to back up an iPad:
Check iCloud
Before turning on iCloud backup, you have to first make sure that you are properly logged into iCloud. Tap the Settings app on the home screen and select iCloud for the settings you see in the sidebar on the left. But remember that you should be signed into iCloud to make it very handy for the technology to get all the tasks done like a cakewalk.
Now, you may simply scroll down and hit on the Backup button to go ahead.
Sign in
How to back up iPad should not more be a concern as you're all set to go once you sign in. There may be chances that you may not see the iCloud window in the first instance, but you will find the login screen from Apple ID and Password to activate iCloud. The Apple ID and password is the login id used for the Apple store to download apps and other things.
Now, click on the 'sign in' button and wait until the iPad connects to the iCloud. Now, hit the green button of the backup icon.
Turn on iCloud Backup
After selecting the 'backup' button, an alert will pop up notifying you to start the iCloud backup. Now, you may click on OK, and the process of backup will start. Whenever iCloud is connected to the internet, the backup process will begin. And if you want to take up the backup right now, you have to click on the Backup Now option on the screen.
What is Backed Up?
iCloud Backup stores all sorts of photos you have clicked on the iPad. The best part is that it also secures your documents and account settings. You can segregate what needs to be backed up. So, go to Settings-iCloud. But remember, if you want to back up your emails, then you need to have an account with @iCloud.com account.
Any music, apps and movies that you purchased from the iCloud account cannot be taken as backup onto the iCloud, but ensure that you can re-download it from Apple store – that too completely free of cost if you lose them.
You may go to Settings >iCloud >Storage >Manage Storage. Here, the window will show all the stored content in the iCloud and how much space has been occupied by the available 5GB space.
How to Get More iCloud Space?
Let's say; your usage is really high, and your plan is to back up multiple Apple devices, and the free 5GB data is not sufficient. Then, you have to buy more space.
If you really want to buy, then you have to go to Settings – iCloud – Storage – Change Storage Plan and very easily you may get up to 1TB of storage on the purchase. In case, your data and usage are enough, and you feel that 5GB is sufficient, then you can stick to it, and there's no need to spend extra money on it.
See Also: How to Backup iPhone to iCloud?
Hope the article helps you with the right solution for the most prominent query you keep on asking yourself each day if you are an iPhone user i.e. "How to backup iPad to iCloud"? You no more have to be concerned and keep thinking 'how do I back up my iPad?' Whenever you store any data, may be official or personal, just be relieved that you are safe in the able hands of Apple.
Many competitors have tried the same stuff. Apple iCloud also faced a lot of negativities in the market, but once on the path of success, resistance is inevitable.
Since its inception, iCloud has managed to cater to loyal and satisfied consumer base and take the brand reputation to the next level. The best part is that iCloud is a single solution to multiple iPhone devices – not only iPad.
Now that backing up your important data on your iPad is very easy, you can go ahead with saving all that you want without worrying about security issues or loss of data.
You can also brief this simple procedure to your friends who own iPad so that they can also perform the simple backup regularly and make the most out of their Apple gadget. If you know more such tips for using iPads, share your views in the comments section here so that our readers can also be enlightened.