Skype is one of the most underrated apps on the Internet, while Facebook and Twitter keep on garnering attention. Skype has simply changed the way we talk. You are bound to be accustomed to Skype once you start using it.
Purchased by Microsoft, Skype is basically 100% free and is an effective tool to communicate with people all over the globe. The most culminating feature of Skype is its ability to make and receive phone calls.
In a nutshell, it is a messaging software with add-on features like video conference or instant messaging style texting. With the increase in its usage, a lot of people have been drifting towards the question that How to block someone on Skype. If you are looking to block a person on WhatsApp, here is how to block on Whatsapp.
Let's have a look at the process of How To Block a Skype contact:
How to Block Unknown Callers on Skype
Basically, people want to keep Skype exclusive to their contact list, and tend to avoid spam and unknown people. But with techniques and marketing strategies, so aggressive, spam tends to hit the profiles. Unfortunately, this spam has hit Skype as well.
Blocking contacts is not permanent, but the users will remain on the list until you decide to remove them. Here are a few quick steps to prevent the people you don't know, by contacting you on Skype:
Open your Skype account and sign in.

Click on the Tools menu in Skype and choose Options.
Once the next screen loads, hit on the Privacy tab on the left-hand side.

Go to Privacy Settings. Click the bubble next to "Only allow people from my Contact list to contact me." Press Save to finish the process.

There is an alternative way to do this process too. The other method is listed in the next step. Along with Skype, Snapchat also ensures the interest of their user. If someone is annoying you on Snapchat, you can easily block the person on Snapchat.
How to block someone on Skype
Using Skype is a cake walk. All you need is an internet connection and a laptop that has a microphone and, ideally, a webcam. Amongst all these benefits, unknown Skype callers can be extremely annoying.
But to your relief, Skype comes along with various privacy and security options that prevent strangers from disturbing you. There is an alternative way to do the above process too. The other method in order to How To Block Someone On Skype is as follows:
Log on to your Computer system and initialize the Skype application by double-clicking its icon.
Click the appropriate option to log-in either using Microsoft account or by your Skype Name.
Click the Sign in button.

Right click on the name of the contact you want to block and select "Block this Person". Click Block This Person.

In case the user has been abusive, you can also check the Report Abuse box before clicking Block.
Both these processes are relatively easier to follow and comes as an escape from elongated unknown callers. Whatever be your reason, just follow the above-listed process in order to block someone from calling you on Skype.
Steps to block contact on Skype iPhone
Apple products need no introduction and are trending, since the day they have been launched. They work on iOs software. Let's have a look at How do I block or report a contact in Skype iPhone:
Launch Skype on your iPhone.
Navigate a contact and tap on the contact, you want to block.
Now tap on Contact name.
You will see three options. These are:
a) Block
b) Remove Contact and
c) Cancel
Then, select the options block, just tap on it.
A popup box appears, asking Are you sure want to block this contact?
Click on the Block, to complete the process.
Now, in case you want to permanently delete or remove a contact on Skype iPhone, follow this process:
Install Skype on your iPhone
Navigate a contact which you want to do remove/delete.
Now tap on Contact name, then
Tap on More icon
You get the options block, remove Contact and Cancel
Then tap on Remove, to finish the process.
You can make a choice amongst both these methods, pertaining to your requirements.
How to Unblock a Contact
Sometimes, out of the mistake you block a contact, or later realizes to unblock it for whatever reasons, you can simply unblock a contact by following the listed process:
In the main menu, select Tools > Options.
In the Skype Options box, select Privacy > Blocked Contacts. A list of blocked contacts is displayed.
Select the contact you'd like to unblock and click Unblock, this person.
How To Know If You're A Blocked Contact on Skype
Blocked contacts can see that they have been blocked. Following points can give you a glimpse that you have been blocked by a particular contact:
You cannot see their profile picture- When you click their name, you will be able to see just the default Skype picture and not their actual profile picture.
A sign "X" appears- If you are blocked, the icon may appear like a gray "X" instead of their picture. It may also be a green tick mark or a gray question mark. It is a sign that you have been deleted.
Deleted Previous Conversations- You will not be able to see your previous communications that you might have sent. Your messages may appear to be undelivered. When this happens, it seems you've been blocked.
So, these are all the signs that you have been blocked on Skype. Just make a note of them and from the next time, you can check if you have been blocked by a contact or not.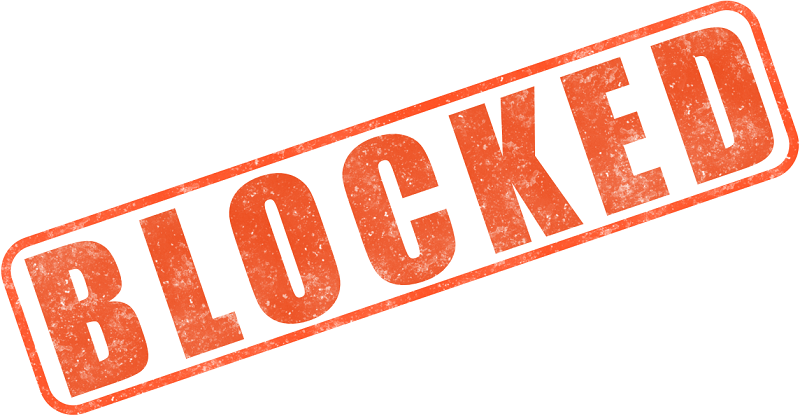 Conclusion
With just a touch of a button, life becomes so much easier. This particular sentence goes so well as far as, use of Skype is concerned. Skype is a great way to stay connected. It has completely modified the way we talk and has indisputably improved our lives, for better. You can also block an email. Blocking an email is not a big task. Simply follow this guide to block an email.
However, increasing spammers is a big hassle in its smooth usage. How to block someone on Skype is as easy a task as it sounds to be. Just follow the above-enlisted process and make your chat or talking experience worth a shot with Skype!