For a newbie, the iPhone is nothing less than a complicated device with multiple applications. No doubt, the iPhone has developed a huge market for itself, and the number of iPhone buyers keeps on increasing. For those, who are using the iPhone for the first time in their life, must be struggling with its settings.
At first, they gave their iPhone a stylish name, and later it seems to them sound funny. It is difficult for most of them to change iPhone name. If you are one of them and still pondering on ' How to Change iPhone name ', then doing this is as simple as erasing your name on a notebook and write it again.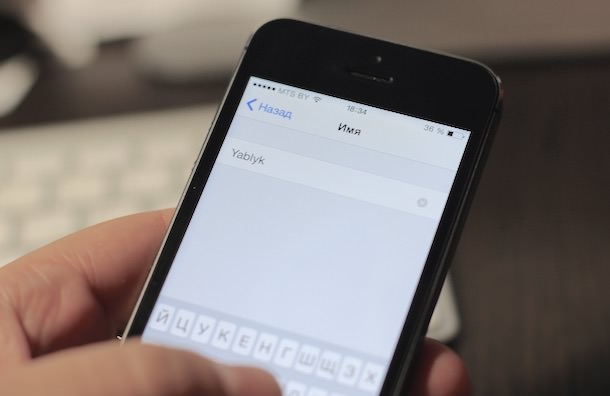 If you are still struggling with your iPhone setting and looking for a solution on 'how to rename your iPhone' again then this article will surely help in renaming your iPhone.
You can easily change iPhone name with iTunes or without using a computer and iTunes. It's up to you what seems easier to you while renaming your iPhone. All you need to do is carefully read all these steps involve when it comes to 'how to change name of iPhone.'
Let's get this started.
How to Change the Name of Your iPhone With Computer and iTunes
It just takes a few minutes of yours when you try to rename your iPhone with iTunes help. First, you need a computer or laptop. Install the latest version of iTunes on your device and then with the help of USB or Wi-Fi sync you can plug in your iPhone into your system.
After launching iTunes, it shows your iPhone tab on its right side. Click on that iPhone tab and then select the hover on the name of the iPhone in the sidebar of iTunes.
You will see a renaming highlighter will pop up. In that pop-up, type the new name of your iPhone.
As you rename your iPhone, click on the return key to set and click the Save button in order to save the changes you made.
It will instantly sync to the iOS device. The change of iPhone name is easy and simple with iTunes and will be redirected on the iPhone, iTunes, backups and somewhere else where the iPhone name is used.
But wait what would you do in case you don't have any access to a computer or laptop with iTunes? What, if you suddenly want to change the name of your iPhone but due to the unavailability of the computer, you are unable to do so. Will you go to your home and attach your iPhone device to your system?
That not a big problem as Apple iPhones are loaded with advanced technology which enables you to change its name without using any iTunes or computer. You can change iPhone name with any latest version of iOS.
These are some instructions that you need to follow in order to change iPhone name without using any computer.
The process of renaming the iPhone starts with setting an app on your iPhone and once it has been set it carries throughout iCloud and iTunes. There is no wrong or right way when it comes to 'how to change name of iPhone.'
Just chose the approach which suits you best or learns how to work with both approaches either with a computer with iTunes or with the setting app.
How to Change iPhone Name with iPhone Settings
When it comes to change your iPhone name while using the iPhone, then the first thing to do is, go to the settings app. As you tap on Settings, you will see multiple options with a General option.
Click on that general option; it will open up a new tab, and there you will see other options. You need to click on the about option.
Click on about and it will take you to name where you will see the old name of your iPhone. Just click on it and give the new name to your iPhone and select the done button and a new name will be saved.
Once you tapped done, the iPhone name field can be changed with the name given by you. Be it your favorite actor name, pet, cartoon character, superhero, and video game character–you just need to fill the name field with a new name.
Changing your name on iPhone is simple and easy as you don't have to struggle between different programs. Apple has added this feature to assist its users with setting up and dealing with the iPhone without a need for computers and iTunes.
Even if your iPhone is connected to a computer, you can still change its name without using iTunes that is installed in your system.
Even if you use syncing Wi-Fi from an iPhone to your computer, it still works. This change is immediate without connecting your device.
Final Words
It does not matter when you first set up your iPhone. You can change the name of your iPhone anytime, anywhere. Doing this is simple, easy and straightforward.
This is helpful when you have changed your iPhone with your brother, and your brother wants to rename it with a new name. Whatever the reason may be, you can easily change the iPhone name with or without iTunes or computer.
Sometimes simple and clear things are difficult to complete. Even renaming your iPhone may seem difficult to most of the people but it is easy and simple.
When it comes to ' How to change iPhone name ' then these are the only two ways to change your iPhone name. It depends on you which method you choose, either with a computer and iTunes or with the setting app.
Admit it; iPhone is a cool device. Having an Apple iPhone is a status symbol in itself. Therefore, to put its users at ease, Apple has made a recognizable effort to make its iPhone "PC-Free".
This will enable you to use the iPhone and all of its features with or without even connecting to computer or iTunes.
I am sure with this article; you will be able to change your iPhone name by yourself without depending on other people's help.