There is no denying the fact that E-mail has changed the world. The dominance of email in business communications cannot be overlooked. E-mails have completely changed the face of communication. Communicating via e-mails have reshaped how we do our jobs.
It suffices to say that Gmail has been one of the best and biggest webmail services for the last several years for multiple reasons. Gmail by Google is one of the best free email programs.
Gmail supports both POP and IMAP, which are industry standards for desktop email clients. That means you can use Outlook, Thunderbird, or Mac Mail with your Gmail account.
Gmail sport a clean interface, which is easy to use. Gmail is heavily customizable with themes, background images, and information density.
When you create an account on Google, it seeks a lot of information and having your phone number is part of their security policy. A lot of people have been drifting about How to change mobile number in Gmail.
In case you have changed your phone number for whatever reasons and you want to update the same on your Gmail account, take a look at how you can do the same:
How to Set up a Recovery Phone Number
Losing access to your emails, documents, and photos can be frustrating. To make sure you can get back into your account simply and securely in the future, add password or phone recovery options.
Giving a recovery phone number makes it easier for you to regain access to your account, in case you forget your password. Steps to add recovery number:
Sign in to your Gmail account and choose the tab My Account.


In the "Personal info & privacy" section, select Your personal info.


Choose Phone number
Next to Recovery Phone Number, select Edit.


Add your recovery phone number and select Done.
Now, in case you forget your password you can recover Gmail Account Password with the help of your Phone Number.
Note- If you do not have a backup email or phone number added to your account and cannot verify your identity, it is impossible to reset your password. So it is always preferable to add your phone number to your Gmail account.
Changing Mobile Number via Google Accounts
Whenever you sign in to your Gmail account, it asks for your phone number. It is one of the best features for safety measures both for account recovery and verification. In case you log in from an unknown device it can issue you an SMS with an access code to prove it is you logging in.
Now, in case you want to change your mobile number then take a look at the process of How do I change my Gmail account phone number via Google Accounts.
Use this link and access my account https://myaccount.google.com/
Locate the personal data and privacy section, and click on your personal info.
Just choose a change the phone number and follow the onscreen instructions.

How to Change Mobile Number in Gmail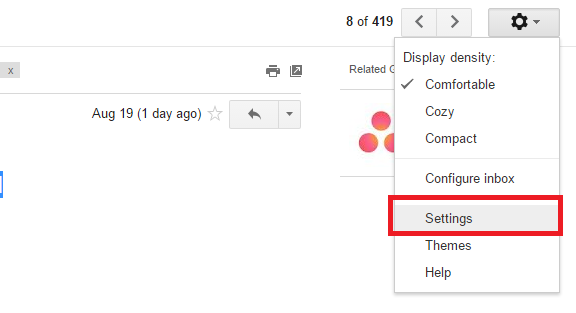 By asking for a phone number for verification, Google keeps down the number of accounts created through mass automation. Take a look at How to Change Registered Mobile Number in Gmail: Open your Gmail account, click on Settings located at the upper right of the page.
Select the Accounts and Import icon. Click on the password change and recovery option section.


Go on the edit icon and you will see an icon for Mobile Number. Click on it and simply change the number.


To finish, click on the Save button to activate your changes.
And you are done! The number is modified. Now, you can operate your Gmail with your modified number.
How to Change your Recovery Gmail Phone Number
You have seen above as to how to add a recovery phone number to Gmail. Now take a look at how to modify or change this recovery number:
Login to Gmail Account and go to My Account by clicking on your Photo image.
Press Sign in and Security. Select "Signing in to Google".


Scroll down to Account recovery options and press "recovery phone".
Click on the edit icon to change the recovery phone number.
And you are done!
Conclusion
A lot of people complain and show frustration when Google demands a lot of information while opening up a Gmail account. But then. You can do nothing about it as it is a part of their security process. Actually, not only the security reasons, giving your phone number have some added advantages too. Take a look:
Google can help you find your phone in case you lose it or it is stolen, by just using your Google account.
The best part is that you have to just synchronize your Google account with your phone, now whatever you install from the desktop in your Google Play, it will be installed automatically on your phone.
In fact, Google even limits the number of accounts you can make with the same phone number. Use the handy guide for How to change mobile number in Gmail, given above and enjoy the uninterrupted access to the Gmail services.