Its been almost year when Microsoft launched Windows 8, in the starting even I was a little reluctant to shift my laptop from windows 7 to windows 8.
But then as I bought a new laptop that came with Windows 8 genuine, so steadily I realized that Windows 8 is actually not that bad and actually has some really good and addictive features which may not let you go back to windows 7 back again.
The best part is that Windows 8 is really very customizable, you can customize almost everything from the theme to color, well sometimes it may get a bit tricky for you to reach the correct place where you will find all customization options to change the color of the background.
Well if you are one of them who have not yet explored this feature don't worry, you are at the right place on this article I will be giving you the complete tutorial on how to change the background color of startup menu in windows 8.
You can also create personalized start button on Windows 8 that will give your computer your own personalization.
Follow these steps:-
1. Just go to the search box and type " start screen"
2. select the start screen setting option on the right of the screen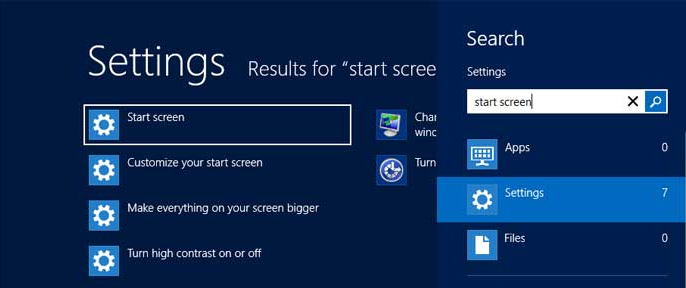 3. Once you enter the start screen settings, your default selected tab would be "Lock Screen" change it by clicking on the "Start Screen" tab just next to it.
4. Now after selecting the Start Screen tab just simply click on Personalize.

5. Once you enter the personalize tab, here you will get all the customization options.
This is the place in windows 8 where you can find all the options that will help you change the look and feel of your Windows 8 pc.
However, it is recommended not to use bright colors in the background as they tend to reduce the visibility of the menu and the app names.
If you use bright colors you may note a sudden battery drainage problem, I personally did experience it once I selected yellow as the background color, my battery which usually did last for around 4 hours, showed me red signal even in less than 2 hours, and this problem was automatically resolved once I changed the background color back to dark.
Do not forget to try out the other features you get here, you can easily change the complete look of your User Interface just by few clicks in the Personalize block.
So go ahead and try building up your own new windows UI, hope you enjoyed the article. You should also see the best antivirus for your Windows 8 Computer that will be going to protect you from virus & Malware attacks
Keep stalking for more tips and tricks.