Twitter is the second most successful Social network after Facebook both in terms of Revenue and User base.
Well, if you Google "Story of Twitter", you'd find it's no less unique, exciting and thrilling than any story from a movie. Well, of course, a company that's worth more than $5 Billion, surely would have secrets and mysteries no doubt, but that's not what we need concern ourselves with.
In this piece, I'm simply explaining some basics to your Twitter profile, specifically speaking, the art and process of "How to change the Twitter name, or handle".
What are Twitter Names or handles?
Before you would want to know you to change your name on twitter, you need to know what Twitter names or handles are in the first place, right?
When Twitter was first being coded, it did face quite a lot of problems, and a lot of them were pretty basic.
Well, Twitter isn't a human, ( but probably you already knew that right? ). So, how would Twitter differentiate between which profile is yours, and which is your friends'? ( Or probably enemies! ).
How would Twitter let others find you? They can't just scream your name on their screens, and your profile would come up, right?
Well, that's when Twitter came up with the "Names/handles" answer.
Twitter names or handles are personifications, ID's, stamp marks, or whatever you might call them. They're like your address on Twitter. Having your Twitter name or handle, anyone can find your profile with just one single click.
To put it simply, "Twitter" is your street, and @YourName is your exact address. As simple as that.
Is there any difference between Twitter names, and handles?
Well, from a technical viewpoint, yes there is.
Twitter name is just your name in general. For e.g.,. your name might be John, that's your name no matter where you are. Similarly, Twitter names are names on your Twitter profile.
While the "handle", is more like an exact address, a very specific URL. For e.g.,. there might be thousands of John's on Twitter, right? That's where the handle comes in; it's a unique identification to "your" John profile.
For e.g.,. you might have "John" as your name on Twitter. But, in order to reach you, you can specify a very specific "handle" to it. Say, twitter.com/johnhere, twitter.com/iamjohn or whatever.
This identification helps people reach directly "you", and not any other John on Twitter because even if there are thousands of John's on Twitter, there can only be "one unique handle" in use for one profile.
Meaning, if you take up twitter.com/iamjohn, nobody else on Twitter will be allowed to use that handle. So, that handle will always and forever link back to you.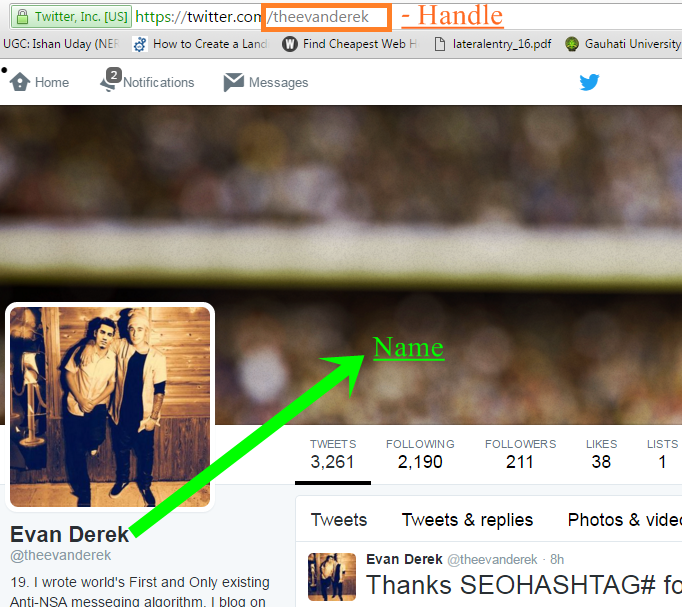 How to Change Twitter Name:
As I already said, Twitter names, and handles are two separate elements on twitter.
Changing your Twitter name won't change your twitter handle. The name is just how your profile appears on Twitter. It's the name people will see when they come to your handle.
Example: – It's like your door number when people are on your doorstep, they see the door number ( the name), and not who is inside. Changing the door number ( name ), won't change who is inside ( the handle ).
So, here's how you can change your Twitter name.
Go to your Twitter profile. You can do that by clicking on your Twitter image on the top right corner, and then by clicking on "View profile".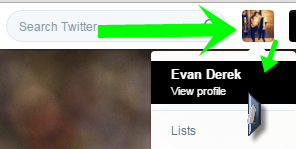 Once you do that, you're on your profile page. This is how your profile looks like to your visitors. And well, there's a big "Edit profile" button on the lower-right part of the screen, inviting you to click on it.
So, don't disappoint it, and click on the "edit profile" button.

That will make the text on your profile page editable. Meaning, you can now change your name, description, and various other things. So click on your name and Rename it to whatever you want.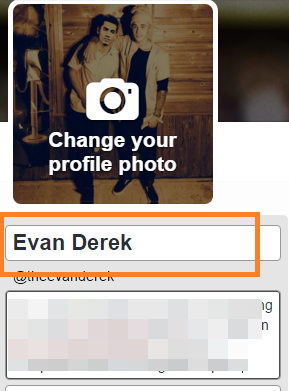 Once you're satisfied with your new name. Click on the Save Changes button on the right!
Done! Your new name should shine brightly on your profile.
Well now, let's look at the other side of the same coin, which is how to Change your twitter handle.
How to Change Twitter Username / Handle:-
As I said, your Twitter Handle is your twitter profile's URL. Unique to you.
So, in order to change it, you need to get to your Settings page, which you can do by clicking on your twitter image on the top right, and then by clicking on Settings.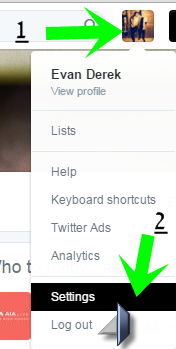 When you're on the Settings page, the very first option is that of your Username. So just click on it, and it'll let you rename itself.
Once you have a handle that looks good to you and is available, clicks on the Save Changes button at the bottom!
Congratulations! You just changed your twitter handle.
So that was about it, on how you can change your Twitter name, and Username ( or handle). Although I'd like to repeat, that your "handle" is how people will find you.
Typing your name in the search bar will also bring up your profile, but only if there aren't a lot of other people with the same name. But, using your @handle directly in the URL will get them directly to your Twitter profile.
So make sure you choose a short, simple and easy to remember to handle and you should be good to go!
Hopefully, you've enjoyed this little write-up on How to change twitter name.