Everyone bats an eye if a popular website goes down. Social media trends gain momentum, and everyone keeps on posting about the same that is this site down or check if the website is down. One popular question that arises in such a situation is that is it down for everyone or just me or is the website up or down. 
So, if you have ever encountered any kind of such stuffs then you would want to know how to check if a website is down? This article will put a halt on your quest of finding the answer for the same.
This article will tell you how to check if a website is down using some simple and straightforward methods.
So, let's get started:
How to check if a website is down?
1) Down Right Now.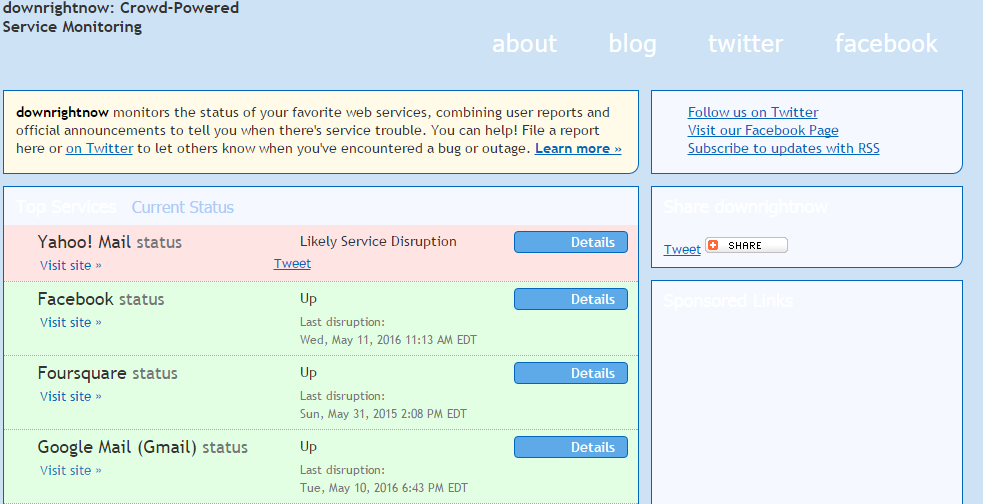 Down Right Now is a popular web-based service that helps you monitor whether a website is down or not. They are backed up or powered by various user reports and the official announcements made by the sites itself.
You can check whether a popular website is up or down along with the possible reasons for that. The popular reasons might be "Possible service trouble", "Likely service disruption". You will also get to know about the service unavailability over the past 24 hours through the graphs. Additionally, you can also follow their official accounts to stay updated with the notifications.
The only limitation which is associated with this website is that it displays data of a handful of websites only that is only selected websites are displayed over there. For frequent information, you need to refresh the web page manually. There is no such automated feature that may help you to do this. Above all, the website design is somewhat chaotic and hazy.
This website serves well if you want to check the status of popular websites like Facebook, Twitter or others. However, if you want to know about a not so popular website then you are required to seek somewhere else.
2: Is it Down Right Now.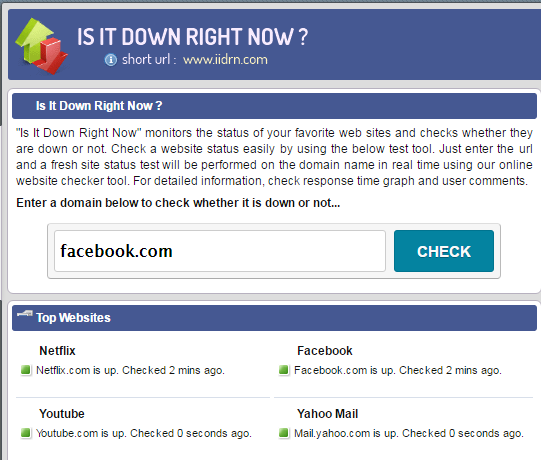 Yet another great platform to check whether a website is down or not. Unlike the previously mentioned website, this platform allows you to check the status of any specific website. All that you have to do is to enter the domain which you want to check at the specific field and click on Check. Within no time, you will have the status of the website.
Along with this feature, is it down right now also displays the list of popular websites with their corresponding statuses.  The extension of this platform is also available which lets you check the status of any website through your browser's toolbar. For this, you will have to integrate the extension of this website on your browser. Then only, you will be able to use this facility.
This website is also reachable through a short URL. It also displays the list of recently checked websites along with popular websites. The data is up to the minute and hence, can be considered accurate as per time dimensions are considered.
As compared to down right now, this website is pretty slow but is extremely useful if you need to check the status of any custom domain.
3: Down for everyone or just me.


Many times, all that you want to know is just a straightforward answer for whether a website is down for everyone or just me. If this is the case then this platform is exactly for you.
This platform will simply tell you whether a website is up or not. No cherry toppings, no garnishing, just simple and straightforward answer. You can also reach this site via a short URL and that is IsUp.me. This way you need not type the long URL each and every time.
To make use of this platform all that you require is to enter the name of the domain on which you want to perform the check. Once you have done that then now you require clicking on or just me? Hyperlink.
This will land you to a web page where you will be provided with an answer to your query.
Down for everyone or just me is quite a good platform for you if you are not concerned with the extra details about the website. All that you want to know is the up and down status of the website.
4: Just Down for me.


This platform serves the same purpose as all others but it also comes up with some exclusive features which are missing from the previous ones.
The most prominent feature which makes it stand out from the crowd is that it also equips you with the IP address of the website from which it was last accessed.
This feature comes handy as you can now use the IP address to access the website instead of the domain.
It also shows the sites went recently down, frequently checked and recently checked.
As per the reviews available, the cons associated with these websites are a matter of issue. You may sometimes face lag. The site design is not so good and clean. Sometimes, you may have to enter and send the query multiple times.
This website is quite good if you want to get access to the website anyhow as Just down for me can equip you with the last accessed IP address of the website. You should know that it seems like that the results are not that authentic for the US users but if you are an international user then this may serve you well.
This brought us to the end of this article on "How to check if a website is down?". We hope that this article has resulted at an end of your quest regarding the same.
Is my website down? or Is the website down? or Down for me or everyone? if this question has ever bothered you then this article must have solved your problem. If you liked this article then do not forget to share it among your peers.
Thank you for crossing by.