Cleanliness is next to godliness. This is a well-known phrase and holds true to a great extent. It may happen that you want to get rid of the dust and dirt from your laptop screen. The easiest option is to clean the screen with a cloth but wait since the laptop screen is quite delicate. So, it needs to be handled with care.
So, in this article, we will tell you how to clean laptop screen? cleaning Laptop keyboard. Also, take a look at it. With appropriate security measures so that it might not harm your system. So, let's get started:
How to Clean Laptop Screen?
How to clean laptop screen using household products?
You need not look anywhere else because you can clean the laptop screen using household products. We will show you how you can do so.
1: Using Microfiber cloth.
Microfiber is a kind of cloth fabric that falls into the category of synthetic fiber. It is primarily used for athletic wear such as cycling jerseys because of the fact that it absorbs the moisture away from the body. Microfiber is also used to make knits, mats, cleaning products and others.
In this method, we will make use of this fabric and the fact because of which we have listed it here is that it is quite common and can be easily available.
Step #1: In this first step, you are required to turn your laptop to the off mode and then for precaution measures, you also need to separate the battery and the adapter. The mentioned is advised to do because it is always good to play by the safer side.ow
Cleaning your laptop screen while in use can lead to serious hazards and permanent damage. By this, if you are done with this then you can certainly proceed to the next step.
Step #2: Now, you are required to get a microfiber cloth. As stated in the introduction of this section that you can look for it somewhere in your house, and you can easily get one. By now, we assume that you have got one and are ready to proceed further. We recommend using microfiber cloth because unlike other clothes; it is quite soft and it does not leave any scratches or dents when rubbed against the screen.
Additionally, we never recommend you to use paper materials like napkins and all because they can also cause damage to your screen. So, better avoid using those.
Step #3: This step requires wiping the screen with the microfiber cloth and that too very gently and with delicacy. It is advised not to exert too much pressure on the screen while wiping it up as you may screw up your screen by doing this. Just wipe it gently and this will wash clean your laptop screen. This may not remove the tougher spots, but this may come handy if you are having dust on your screen.
For the frame area, you can consider using a cleaning solution but make sure not to touch the screen while doing that.
2: Making use of a cleaning solution.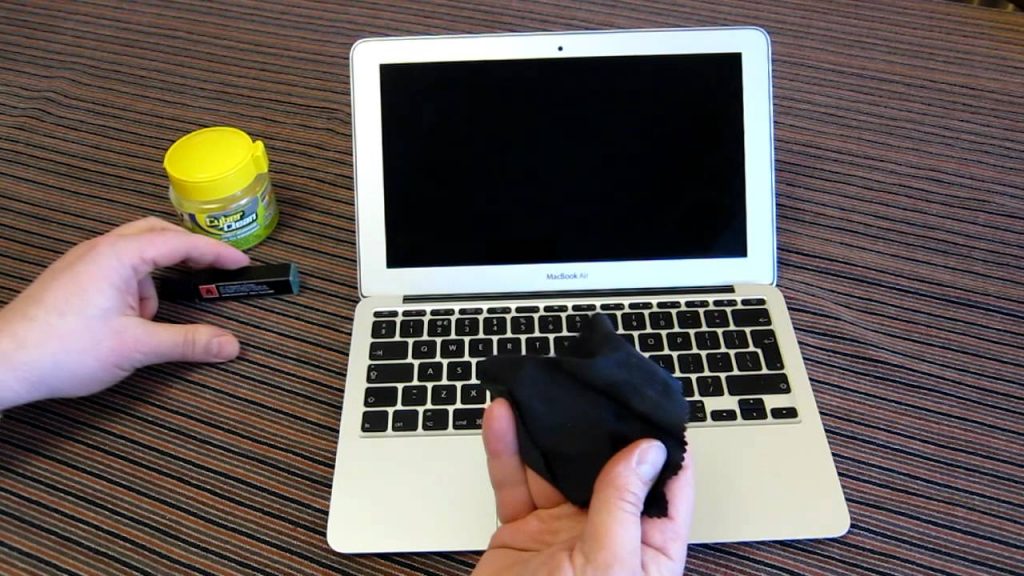 If your laptop screen is having some serious dirt and you want to get rid of those, then this method is for you. This method requires a cleaning solution that can be easily prepared at the home.
Step #1: Similar to the previous method, for security reasons you are required to plug off your device and then remove the battery and the adapter. This will always keep you on the safer side. This method requires liquid for its purpose, so this step becomes primarily important.
Step #2: In this method, you are required to prepare the cleaning solution. Nonetheless, for the mediocre level purpose, this method requires only distilled water as it contains no chemicals and will serve best for this purpose. Anyways, if heavy cleaning is needed, then you can also add white vinegar to the distilled water. Make the proportion be 50 by 50.
Step #3: Now, you need to add this solution to an atomizer bottle. For those who don't know what an atomizer bottle? It is a bottle with a nozzle spray that can contain and spray the liquid.
After this, spray the cleaning solution on the microfiber cloth. Remember that, never spray the liquid directly on the screen as this may cause a serious hazard. Instead of this, consider spraying the liquid first to the microfiber cloth and then using it.
Step #4: Now, wipe the microfiber cloth gently and smoothly on the screen. Do not exert too much pressure. If the dirt spot is tough, then wipe it over and again, and it will fade away with the passage.
Using dedicated cleaning solutions.
If you search on the internet with the corresponding keywords like "Laptop screen cleaning solutions" or "screen cleaning solutions" and others, then you can get plethoras of such stuff online. You can consider going for this as it will save your efforts of making the cleaning solution at home and looking for a microfiber cloth.
Most of the cleaning solutions come with a complete package which includes the cleaning liquid and the cloth itself.
Precautions to take care of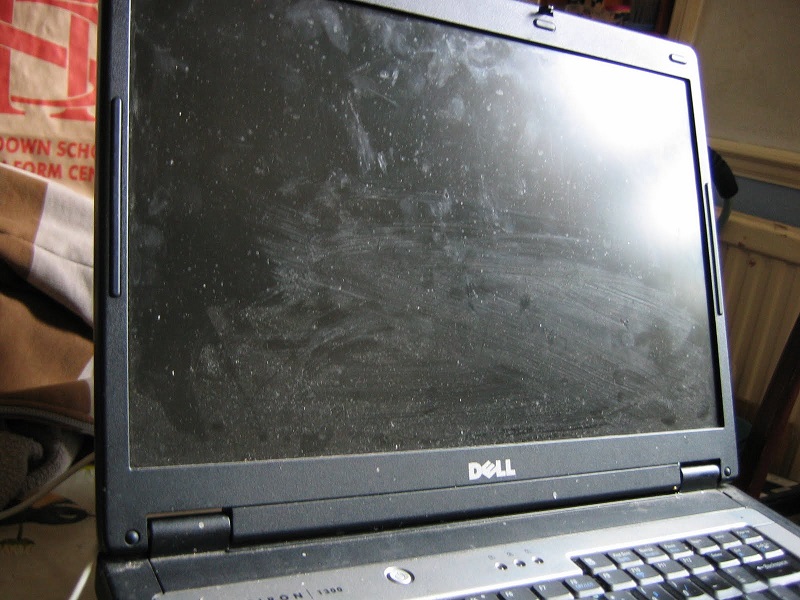 1: Be patient while getting rid of heavy dirt spots. This takes time as you need not exert much pressure and effort.
2: We recommend not using napkins, papers, and hard clothes as it may leave scratches and flakes which are not desired.
3: Tap water is not suitable for this purpose as it may contain chemicals that can be harmful to the screen.
Wrapping Up.
This wrapping up section brings us to the end of the article on "How to clean laptop screen?". That was about cleaning a laptop from outside. For cleaning the laptop from inside, you need software. You can use CCleaner for mac as well as for windows PC that will clean the junk from your computer.
We hope that we were efficient enough to satisfy your curiosity about this topic. We firmly believe that we have left no stone unturned while getting into the nitty-gritty of the topic and making you understand the entire concept of it. But if you still have any queries regarding the cleaning of the laptop screen then feel free to drop your query via comments below. We will try our level best to resolve that.
Moreover, if you found this article helpful and worthy, do show your love by sharing it socially.
Thank you for passing by and giving it a read.