The iPhone and iPad are pretty user-friendly devices, but iOS still gets hung up over time with too many unnecessary files filling up the memory.
When you first buy your iPhone or iPad, the feeling is amazing because of the brand-new device and because of its terrific performance. But later, things sometimes things slowly stop getting refreshed with new data, or some sort of storage space problems occur.
So, it is necessary to give your device a neat speed boost (erasing unnecessary files in the operating system, and unnecessary cache items). The procedures on how to clear the cache on iPhone will be discussed in this article.
How To Clear Cache On iPhone?
Giving your device a spring clean increases its performance, especially if it is an old model. But cleaning also helps in getting more out of the operating system by allowing you to focus on the items you need and use.
Apple operating systems would not require the same level of maintenance as the Mac OS X, however,  they still need some attention to run at excellent speed Starting with how to clear cache in Safari, there are a few simple steps that can be followed.
First, go to the option Settings and then go to "Safari."


You will then find 'Clear History and Website Data.'


Now you can select the same and the cookies will be cleared.
Most of the time these cached files use more space than we think, or sometimes a particular app might have problems with cached data and won't reload with live data. In these kinds of situations, you will have to clear out the iPhone memory and caches. Cache files can be traced in many applications of iPhones.
For example, Safari uses a cache for storing data about the websites you recently visited and uses them in order to enhance your browsing experience.
Even though this is good to have when it comes to making the site, these cache files use a good amount of storage space on your phone.
It is not just the cached files that will create local files. When an app is downloaded from the store, the size of the app shown there doesn't always represent the total space occupied. As this app is used, cache files will begin to accumulate and begin to use some more extra storage space.
Some important steps on how to clear space on iPhone are given below. Data stored by other apps can be cleared by using the 'Usage' option which is available in the Settings menu. You can follow these simple steps to clear the unnecessary files on your iPhone and make more space on the phone.
Go to the Settings option, select General, then select Storage, and then iCloud Usage.


Now go to Manage Storage.


You can select an item in the "Documents and Data".
Push the unwanted data to the left and tap on the "Delete" option.


Now you can select the Edit option and tap on Delete All to clear all the data from the apps.
PhoneClean by iMobie is another way to clear unwanted files from your phone. Here are the steps on how to clear the iPhone cache.
Use a compatible USB cable to connect your iPhone to your Mac.
Now, Go to PhoneClean and then click on Scan.
After the completion of the Scan, you can select the "Clean" option.
Cache files normally do not affect the performance of the application, as it is built to accelerate an app. However,  they can increase the storage system, and they might require some management depending on how these files are managed by the app or the operating system.
Apple does not have an option of cleaning a specific app's cache unless the app is uninstalled completely from your device, or unless a user specifically adds the feature to the app.
When an uninstallation of the app is done on your iPhone, everything a user has in that particular app will be deleted, which also includes the cache.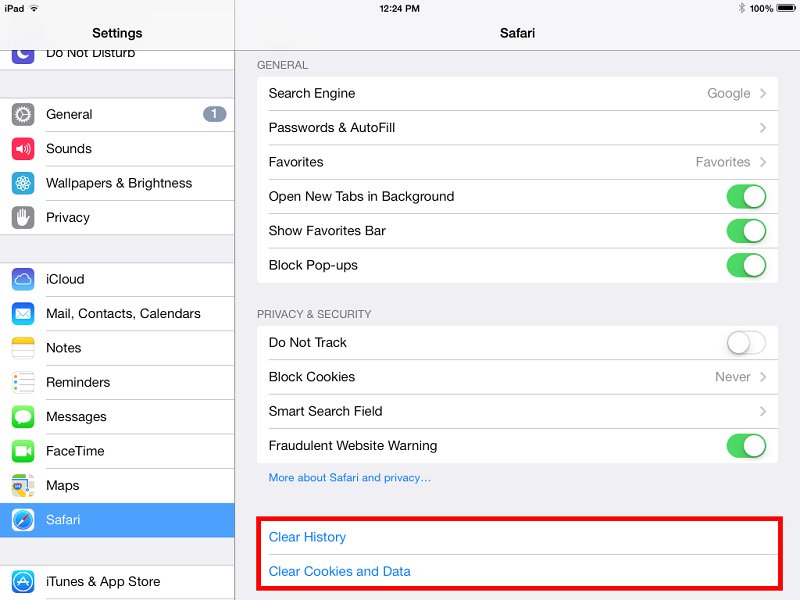 BatteryDoctor is another way to clear cache and cookies on the iPhone.  The first thing to do is to head over to the Apple Store and download the app. BatteryDoctor provides information about your battery and also helps in iPhone clear cache process. The steps you need to follow are given.
Go to the BatteryDoctor app.
Pick the Junk tab.
Select 'Clean Up Cache'.
Select 'Clean.'
Keep patience till the BatteryDoctor scans all of your files.
Select Memory.
Select Boost.
BatteryDoctor will update you about how much memory has been cleared. The BatteryDoctor has yet another superb feature, and it is the Memory. You can use this app to boost your device, especially when it is down on memory.
This is of help when the apps which were open a long time ago, are no longer in use right now, are taking RAM and probably bringing down multi-tasking, etc. The operating system is supposed to handle all this, but having some control is good too. You should now find the performance of your device a little snappier.
Information on how to clear iPhone is provided. Apple operating systems must handle your memory in an effective way, and applications that are run in the background should not use much memory. Restarting your device helps in having a clear cache iPhone and boosts the device. The steps to clear the cache on iPhone are as follows.
Hold up the Sleep or Wake button until the appearance of 'Slide to power off.'
By sliding the power off, the switch shut down the device.
Keep patience until the device has completely powered down. Now press and hold the Sleep or Wake button to turn on the device.
Doing this on a regular basis is crucial for your device, and it is useful especially in older models.
In order to get a clear cache iPhone, there are some steps you can follow. They are as follows.
Go to Settings, then to General, Usage, and Manage Storage.
Now you can select an app and tap on the 'Clear App's Cache' option.
Having followed these steps, your iPhone must be running faster again with improvised performance.
Also Read: