Apple Mac is one of the most advanced and sophisticated personal computing devices available in the market today. Mac(short form of Macintosh) is an embodiment of technological excellence. The first Mac released in 1984 led Apple to become the second largest computer manufacturer in the world at the time.
Being the flagship product of the personal computing range of Apple, the Mac we know today is divided into 3 laptop versions and 2 desktop versions namely Macbook, Macbook Air, Macbook Pro, iMac and Mac Pro.Mac systems run on Apple's Patented OS X, the latest version being v10.11 "El Capitan".
Not only this, but they can also emulate other OS environments such as Linux, OpenBSD and most notably Microsoft Windows with the aid of third-party software. Today, we thought to cover an article on Mac cookies, answering questions such as "What are cookies?" How to clear cookies, How to clear cookies on Mac, "Why clear cookies?" and How to clear cookies for a site.
Let's start with the first – "What Are Cookies?"
A cookie is basically a lookup table to optimize your web experience. They are usually in a binary tabular form containing pairs of (key, data) values. Ex: (Phone No, xxxx0109) or (email, [email protected]). Cookies are auto-generated by websites and your browser to make the experience more engaging to users. It helps fill (and auto-fill) form data much faster.
See Also: How to Right Click on a Mac
WhatExactly Cookies Do?
Cookies are a storage mechanism that lets the web servers we're accessing know who we are. This means our web experience is optimized without us having to log on to the website. Storing the data on the server would make it difficult for the host to find and use the particular user's information to optimize.
Alternatively, if the server has too much data pertaining to the user, the cookie can simply be used as a pointer to help the server find the information.
Should I Clear Cookies?
There's a lot of concern regarding privacy of individuals and cookies. Internet security has always been an issue with malware, adware, and data mining bots always looking to know more about people to target them for specific companies. But thankfully, cookies do not fall into these categories.
However, in the process of creating cookies, an online profile is built with synced accounts that track your internet usage, where you go and what kind of products and images you view – this is done without your knowledge and if you feel it's an invasion of your privacy, clear them out and/or disable them. It's as easy as that.
How to Clear Cookies on Mac?
Do I clear cookies on my Mac? Most definitely! But the real question here is "How do I clear cookies on Mac?"If you do decide to clear your cookies (which you should do once in a while anyway), here's our guide on how to delete cookies on Mac:
Step 1: Launch the Safari Browser on your map. Safari is the default browser on your Mac. It's possibly the fastest and most secure browser out there (especially for the Mac OS), and we assume this is the one you're using.
Step 2: Click the "Safari" button on the upper left-hand corner of the Safari Browser window.
Step 3: Click on "Preferences" and in the window that appears, navigate to the "Privacy" tab. Here you have options that can help you customize the cookies stored on your computer.Disable them from ever being able to be saved on your computer or just delete them.
Step 4: Click the button that says "Remove All Website Data".
Step 5: The prompt that appears will flash a message asking if you are sure; if you are, just click the "Remove Now" button and say bye-bye cookies!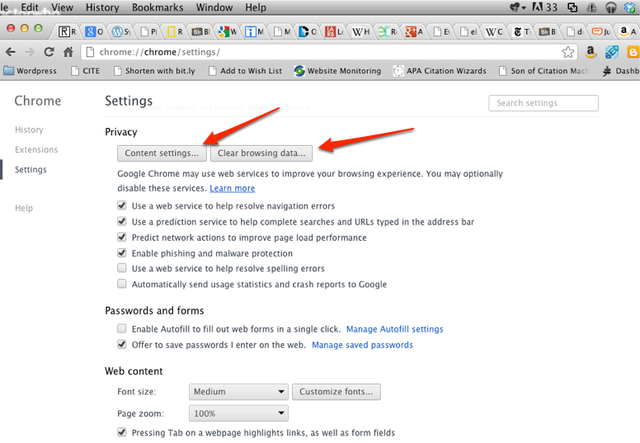 And that's how to clear cookies on a Mac in one go. But there are also plenty of times you just want particular browsing history deleted from your cookie cache. This is a similar but probably more comprehensive method of deleting cookies. How to remove cookies from a particular site works like this:
See Also: How to Download Java for Mac
Step 1: Open Safari – yes like last time, this is the first thing you have to do.
Step 2: Click on the "Preferences" tab and then on "Privacy". You should see the heading "Websites Stored Cookies and Other Data," click the "Details" button beside it and this should take you to a list of websites you've visited since the last time you cleared cookies.
Step 3: Click the "Remove" button next to each web address to remove the cookie from your browser history.
Note: The "Clear History" at the bottom left of the list has the same effect as the method we mentioned to clear all cookies – an option thrown in for your convenience.
Here are a few situations wherein you should always do a cookie cleanup when logging off.
Logging on to Someone Else's Computer: When you are logging on to another person's computer with your browser ID, some cookies saved on your online account gets synced and whomever you're with can see them later.
When Your Browser Stops Functioning Properly: Your browser stopping functioning is an uncommon occurrence in the Mac. But when it happens, it's usually because the cookie cache is corrupt. Resetting the cookies should also reset the browser in these situations.
This guide was written with the intention to help you clear cookies.Safari is Apple Inc.'s basic browser and the best compatible with Mac. So keep in mind that this is Safari Specific.  We hope we answered the questions most of our readers asked us like "How do you clear cookies" and "How can one clear cookies on Mac?"
See Also: How to Record Audio on Mac?
Hope you enjoyed reading how to clear cookies on mac and that the information helps you improve your browsing experience. The next time you go on a Safari into the deep on the Mac, remembers to use these tips so that no one knows where you went. Happy Safari!