Data transferring has always been an essential part of the modern age. However, when it comes to connecting two laptops to share data between them is very confusing. In this individual guide, you will discover the whole how to connect two laptops wirelessly thing. It is not as easy as connecting two Android phones wirelessly for sure.
You might be able to connect two laptops directly via wifi direct if they are from same vendors and supports WiFi Direct. For that you might need to read the documentation comes with your laptop.
Don't not get confused if we say this is a how to connect two laptops using a wireless LAN guide. Wireless LAN or Wireless Local area network is a type of connection without any cables. So Yes, It is actual a How to Connect Two Laptops Via Wi-Fi guide. Note, that we demonstrated all the steps according to as on Windows 10 or Windows 8.
The instruction used in this guide may vary somewhat or significantly with the different operating systems. Such as Creating Homegroup steps are different on Win 10 and Win 7.
Basically, you may either want to share internet connection to another laptop or setup Homegroup so your can transfer files between two laptops via wifi. In this guide, we tried to cover both and discussed the easiest workaround to getting things done.
To make this tutorial more recent and up to date, we are considering creating an Ad-hoc connection on a Windows 10 laptop. An Ad-hoc connection is similar to creating a hotspot on an android device.
Creating an Ad-hoc on windows 7 and vista is easier, but in Windows 10, it is a bit tricky. We are going to cover the new setup method for Windows 8 and 10 here, and it is only work of several commands and a few mouse clicks. If you wanted to set a quick wifi connection, this could save your day in case.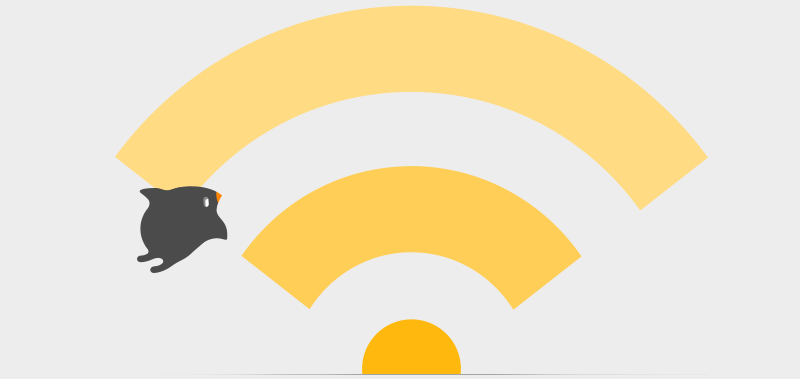 How to connect two laptops wirelessly
Let's jump strength and see how it can be done.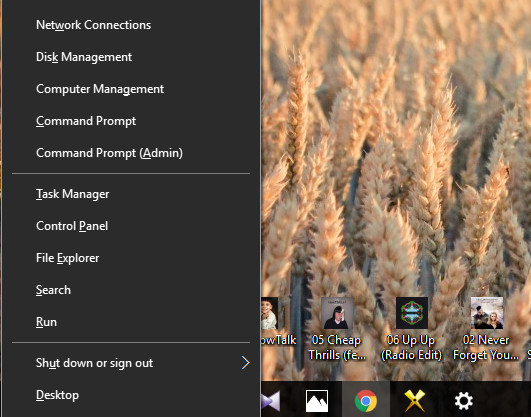 Step 1: You need to open Command Prompt as admin by pressing Win+X key to getting started. Alternatively, you can right-click on the Start icon and then chose the Command Prompt(Admin).
Step 2: Copy the following command and hit enter, you can also type the command in the command prompt, but I guess copy-paste it for ease.
You may want to name your Ad-hoc connection as of your choice. Replace "ad-hoc name" with your desired name, and change the "password" word to something of your choice.
netsh wlan set hostednetwork mode=allow ssid=adhocname key=password
Step 3: Now copy and paste this command and hit enter. That is all your ad-hoc connection should be created.
netsh wlan start hostednetwork
So for reference: use this whenever you may like to stop this connection.
netsh wlan stop hostednetwork
In the image (2): If you are getting that, just turn on WiFi on your host laptop. (open the image in new Tab to view in full resolution.)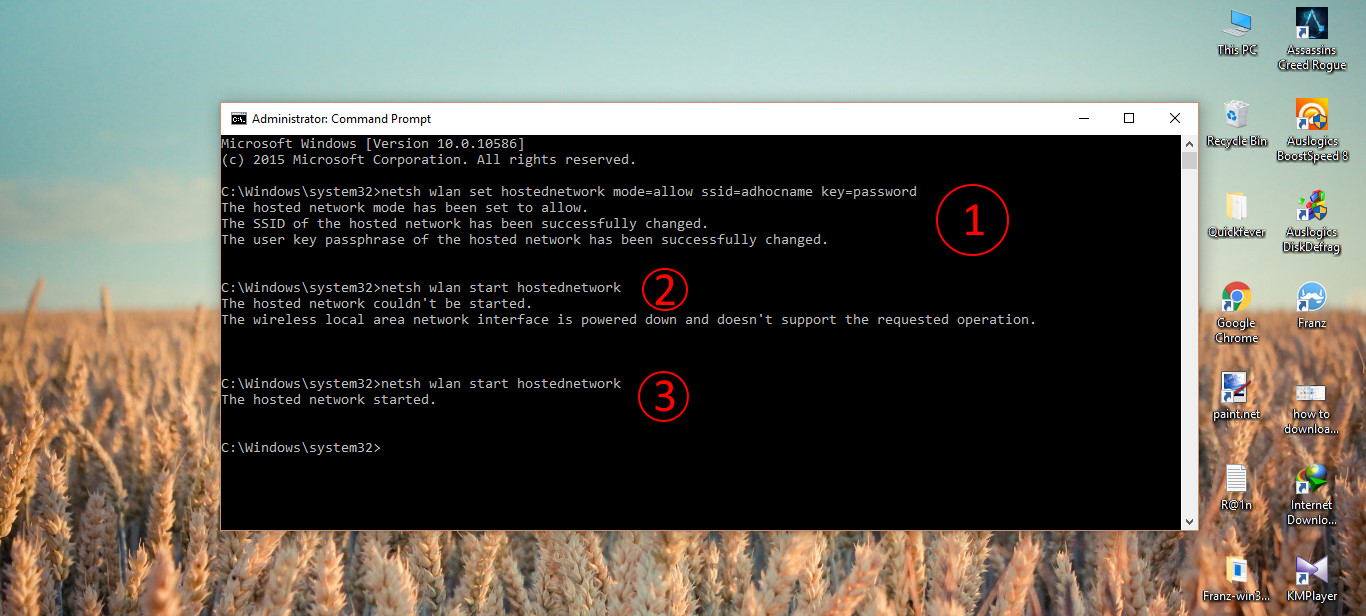 Step 4: open Control Panel and find "View network connections", or just search it by pressing Windows button and then typing its name. (You can also click on the Cortona icon in taskbar and search it.)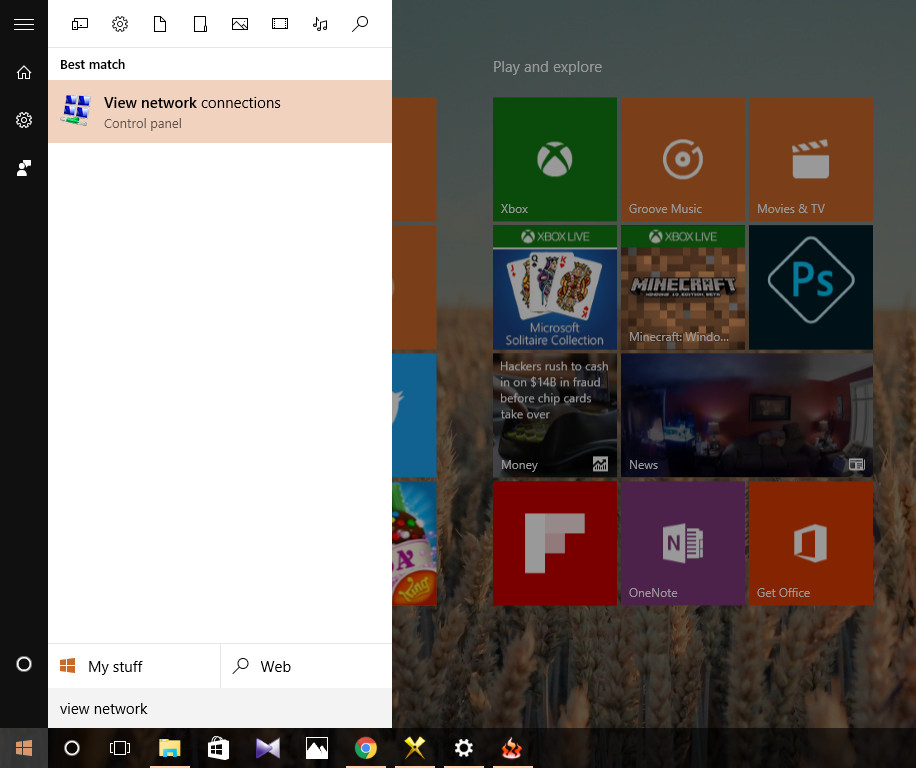 Now please note, the below section is for sharing your host laptop's internet to another laptop. (skip in case you just want to setup a homegroup.)
Right, click on your Connection (Like if your host Pc is connected to Ethernet Connection click and select its Properties and click on Sharing Tab, on there enable the "Allow other network users to connect through this computers internet connection" option and set the newly created Wifi-connected in the drop-down list.
Now when you turn on the WiFi on the other Laptop, your Host's SSID will be shown, click on that and enter the password (same password you set earlier) it should be connected in a few seconds. Do you think that was difficult? No-nada.
PS – Sometimes even if you followed the steps correctly, your laptop might not be able to turn on the Ad-hoc network. I was personally having that problem when I was having Windows 8 installed on the same laptop; later I upgraded to Windows 10, and it worked flawlessly. It does not mean I am forcing you to upgrade your windows. Just in case ad-hoc is not enabled successfully, Restart your Laptop and try the Steps again.
Now comes the second part how to connect Two laptops through Wifi. We are going to enable HOMEGROUP Setting on the Host laptop, follow these steps to enable or create Homegroup on your host laptop.
Setting Up Homegroups.
Similar to Windows 7 and Vista, Windows 10 also has the option to create Homegroup and share data between connected laptops. Keep in mind setting homegroup is the important task, So you need to follow this how to connect two laptops wirelessly guide very carefully.
Open the Homegroup settings. You can search it by pressing the Windows button in the taskbar. A Homegroup setting page will be prompted. On the host laptop clicks on the "Create A Homegroup" button.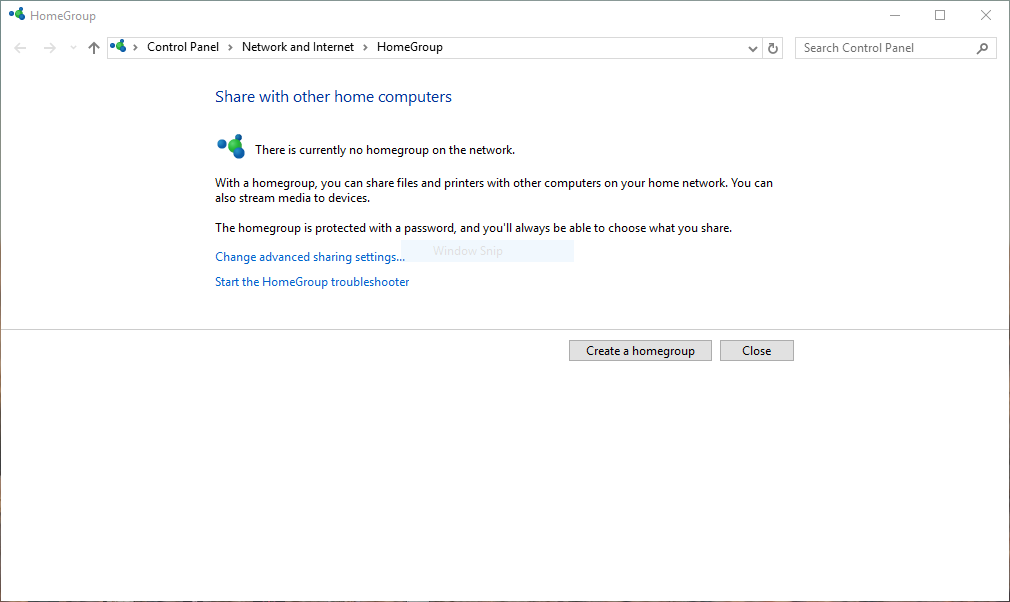 In next window, you can set each type of data to be shared with another laptop which will join your Homegroup later. Choose the from the options, like what you want to share.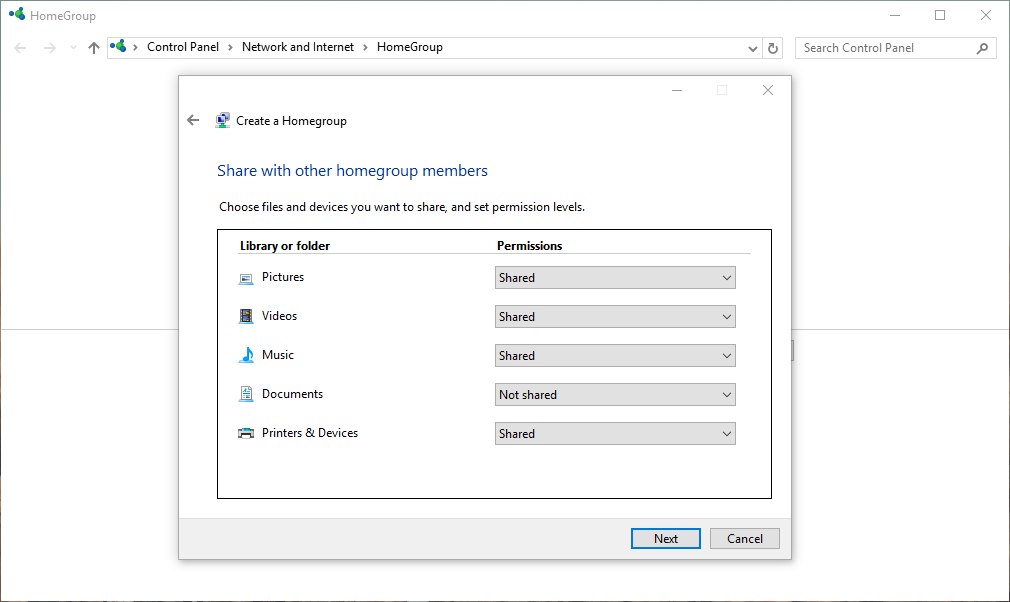 After selection items permission level, click the 'Next' and a password will be generated, make sure you note this password as it will be used for others to join your homegroup.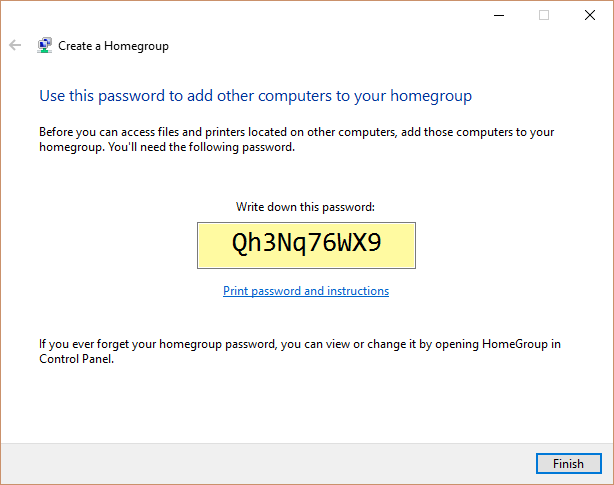 Once you saved the password, (which you may change anytime by going homegroup setting.) click on the 'FINISH' button as the final step to create Homegroup.
You can also want to check 'Advanced Sharing Settings' to take care of a few things. Such as turning on your homegroups discovery will let other laptops to search and join your host laptop's homegroup.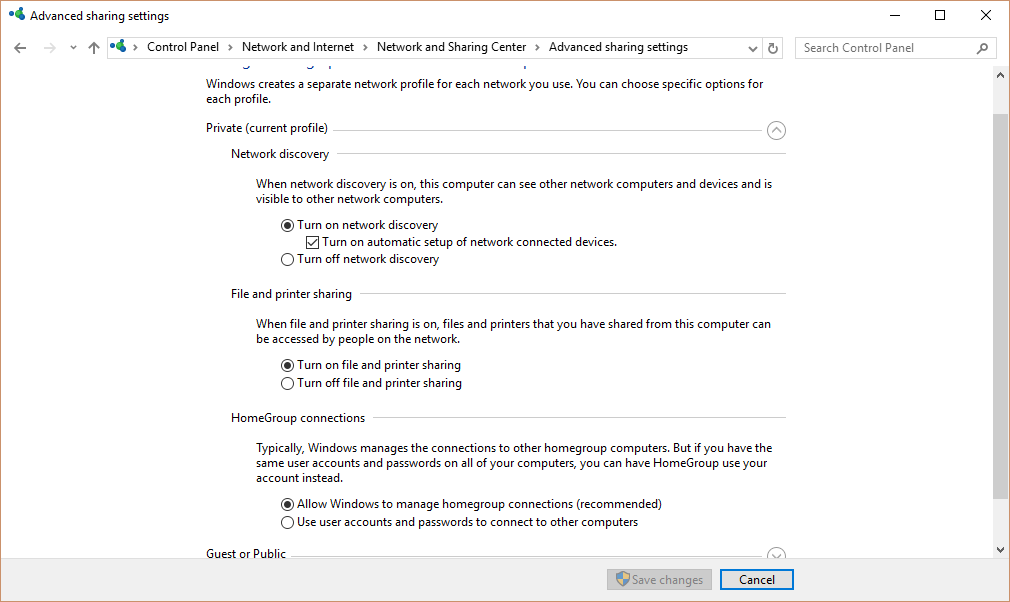 Open MY PC (host laptop) and in the Left sidebar check for Homegroup Tab, click on it and you'll see a name of your newly created homegroup. If do you see a name its mean your Homegroup is successfully created. (out of the box, don't mind the Hollywood serials.)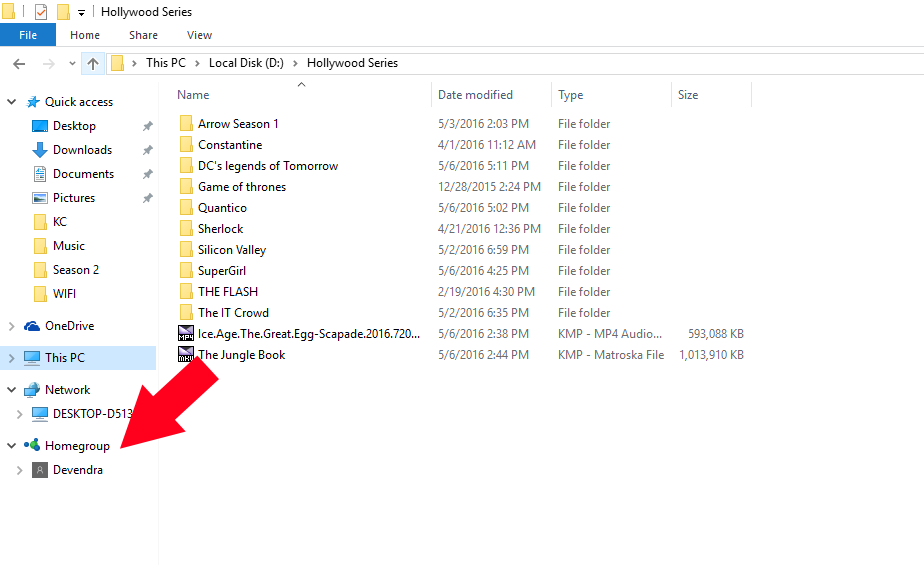 By clicking on that, your shared folder will appear, you can copy any files from your PC to these folders. It is because you just can't directly share your entire Local disks with another laptop which joined your homegroup.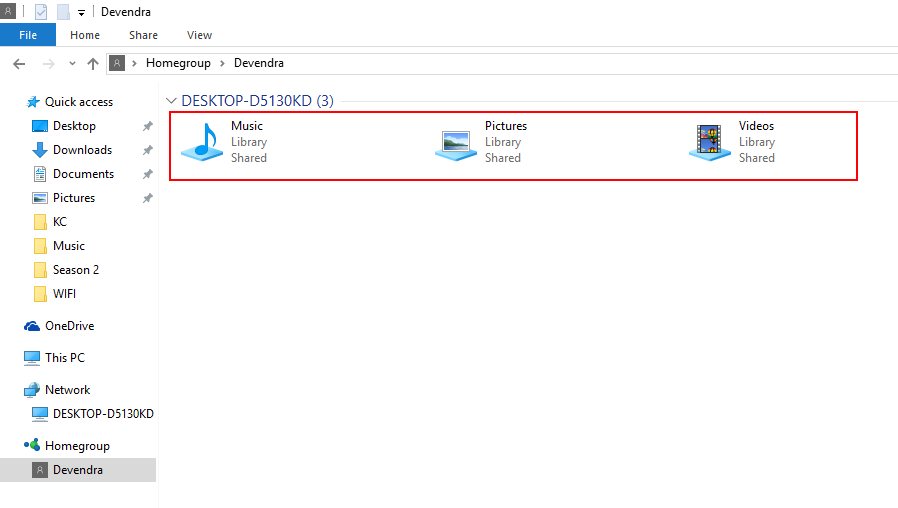 Now open your other (or friends) laptop and turn on the WIFI to discover the homegroup of host laptop. You'll see the SSID of Ad-hoc connection which you created earlier on host laptop. Click on it and when prompted enter the password to connect to it. (Note, the Ad-Hoc password is different from Homegroup's password.)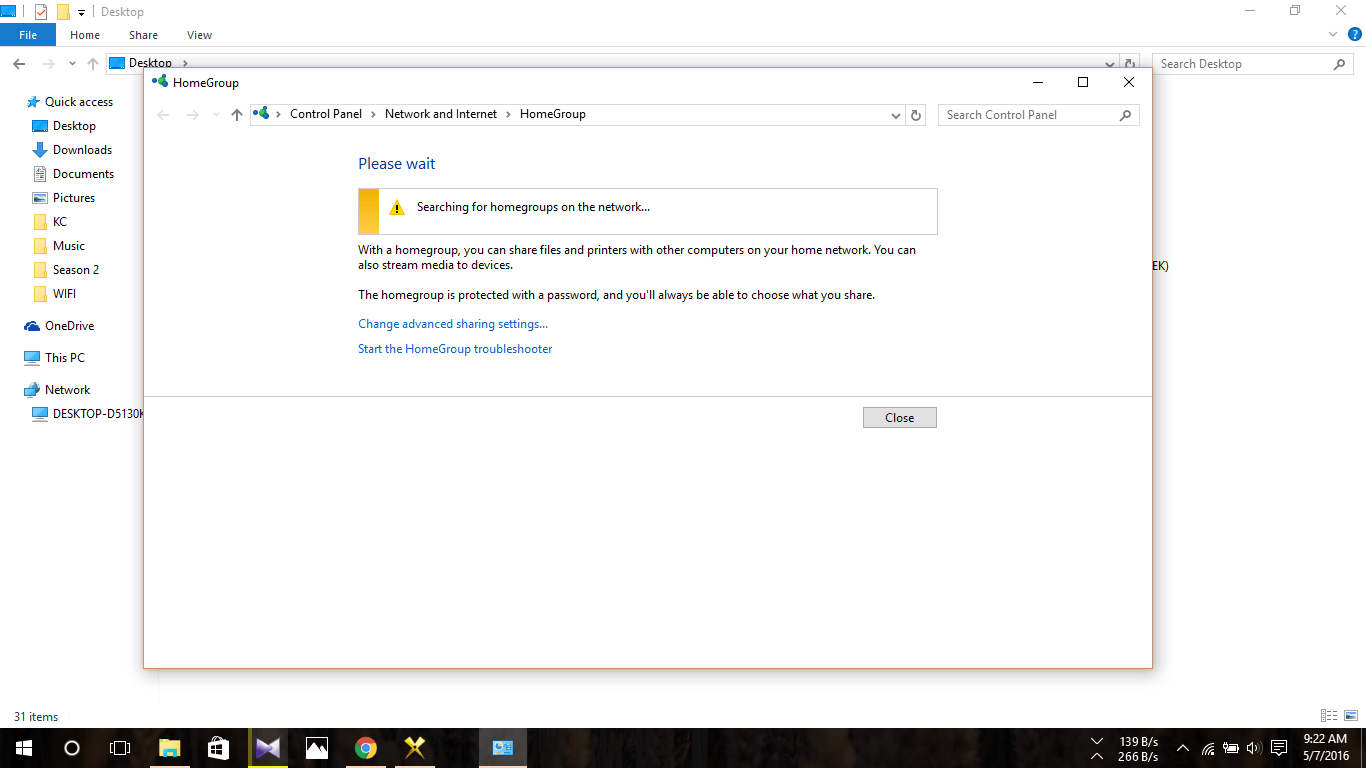 It will start looking for other Homegroups in the range and will connect to it. On a successful connect you will see the clients under the Homegroup windows.
[Addictional method] Update: You can also use ShareIt software to transfer files between laptops. Install and run the program on both laptops. You need to create a hotspot on laptop A using the software. on laptop B click on 'Connect to PC' and when you'll see the laptop A's name, tap on it and join it by entering the password (which will be created auto by the software).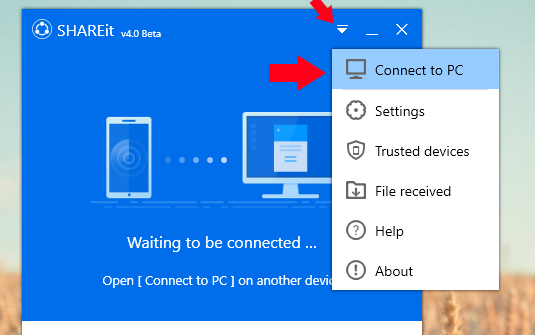 To know the password click on the 'eye' icon which is located under the hotspot name.If you are getting a error while creating hotspot, make sure you turn on your laptops' wifi.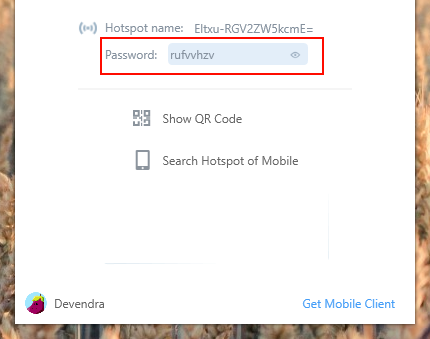 Once the connection is established, you can choose any file to send it to other laptop A. same applies to transfer files from laptop B → A. This is the screenshot when I transferred some files between laptops.
Final Thoughts
That is it; now you can go ahead and have other laptops to your network. If you have any doubt on how to connect two laptops wirelessly the comment section is one-or-two scroll away. However, if you have any problem connecting two laptops through wifi just to share data- You may want to stop and find your USB Drive.