How to connect/disconnect youtube to google plus is something which users often get confused about!
You all might know, a youtube channel comes associated with each google account you create. Whether you upload a video on Youtube or drops a comment, the real names of yours are used from your Google account, Right??
Now some people find it really inappropriate on using their real names and info from their google account. Hence they opt for unlinking their google with Youtube.
Since there is not any one-click method available for unlinking and then linking back a Youtube channel with Google Plus, people find it really difficult to do.
No matter how tricky the process is, this article will teach you everything you need to know about connecting/disconnecting Google+ with Youtube.
Let's find out how to do it!
How to Connect/Disconnect Youtube to Google Plus:
I'm sure you have your good reason for linking and unlinking your Youtube and Google Plus. Whatever might the reason, all I can do is to assure you about the seamlessness of the steps, so let's see what steps does it take to link/unlink G+ to your youtube channel!
Once you will go through the guide below, you will understand how easy is everything! let's get started with the guide and learn everything about youtube connection with Google plus including the methods to link youtube to google plus and how to unlink youtube and google plus. In case you are looking to deactivate or deleting your Google Plus account, here is something about deleting Google Plus Account.
The below guide is subdivided into two subsections, containing one part for each! The first part is dedicated to teaching you unlinking Google plus to Youtube and the second part focuses on connecting Youtube to G+.
Let's head over to the guide!
How to unlink/remove Google+ from your YouTube Channel:
The steps for unlinking Google Plus from your Youtube account are given below.
Step 1. First of all, Go to www.youtube.com and sign in with your google account you want to unlink from Youtube. To sign in, click the Sign in button at the top right corner and enter your google credentials.
If you can't locate the option, see the below screenshot.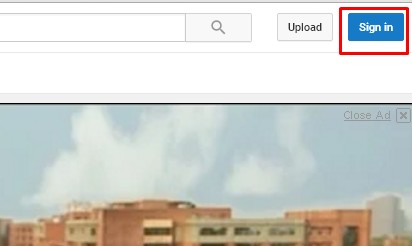 Step 2. Once you log in successfully, you will be redirected back to the Youtube home page. Now click on the little display icon at the top right corner.
There in the drop-down box, click on your Gmail ID. The very next moment, you will be redirected to the "Personal Info and Privacy" page.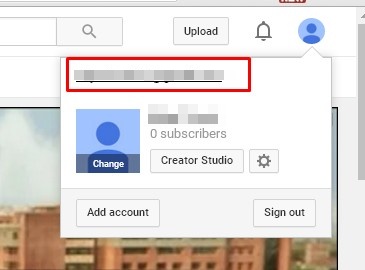 Step 3. In the left Pan, click on Delete Your Account or service Under Account preferences.  If you can't locate the option, have a look at the below image.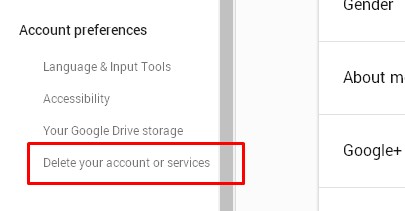 Step 4. Once you select the option specified above, you will see the following screen. Just select Delete Products.
Step 5. In the next step, you might need to re-enter your password. Once clicked on Delete Products, you will be redirected to a page, where you can delete your Google account, Gmail or Youtube channel separately, without harming the other services.
Since we are here to get rid of Google Plus, click on the delete icon just next to the Google+ option. Exactly the same as the below image.
Step 6. On clicking the delete option, you will be redirected to a popup window where all the terms and conditions will be given. Read them if you want to, agree to the terms and conditions by clicking on the checkbox at the end of the page and click DELETE GOOGLE+.
See the below screenshot.
The moment later, you Google Plus account will be unlinked from Your Youtube channel. Now utilize this feature the way you want. Now let;s figure out how to connect a Youtube account to Google if it's not already connected.
How to Connect Youtube to Google Plus Page:
If your account is disconnected from Google account, follow the below steps to connect it back to your Youtube channel.
Step 1. Click on the rectangular profile icon on the top right corner of the youtube home page (Rectangle icon is the sign that your youtube account is disconnected).
On the clicking the profile image, You will see a list of several options. Just click on the Settings. You can refer to the following screen in the case of any doubt!
Step 2. Now in the settings page, click on the option Link Channel with Google Plus just beneath your name. A screenshot for the same is given below.
Step 3. In the next window, you can choose your existing name as your channel name or can choose a better name.  In order to select a different name from the default name, select the second radio button, right the name of the channel, select the check box for agreeing to terms and click on Done.
Step 4. Once clicked Done, you are almost done except the Phone verification is left. Do that and your Google plus account would be connected to your Youtube account.
Step 5. Now if you want to connect your channel to a google page, Go to Settings on your Youtube account. Click Advanced just below your name and email address.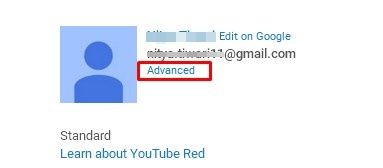 Step 6. On the advanced settings page, click on the highlighted link on the below image i.e Move channel to Google+ page.

Step 7. You may need to re-enter your credentials. Just enter your Google ID and password and login. If you already have Google pages created, you will see them listed on the next page.
Select the page you want your channel to connect and complete the process. That's it. Your Youtube channel will get connected to the Google page.
This how we connect and disconnect google plus and a Youtube channel!
There are equal advantages as well as disadvantages for linking/unlinking Youtube with Google Plus. Now it completely depends on your personal use how you deal with this feature. APart frm that, Google Plus also useful for internet influencers and bloggers. If you own a blog, do make a Google Plus page for your blog. It is considered as a good SEO practice. Here is how to create Google Plus Page for Blog.
With this, we have reached the end of the guide. I hope the article met with its purpose of teaching you how to connect/disconnect youtube to google plus.
For any doubt or query, you can drop us a comment. Our team will reach out to you as soon as possible!