Even though Yahoo's future is indefinite, the number of users they once had never decreased by a huge margin. Yet Another Hierarchical Officious Oracle kick-started its journey before even today's search engine giant Google was established.
But in the long run, Yahoo wasn't ready to bring up changes and new features that entice users. As a result, they have lost the charm, and Google at the same time accumulated a huge number of new users to be the number one search engine in the world.
Today, I am here with an article on how to contact Yahoo.
How to Contact Yahoo?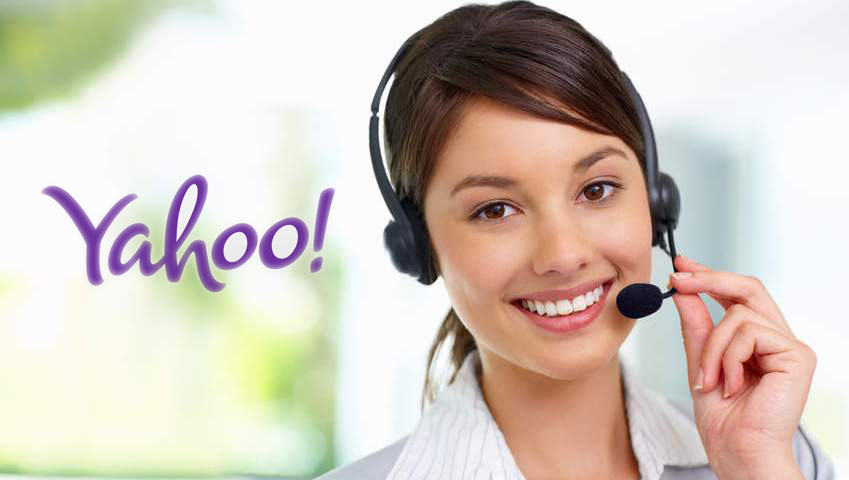 Most of the people try to contact Yahoo to get their issues solved. Truth be told, you don't have to contact them for most of the Yahoo services issue as their website features the solutions.
Get Your Issues Solved
In this section, I am going to show how you can solve issues related to Yahoo solved without contacting them.
Step 1: At first you need to visit Yahoo Help Central. Don't roam around for the links to the page. Click here and you will be there right away.
Step 2: You can grab Yahoo technical help from here. The process of getting help from here is not complicated. As the solutions to most of the problems are provided here, you don't have to contact Yahoo customer care.
Just scroll down the page and you will see something like the image given below.
Step 3: Choose one service with which you are facing the problem.
Step 4: I have chosen mail here. If you can't find the exact service there, simply click to see all products to get a list of entire Yahoo products.
On the next screen, you will be provided with a bunch of options and articles. They have got a lot of articles on how to solve the most probable errors.
From there, you can search for your problem and get it solved by referring the given content.
Note: – Yahoo, in their customer service help page, clearly mentioned that Yahoo mail support or any other product support is not a paid service. You don't have to pay them even a single penny and you don't have to give them the password or access to the account as well. If anyone claims to be their customer care executive and asks you any of the above, then they won't be on genuine customer team.
Most of your issues will get solved with the above-given methods.
You can resolve your issues through their forum as well. Yahoo forum is a community of legitimate users where you can post your problems, and other users will try to solve it with their knowledge.
Click here to visit Yahoo forum. You can access already published threads without any hassle. But in order to start a new discussion, you should be signed in.
Yahoo offers some other methods to contact them as well. Check them out below.
Contact Yahoo via Social Networks
They have official social media profiles through which you can contact Yahoo customer service. Here, I am going to show how you can contact Yahoo via their social profiles.
Step 1: Follow step 1 I have given in the above method. That means you have to visit the Yahoo help central webpage.
Step 2: Look closely at the top right portion of the screen and you can see five buttons there. The three buttons in the middle bring you to different social media profiles of Yahoo.

So, click on one you want to go with.
Step 3: I have selected Facebook here. As you can clearly see in the image, there is a Yahoo Contact us CTA button on the Facebook page. Hence, you can use it to contact Yahoo customer care.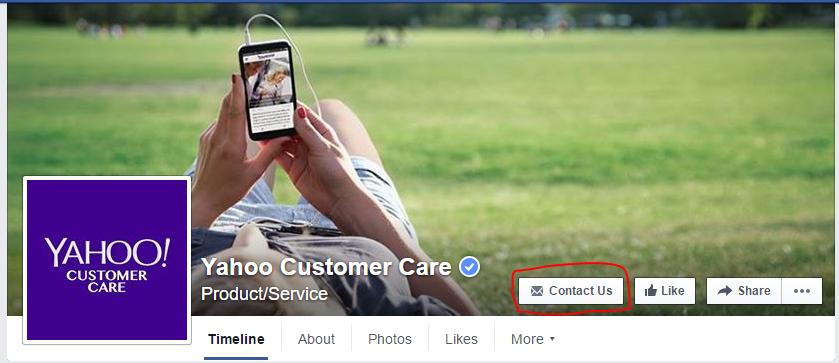 If you choose to go with Twitter, you can tweet them with your issue or whatever you want to convey with them.
Apart from the customer care Twitter handle (@yahoocare), you can contact Yahoo on Twitter using the official handle @yahoo as well. Considering the number of tweets receiving per day, the first one should be your pick for faster response.
Contact Yahoo Representative via Phone
We all know that the best mode of communication is phone because we get the outcome instantly.
Here, I am going to give you Yahoo customer care number. Actually, it is not Yahoo support phone number as they don't offer customer support via phone. But you can give it a try even if it is not Yahoo mail customer service number.
I have got two phone numbers here; one of them is toll-free and you will not be charged anything for calling that number.
408-349-5070,
866-562-7219 (toll- free).
The above two may work out as yahoo help phone number.
In case you hear them asking for your credentials or account access, you should hang up the call right at that moment. See the image given below.
Contact Yahoo Via Email
Another method people usually use to seek support from service websites is emailing. You send them an email with your queries and hopefully, they will get back to you with the solutions.
They have only one customer care email that I have found online. [email protected].
Unlike the phone number, this email really offers you technical help. But due to the higher number of emails they are getting daily, you may have to wait some time, most probably days.
Physical Address
What if I give you the physical address of Yahoo? Will you visit them? 😉
In any case you want to visit Yahoo headquarters, here is the address.
701 First Avenue
Sunnyvale, California 94089
(408) 349-3300
I think you have got almost all the methods to contact Yahoo.
Don't You Know How to Contact Yahoo Now?
I hope you can now contact Yahoo technical support team without staggering. You have got about five methods to contact Yahoo customer care.
As I already said, I am skeptical about the telephonic Yahoo support. Even though it is an official number of Yahoo, their website says they don't give support via phone. So, you can use that number to contact Yahoo for purposes other than customer support.