Instagram influencer marketing has become a game-changer for e-commerce brands. By the end of 2022, this industry is predicted to hit $15 billion — with no sign of slowing down.
To their audience, influencers are considered trusted sources for product and service reviews. They have the power to sway their followers into taking actions like buying an online course or making a purchase. That's why adding the right influencers to your digital marketing strategy is a great way to grow brand awareness and sales for your online store. 
Here are 5 tips to get started:
1. Determine your objective
Start by defining what success looks like for your brand with influencers. Some key metrics you can use include:
Growing your own social following 

Promoting new products

Collecting email addresses 

Increasing sales via Instagram 

Increasing traffic to your site (which you can then leverage for retargeting) 

Sourcing content that you can re-purpose
Understanding the "why" of your campaign is a crucial first step in crafting a partnership strategy. For example, if your goal is to create content, you'll want to work with bloggers or content creators who can produce high-quality content and have photography skills like the post below, rather than those who have average content.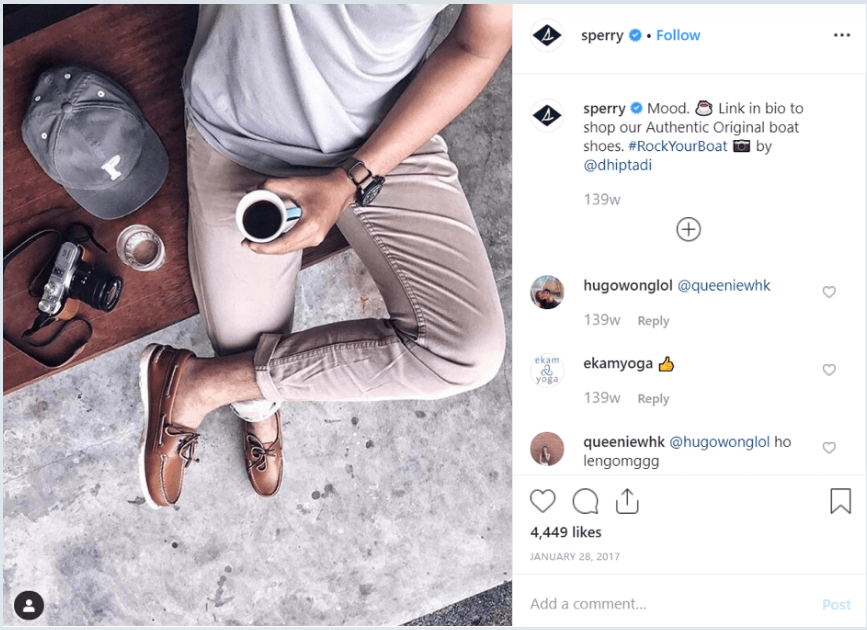 2. Find the right influencers
To ensure your Instagram influencer marketing campaign succeeds, you should collaborate with influencers whose audiences and content are relevant to your business. But that can be hard to find. 
Here are some metrics you can use for choosing your ideal partners:
Engagement:

When an influencer has a high engagement rate, it means their followers love their content and actively engage with it. You can use a third-party Instagram tool to analyze this metric.  

Quality of followers:

The right influencer means the right content and the right target audience. Let's say you're selling plant-based milk. Then, it makes sense for you to partner with food and lifestyle influencers who prefer vegan diets.

Quality of content:

Analyze the content an influencer publishes on their Instagram account. You may "read" their personality, voice, interest, creativity, opinions, niche, and more.

Values:

Finding influencers that align with your brand's values is really important for a successful partnership in order for it to feel genuine.
Check Learndash Reviews
3. Create a pitch & set of guidelines for your influencers
You need to be on your A-game when pitching your partnerships. Start by writing a template email about your company and your values, then tweak it slightly for each influencer to clearly state why you're a good fit.
By setting clear guidelines, you can get the highest return on your Instagram influencer investment. Ensure you detail your expectations, campaign goals, concept, type of content, references, hashtags, and brand voice to help influencers create content that will align with your brand. The clearer your guidelines, the more likely influencers will respond and the higher chance you choose the right partners.
Also, keep your budget in mind when deciding which influencers to partner with. Make it clear about how much you're willing to pay, and from that, narrow down your influencer tiers. For example, if you have a tight budget, then it's a good idea to focus on micro influencers (meaning smaller audiences) who have really clear alignment with your target audience. 
Here are some of the ways you can pitch working with influencers:
Instagram stories:

Ask influencers to create an Instagram story and add a link to your landing page.

Sponsored posts:

Ask influencers to mention your brand in their post or create an in-depth review of your products. It's also good to offer a discount code to encourage influencers' followers to shop on your website. Note that both brands and influencers have to disclose their partnership (using hashtag #sponsored or #ad) according to the Federal Trade Commission's guidelines.

Instagram Live takeovers:

Invite your influencers to engage with your existing audience in real-time using Instagram Live. It's a great way to create exclusivity and share personal experiences with your audiences.

Giveaways or contests:

Ask your influencers to run a giveaway on their account. The winner will receive a free gift provided by you or a promo code to shop in your store.
4. Monitor your Instagram content and interactions
Your Instagram influencers can help generate a ton of new content for your e-commerce business, especially during the holiday season! They're pros at shooting products and mastering the art of creating viral content, so you can take advantage of influencer-generated content to grow your business.
But be careful to not leave everything to your influencers. You should work together on creative promotion ideas to get the most value from the partnership. And be sure to check in on the content they're sharing, since they'll likely be using your branded hashtags.
Another thing to keep in mind is managing Instagram interactions. Your influencers may bring a lot of engagement (i.e., likes, comments, shares, mentions) to your business. "How much does it cost?" "Is this item still available?" "Do you ship to Australia?" "Would this dress fit me?"— you may receive a flood of comments and questions about your brand or product. 
In this case, you can use Gorgias to manage Instagram comments and mentions created by an influencer's followers. Gorgias allows you to connect with your ecommerce website and Instagram account so you can provide a seamless omnichannel customer service experience.
Once you complete the integration process, you can use Gorgias to respond to comments on your Instagram posts and track Instagram mentions without logging in to your Instagram account. Everything can be done within a single centralized dashboard, meaning you can increase your concentration, work more effectively, and have more time to actually talk with customers.
5. Measure your success & optimize campaigns
Use the objectives that you laid out in step 1 to track how your influencer campaigns are going. Don't be shy to adjust your objectives as campaigns evolve, and you notice new trends or signs of success that you didn't forecast.  
Make sure all of your influencer content contains unique URLs and UTM parameters so you can track when a link is clicked through Google Analytics.
Once you've collected your campaign results, put together a report to refer back to next year. Also remember to keep your influencers updated on how the campaign is going, and feel free to provide constructive feedback so that your partnership continues to benefit both of you long-term. 
If you're looking for a tool to help you monitor customer and potential customers questions on Instagram (and other social channels, SMS, email, live chat, and phone), you can try Gorgias and get your 2nd month free at this link.