Microsoft Windows equips the users with the feature by which one can easily defrag hard drive on a Windows 10 system. So, if you want to know how to defrag Windows 10, then you are in the right place.
In this article, we will not only equip you with how to defrag but also some actionable measures by which you can boost your system speed. So, why to wait for even a second, let's get started with the process of defragging right away.
How to defrag windows 10?
You must have come across the word "defragment" at least once. If you have ever thought about what it is and how to do that, then this article will answer all of your questions. All that you need to do is to follow along as you go through this article.
The very first question which arises is that what does defragging do or what is defragging?
With the passage of time, the files on your drives get fragmented which results in slowing down the system.
And what's more annoying than a slow thing in this world, full of rush and speed? It happens because the system has the check for the file chunks in various places.
You might have experienced that while you search for a file on your system, it takes too much time to display the results. If you are experiencing it now, then it's the time when you need to defrag your drives.
Although Windows 8, 8.1 or 10 have scheduling options, they are consistent as such. So, you might need to do that manually. Well, for that, we will show you how you can defrag your drives in Windows 1o.
So, let's get started:
Step #1: At this very beginning of this very first step of this process, you are required to get into the disk optimization tool. This is exactly where you will have the privilege to defrag your hard disk.
So, in order to do that, you need to go to the bottom left corner of the Window, exactly where the start screen is. Now, you need to type "optimize" or "defrag." You will see one of the results as a desktop application which is named "Defragment and Optimize Drives."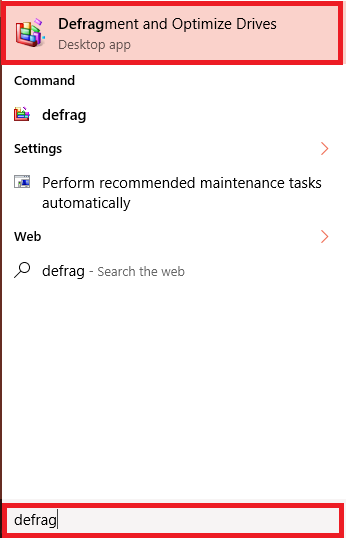 Just click on that, and you will land on the "Optimize Drives" window. This is good enough for the first step, and you can now proceed with the next steps.
Step #2: Now, once you are at the "Optimize Drives" window, you now require selecting the specific drive which you want to defrag. After that, all that you need to do is to locate the "Analyze" button. Once you have found that, then you need to click on it. This will command the system to analyze your disk.
During the process, you need to keep an eye over the fragment percentage. There is no such rule of how much the percentage should be, but you might want to keep it under 5%.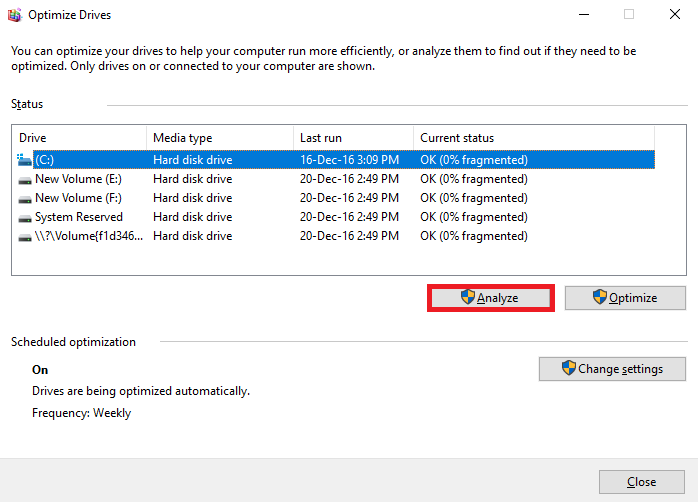 So, once you have decided on the fragment percentage, then you need to click on the optimize button to start defragmenting.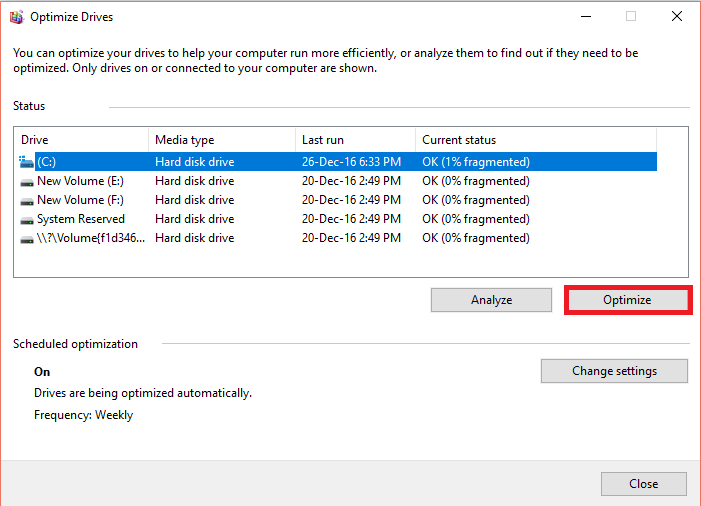 Once the process is done then, the drives will show 0% fragmented. This means that the specific drive is now fragmented.
You can repeat the procedure with other drives, and this will save some space.
Other than these there are some third party applications that allow you to defragment your drives. You can also give a try to that software as well.
[Additional Information]: How to speed up your system?
Since you have landed on this piece of content which helps you defrag your drives. If you are not taking measures for cleaning and defragging your disk then it is a bell of danger for you as your system might get slowed down.
So, you might be interested in knowing the various ways by which you can speed up your system. If yes, then the following section will be helpful for you. These are some of the basic tips which can boost your system speed to a considerable extent.
So, let's get started:
1) Get rid of unnecessary applications.
Unnecessary applications not only take up space but also utilize the system resources. So, if you want to boost your system speed then getting rid of applications that you don't use that frequently will help you a lot.
2) Cleaning temporary files on a regular basis.
As you use your system, the device accumulates temporary or junk data which utilizes the system space. So, try to get rid of those. In Windows, you can easily do so by typing "%temp%" in the start section.
This will lead you to a folder where all the temporary files are kept. Just delete them and this way, you can clean up the junk files from your system.
Also, you can make use of "cleanmgr" utility. For that, you need to type "cleanmgr" without quotes at the start section, and you will have the "cleanmgr.exe" as the results. Just click on that and from the subsequent window, select all those options like recycle bin, temporary files, and others.
In the end, you only require confirming the action by pressing OK.
3) Use Antivirus.
There might be times when you experience lag on your system. The chances are that your system is infected by viruses. So, you can make use of quality Antivirus applications to get rid of those. Norton, AVG, McFee are some Antivirus, to name a few.
4) Update Drivers.
To enjoy flawless and smooth service, consider updating your drivers and plugins on a regular basis.
So, this was all about How to Defrag Windows 10? We hope that this might have helped you in your quest for windows 10 defrag.
If you liked this article, then do let us know through the comments section. We would love to hear from you. Also, share this article amongst your peers.
Moreover, if you are acquainted with some other methods to defrag windows 10 then do let us know via any convenient means. Your help is highly appreciated.
Thank you for crossing by and giving it a read.
Stay tuned and keep visiting for more.