Skype is a messaging application which allows users to communicate via voice and video messages. Skype is one of the best messaging application which probably needs no introduction.
If you are already on skype and know about its features and uses, then let's not waste much time in the introduction and check the actual guide i.e. How to delete skype messages
Needless to say, Skype is one of the most secure and trustworthy application and the users of skype are happy with its working and the service. But the problem with this application is, it keeps the record of the conversation and the text messages we send or receive from our friends and relatives. But apart from Text messages, you can also use Skype for Video and Voice calls.
Though the intention behind saving the data is not wrong its just to maintain the records for future reference.
However, keeping the chat history is a good approach if you want to keep proper records of communication. But sometimes it can be risky as well in case you lose the password and somebody else gets that, or your Skype account gets hacked. In both the situation, your data can go to the wrong person and can be misused.
So, to avoid this situation it is necessary for you to learn how to delete messages on skype. In today's guide, we will walk you through the complete guide and help you learn how to delete the conversation on skype. Let;s head to the guide.
How to Delete Skype Messages
In this guide, we will let you know, How to delete your Skype message history. But in case if you have any doubt regarding deleting the instant message or you wonder like How do I delete or hide my instant message conversations, then let me tell you, you can easily hide and delete the conversation. In fact, you can even delete a single message if you want.
In this tutorial I will cover all including hiding messages, deleting messages and clearing the complete chat history from the skype. So let's continue the guide How to clean up your Skype messages. The steps are given below.
Delete complete conversation history
Step 1: To delete the entire conversation history, first of all, login to your skype account. To log in, enter your credential and click on sign in. You can log-in either use Microsoft account or by your Skype name in the skype itself.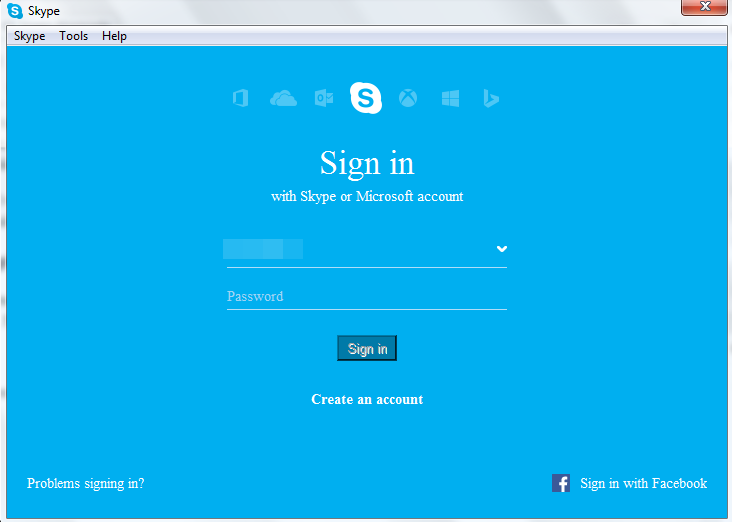 Step 2: After you are signed in, go to menu bar and select Skype. In the skype option, go to the privacy settings. 
Step 3: In this option(privacy settings), you will see many options. You have to go to the option, Keep history for. And then click on Clear history. Check out the screenshot given below.
Step 4: As sooner you do that, you will see a confirmation dialogue box saying "Delete history?" As you are sure to delete the conversation, click on Delete. The screenshot is given below.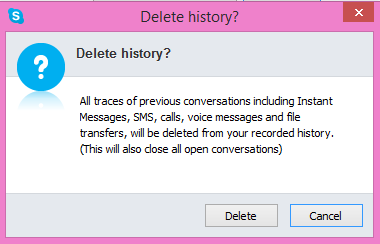 Step 5: And you are done! After clicking on the Delete button, all the complete conversation would be deleted.
The entire conversation includes instant messages, calls, voice messages, video messages, text messages (SMS) and details of files you've sent and received so far.
Note: When you delete your conversation history, it's only deleted from the device or the computer that you're using. It will still be visible on other devices where you've used the same Skype account. So to delete the conversation from all the devices you will have to manually delete it from all the devices. Otherwise, it will be visible in other devices unless you delete it there too.
And one more thing, before proceeding to delete history think twice. Because once the conversation history is deleted, you can not recover it back.
Ok, so this is how we delete the entire conversation from the Skype. Now if you want to delete a single message(IM) then read the below method. Though this is not actually a long procedure, it only requires a single click. If you don't wanna use Skype, you can use Gmail for sending text messages.
Delete a single message
To remove a message (IM) after you've sent it, right-click on it and select Remove Message. This option is available for very short span of time. So, if you want to delete the instant message, you will have to click on remove message after you send the message.
If you want to delete the message just because you did a typo, here is a solution for it. Simply right click on the message you want to edit and select Edit Message. Correct the mistake and hit enter. That's it! This is how a single message is deleted or edited from the skype.
If you don't want to remove the entire conversation and want to store it for future reference or for any other reason. But don't want to show it to anyone, then also there is a solution for you.
Yes, if you are not comfortable with deleting the chat history then you can hide it. Hiding the chat won't delete it from your conversation history. Instead, it will make your conversation go invisible until you choose to show it again.
Hide the Conversation
Hiding the conversation from skype is just a single click procedure. In order to hide the conversation, all you need to do is click on the hide option. Let me tell you how.
First of all, go to the contact you want to hide the conversation of. Right-click the contact and select Hide conversation. See the screenshot below. That's all. The conversation has been hidden. You can unhide the conversation any time you want. To do that, select View in the menu bar and then Show hidden conversations.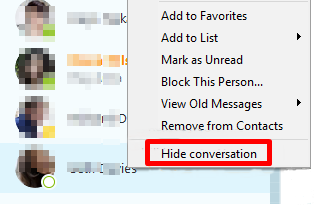 This is how to delete skype messages, delete the entire conversation and hide the chats from the skype account.  In case you wanted to change the Skype Username, you can do that easily using the provided info. Deleting chats, messages, hiding conversation or anything is always easy. It's just it requires a little knowledge. And we are always here to increase your tech knowledge and help you getting out of your problems.
I hope you enjoyed reading the guide and found it useful. If you have any doubt, you can ask that in the comment section.