Tumblr is not just a website; it is more than that. Tumblr is quite a famous name in the blogosphere and has a wide horizon regarding its usability much because of its outstanding features.


It bridges the gap between social media platforms and blogs. It is a complete combo pack for an online presence. But situations may arise that you may want to delete you Tumblr account. In this article, we will show you how to delete Tumblr account in easy and simple steps. So, let's get started:
Some fast facts about Tumblr are as follows: 1: David Karp founded Tumblr on February 2007. As far as the statistics are concerned, it is stated that Tumblr hosts over 272.4 million blogs with over 127 billion posts and three hundred and sixty-three employees as of January 1, 2016. Moreover, it has over five hundred and fifty-five million monthly visitors.
2: Headquarter of the company resides in New York City. Yahoo! acquired Tumblr on June 20, 2013, for a whopping sum of approximately $ 1.1 billion. Tumblr users were not happy with the news that Yahoo is going to acquire Tumblr. They even started a petition with nearly 170,000 signatures.
The development of Tumblr was started in 2006. Within two weeks of its inception, Tumblr had gained seventy-five thousand users.
3: The era of paid advertising in Tumblr started in early June 2012 with its first-ever advertising client as "Adidas".  Two months after the launch of the advertising campaign with Adidas, Tumblr announced that the company will proceed further with paid advertising on the website.
4: Till now, Tumblr has raised over one twenty-five million dollars as funding.  The primary monetization method for Tumblr is advertising. It also generates revenue by selling Tumble blog themes to the users.
5: Tumblr is used by celebrities like Lady Gaga, John Mayer and others.


How to Delete Tumblr Account?
Step #1: If you want to delete your Tumblr account, then simply click on this link.
Step #2: Enter your E-mail Id with which you have been registered as a user in Tumblr along with the corresponding password. Once you are done with the input, then click on Delete everything button.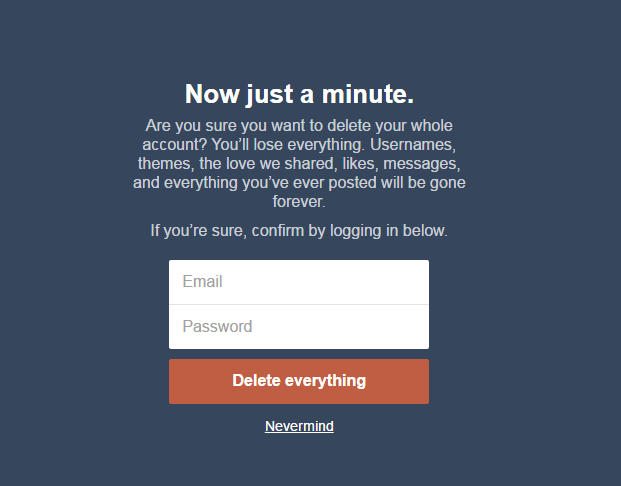 Remember, the word of caution says that deleting your Tumblr account means that you will lose each and every bit of the data which is associated with your Tumblr account. This includes usernames, themes, photos, messages, likes and everything which you have ever shared or posted.
Step #3: After a while, you will be logged out, and your account will get deleted for forever.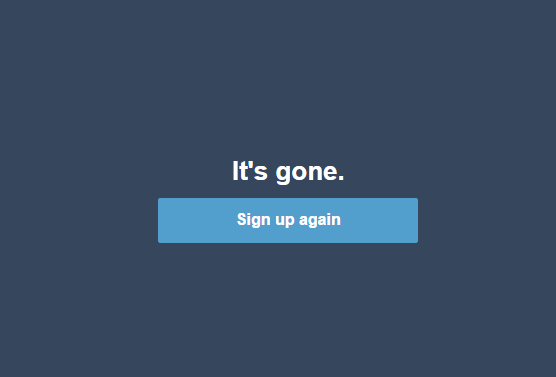 How to Delete your Tumblr Blog?
In this section, we will tell you how to delete a blog on Tumblr ?
Single member blog can be deleted straight away but a group blog cannot be removed easily. In order to do so, each and every single member of the blog must leave the group blog by selecting "Leave This Blog " from the members menu on the account dashboard.
Step #1: Log in to your Tumblr account.
Step #2: Click on the account settings icon which looks very similar to a gear and select the blog which you want to delete. The list of your blogs will be displayed on the left side of the page.
In order to delete your secondary Tumblr blogs all by you, remember one thing that the secondary blog must not have any other administrators. If it has, it won't get deleted. It will simply be unlinked with your Tumblr account. Moreover, deleting your primary blog is equivalent to deleting your Tumblr account.
Step #3: Once you are done with the Step #2, a web page will follow up. In the web page, scroll to the bottom of the page.
You will see two buttons as "Delete This Blog" and "Delete Account". The first button corresponds to the secondary blogs and clicking on this button will delete the selected secondary blog while the other button will have a name as "Delete Account" and by clicking on this button, you will end up with a deleted Tumblr account along with all of your blogs.
[Additional Information]
#1: Consider deleting or editing your publicly visible text or images manually before you delete your Tumblr account because very often they are not deleted even when you are successful in deleting your Tumblr account completely. You can also consider contacting Tumblr professionals for the same.
#2: During the time of signup, if you've signed up to Tumblr via third party login services like Facebook, Twitter or any other, then you would probably want to rescind all access from Tumblr. We will show you how you can do this in easy steps:
[Facebook]
Step #1: Log in to your Facebook account.
Step #2: Click on this link.
Step #3: In the "Apps you use" section, navigate for something that corresponds to Tumblr and click on the cross next to it.
Step #4: Click on "Remove" to confirm the process.
[Twitter]
Step #1: Log in to your Twitter account.
Step #2: Click on this link.
Step #3: Locate for Tumblr in the applications list.
Step #4: Click on "Revoke Access" button and yeah! You are done with it.
#3: It is not the case that once you delete your Tumblr account, you won't be able to get back to Tumblr ever again. Once you have deleted your Tumblr account, you can use your previous E-mail address and even the username in order to register a new account. Be assured that the data from the previous account would not be carried over to the new account. It will be all fresh.


Final Words.
This marks the end of this article on "How to delete Tumblr account ?". We hope that this article has helped you in your quest about the deletion of Tumblr account. If it has helped you in any way, then do spread the words by giving it social flares and sharing it with your peers.
Moreover, if you are left with any kind of feedback or query, then do let us know by dropping a line in the comments section right below. We would love to hear from you.
Thank you for passing by and giving it a read.