Twitter is not just a microblogging site where you get to read and share tweets. It's more than that. Did you know that you can also send a direct message to your followers on Twitter? Yeah, you surely can. Here is a feature named as DM or Direct Message. With this, you can communicate with your peers.
So, in this article, we will tell you how to DM on Twitter in easy and simple steps. So, let's get started:
Although, there is no need to tell you, people, what Twitter is but for the sake of comprehension we will be telling you about the same.
What is Twitter?
Twitter is a microblogging site that allows you to unfold yourself through the medium of 140 characters which is now increased to 280 Characters.
As per Wikipedia, Twitter (/ˈtwɪtər/) is an online social networking service that enables users to send and read short 140-character messages called "tweets".
Registered users can read and post tweets, but those who are unregistered can only read them. Users access Twitter through the website interface, SMS or mobile device app. Twitter Inc. is based in San Francisco and has more than 25 offices around the world.
Some fast facts about Twitter are as follows:
1: Twitter was developed by Jack Dorsey, Evan Williams, Biz Stone, and Noah Glass in March 2006 but it was launched in July 2006. Twitter was one of the most ten visited websites of the world.
2: As per statistics are concerned, 347,000 tweets are sent every single minute. Twitter has more than 500 million users out of which 332 million are active.
3: "Friendstalker" was one of the names which were to be considered for Twitter.
4: Back in 2013, a fake tweet washed out around 130 billion USD from the stock market.
5: According to a study, Twitter is more addictive than cigarettes and alcohol.
What is DM?
DM stands for Direct Message. With this, you can send a message to your follower which will be delivered straight to the inbox of that particular person. This helps the user to establish a conversation. You can also send a direct message to a group. With this, anyone in the group can see and reply to the direct message.
However, some particular business Twitter accounts can receive direct messages from almost anyone on Twitter.
You can also send emoji, photos, and GIF via a Direct Message to the recipients. Twitter also facilitates its users with a facility to send a Direct message through SMS too.
How to DM on Twitter?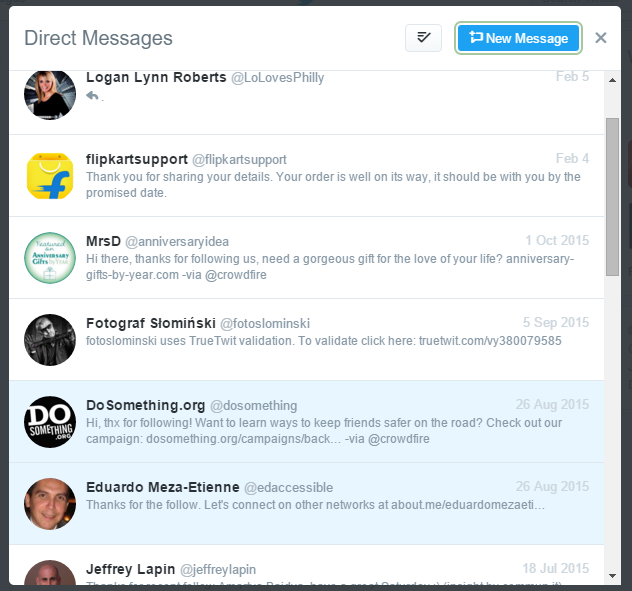 Apart from the steps here are a few things that you should pay heed to, before moving to the process of sending a direct message on Twitter.
1: You can send direct messages only to the person who follows you on Twitter. However, in order to get a reply from the person to whom you have sent the direct message, you will necessarily have to be a follower of that person on Twitter. Else you will not be able to get a reply from the person.
2: Since Twitter is a microblogging site. So, it allows only 140 characters to be sent via direct message. So, be precise and comprehensive at the same time while composing the message.
3: If the person is connected to some external sites then anyone with the address of the site will be able to read your direct messages. So, better be careful.
Step #1: In order to send a direct message on Twitter, you will first have to log on to your Twitter account. In order to do so, you will have to visit www.twitter.com. Once you are on the web page then you will have to enter the appropriate credentials of your Twitter account and then hit enter or click on the login button. This will redirect you to your profile or your Dashboard. If you have done the mentioned then you are good to proceed for the next step.
Step #2: Now, in this step, you will have to check that the person to whom you want to inbox a message is following you. You can easily locate for the person by clicking on the follower's tab. This will open the list of followers for you.
Remember that you can send a direct message to your followers only. So, make sure to have the person in your follower's list to which you want to send the direct message on Twitter.
Step #3: Now, in order to send a message on Twitter, you will have to locate a mail like an icon that is usually positioned at the top right of your homepage. Once you have found the same then you have to click on it. This will redirect you to a new web page. In this web page, you will have to locate for a button labeled as "New Message". If you have located for the same then you have to click on it in order to compose a new message for the recipient.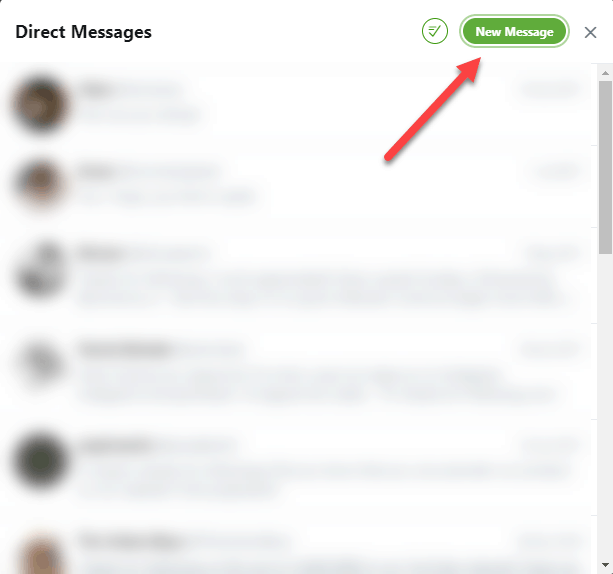 Now, clicking on "New Message" will open the appropriate fields for you. In the first field, you will have to type the name of the follower to whom you want to send the message. After that, in the subsequent field, you are required to enter the message which you want to be read by the recipient.
Once you are done with the mentioned then all that you have to do is to click on send a message. This will send a message on behalf of you to the followers' inbox.
This marks the end of this article on "How to DM on Twitter?" We hope that this article has helped you in your quest about starting direct messaging on Twitter. If it has helped you in any way then do spread the words by giving it social flares and sharing it among your peers.
Moreover, if you are left with any kind of feedback or query, then do let us know by dropping a line in the comments section right below. We would love to hear from you.
Thank you for passing by and giving it a read.