"Music speaks what cannot be expressed. It soothes the mind and gives it rest. It heals the heart and makes it whole. It flows from heaven to the soul."
Music is an art form which can create magic. The beats, the rhythmic silence, the pitch and dynamics contribute to the same. But many times you just cannot buy music, so, how to download free music? Becomes an obvious question.

How to download free music?
Here are the top eight sources from where you can download music for free:
1: NoiseTrade

NoiseTrade was founded in February 2008 by its current owner Derek Webb and few other co-founders. As of December 2015, it has over 1.3 million users worldwide with a collection of fifty thousand albums.
Its slogan speaks "Thousands of records, completely free, completely legal". The company policy specifies that you need to provide at least an email address and a zip code in order to download music from NoiseTrade.
The portal also facilitates the users by a facility of giving a tip to the artist, in case the user wishes to do so.
The company policy specifies that you need to provide at least an email address and a zip code in order to download music from NoiseTrade. The portal also facilitates the users by a facility of giving a tip to the artist, in case the user wishes to do so.
2: Jamendo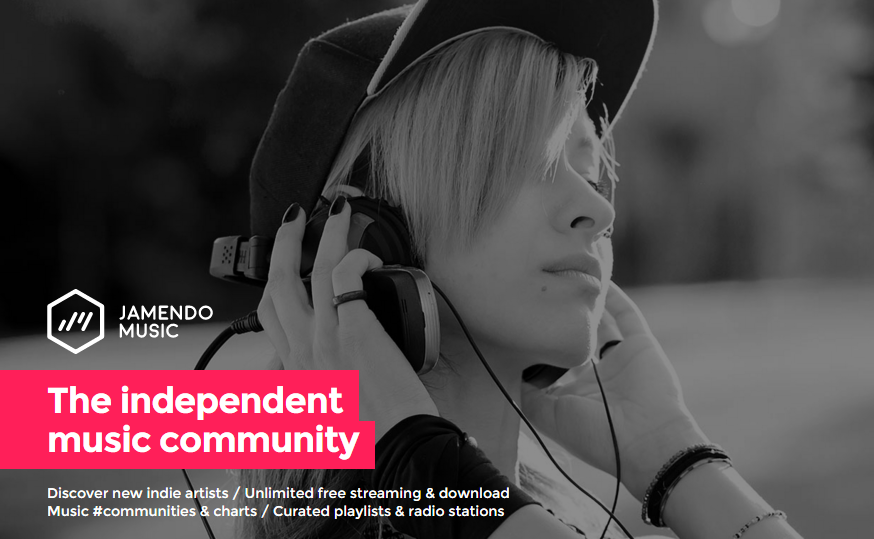 The word Jamendo is the fusion of two musical terms "Jam Session" and "crescendo". It was founded on January 1, 2005, by Pierre Gérard, Laurent Kratz and Sylvain Zimmer. It is headquartered in Luxembourg.
It provides services like free music and music licensing. The website has its user base of over 2 million users worldwide.
Statistics states that there are over 460,000 tracks available and a total of 250+ million downloads since the inception of this platform. The website is served in a total of 6 languages which includes English, French, Spanish, German, Italian and Polish.
3: Free Music Archive

Free Music Archive is a repository of free, legal music available for downloads. The most notable thing about this platform is that the established audio curators handpick each and every single music track.
The FMA catalogue has over 63,000+ songs along with a profile and bio section of each and every artist.
An interesting fact about the portal speaks that while it is true that anyone can download the content, but permission to upload and edit the music is permitted on an invitation basis. Along with free music service, Free Music Archive is best known for its Re:Mix: Media Contest Series.
4: Last.fm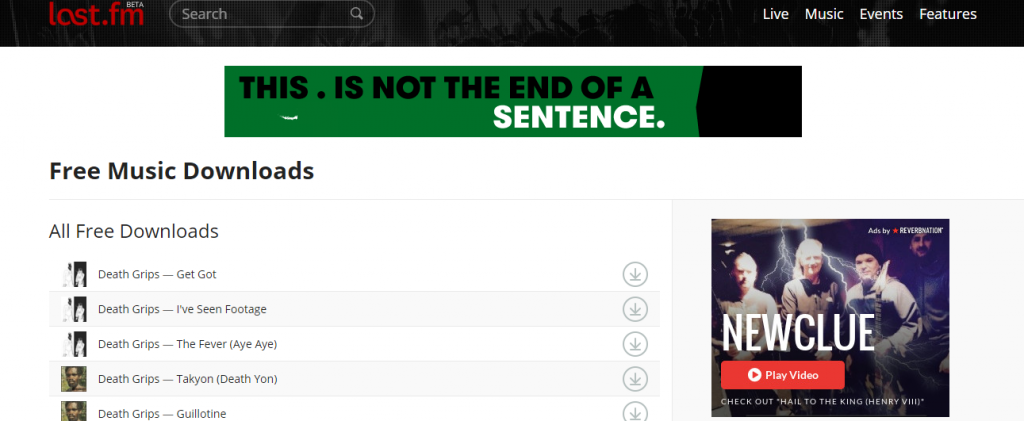 This music website has over 25 pages of free downloadable music section where you can browse and download the music content for free.
This music website was founded in 2002. This portal has a music recommender system named as "AudioScrobbler". On 30 May 2007 Last.fm was acquired by CBS Interactive for a whopping amount of US $ 280 million.
Last.fm discontinued its radio streaming services on 28 April 2014. This website is multilingual. As far as the statistics are concerned, last.Fm claims to have 30 million active users in March 2009.
5: PureVolume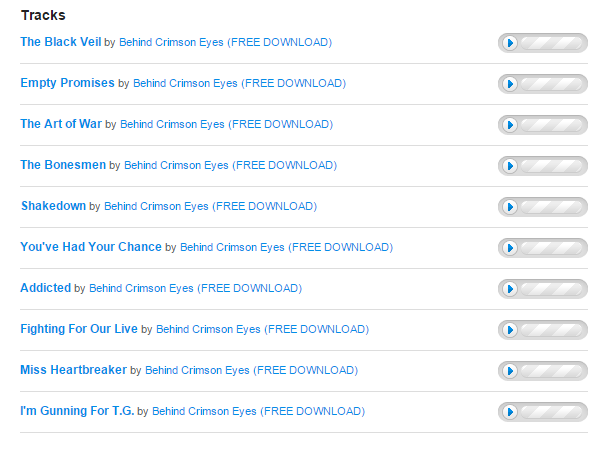 PureVolume is yet another music repository which offers the artists, an option to make their music available for download. 
It was formerly known as Unborn Media. It is primarily a platform to promote new music and emerging artists. Each artist is equipped with a profile page which includes bio section, photos, shows and many other features.
The audience can also interact with their favourite artists just be creating a profile on the PureVolume portal. It was acquired by SpinMedia in 2010. The famous Record Labels uses PureVolume in order to promote their artists worldwide.
6: Amazon

Amazon music was previously known as Amazon mp3. Its beta version was launched on 25th of September; 2007. Its catalogue has over 29,157,740 songs.
In 2008, Amazon music became the first firm to sell music without digital rights management from the four primarily major music labels like Universal, Warner Music, Sony BMG and EMI and few other individual artists.
The United Kingdom enjoys the privilege of having the first international version on December 3, 2008. Amazon also offers a service named as Amazon Cloud Music where one can store and play music on the web browser, mobile apps and desktop applications.
Five GB of free space is provided with Amazon Cloud Music account.
This e-commerce giant has tons and tons of free music available for download.
Amazon facilitates its users by advanced filters with which you can sort the available free music either by genre or by popularity or by time and reviews.
7: iTunes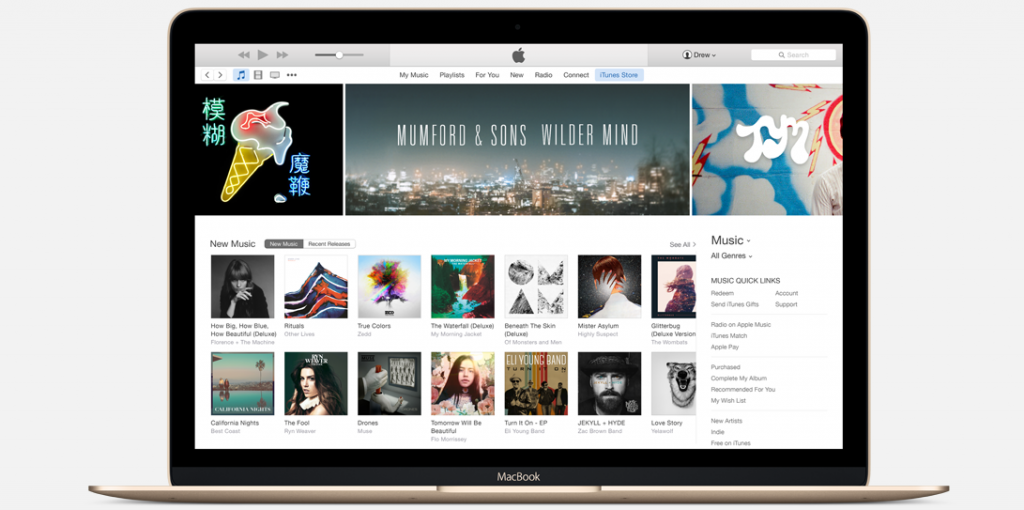 iTunes was released on January 9, 2001, and currently running its most recent version, iTunes 12. iTunes was previously named as SoundJam MP and was developed by Bill Kincaid in 1998. Apple Incorporation acquired it in 2000.
One interesting fact about iTunes says that it allows ripping from CDs, but not from DVDs. However, iTunes Digital Copy has such a feature.
iTunes has a feature named "Genius" which automatically generates a playlist through the users' library.
It creates playlists based on music genres. iTunes is certainly a great place to buy music but did you know that it offers free music too. In order to get free music, get into your iTunes store, navigate for the Free on iTunes link and enjoy the free music.
8: SoundCloud

SoundCloud is an online audio distribution platform based on Berlin, Germany and it operates worldwide.
It equips its users with a facility to upload, share, record and promote their originally crafted works. As of 2014, the music portal attracts over 175 million monthly unique visitors. Artists are also provided with an option to make their work available for download.
Ending Note.
William Shakespeare has rightly said that, if music is the food of love, play on, Give me excess of it; that surfeiting, the appetite may sicken, and so die.
This ending note brings us to the end of this article. We hope that we made you aware of the best sources from where you can download free music mp3 and if you know more of such sources from where one can download music for free then do let us know through comments.
Your addition is highly appreciable. It will definitely add some worthwhile value to the article.
This article on how to download free music? will add a worthwhile value to your knowledge base. Moreover, if you liked the article then spread the words by giving us some social flares.
Thank you for passing by and giving it a read.