Have you ever thought of how to edit videos on YouTube? if yes then this article is for you. In this article, we will tell you how to edit YouTube videos using different methods.
So, without wasting your time, we will take you on a journey where you will learn different methods to edit your YouTube videos. So, let's get started:
How to edit YouTube videos?
Method 1: Using YouTube editor.
In this very first way, we will use the default YouTube editor which is very efficient for basic editing purposes. You can trim your video, add audio to it and even you can add transitions. So, without wasting any time further, let's get started:
Step #1: In this very first step of this method, you are required to log on to your YouTube account. In case, if you are not having any YouTube account then first make one and then come back to this step. It is a prior step to have a YouTube account for this purpose.
By now,  we assume that you have a YouTube account. Now, you only require logging onto your account in order to upload the video.
For this, first, visit www.youtube.com. After this, from the extreme left corner go for the sign-in option.
After clicking on the sign-in button, you will be redirected to another page where you will have to enter your credentials for logging into your account. Just do the required and proceed for the next steps.
Step #2: This step deals with uploading the video. For this purpose, you will have to pay a visit to the topmost corner of the YouTube homepage once again. Now, click on the upload button.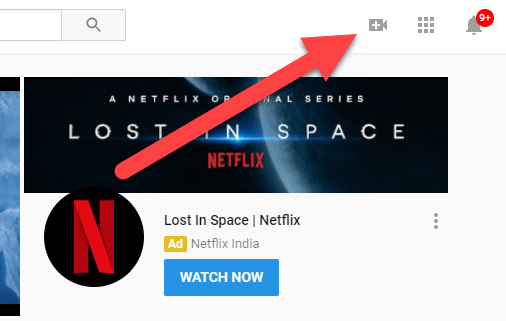 This will take you to another window where you will have to finally upload your video. YouTube allows you even to drag and drop your video in order to upload that.
Wait for the upload to finish. In the meanwhile, your screen will look like this.
Once done, you will have the following window in front of you. This means that you are done with the upload and can move forward for the next steps.
Step #2: Now, You need to publish it but beforehand decide whether you want to make the video private, public or unlisted. By default, the video is going to be public. Just pay heed to this and hit the publish or done button.
Step #3: Now, the stage is all set for our video to get edited. For this, you can consider going through the video manager link which will appear only after you have published a video. Once you have found the same then you need to click on it.
Clicking on the video manager link will take you to a subsequent window where you will have to find all of your uploaded videos.
Obviously, you need to click on the edit button in order to use the default YouTube editor.
Alternatively, you can directly jump to the editor screen by following this link. This will take you right there. The YouTube editor looks something like this.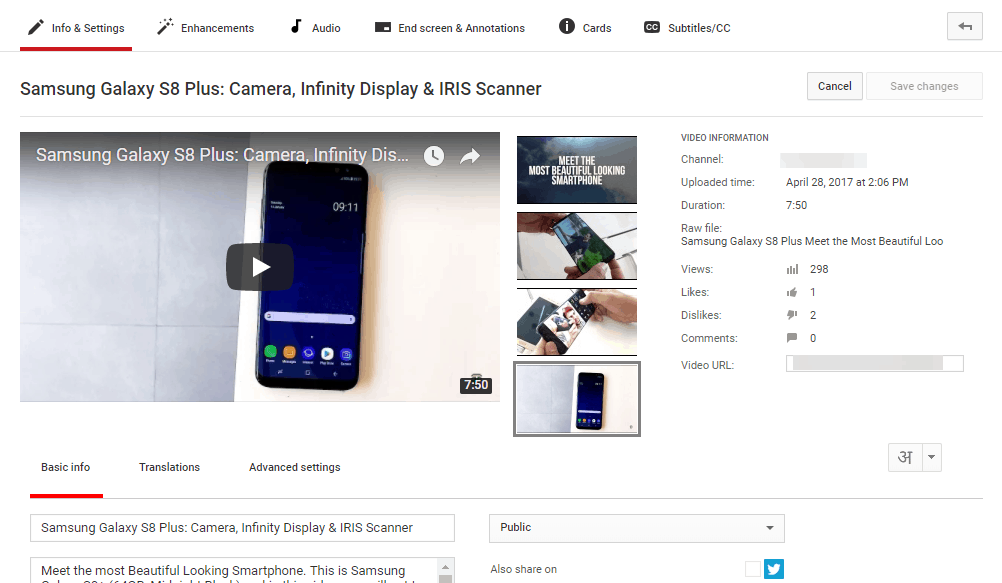 Step #4: Now, you can easily edit your videos using this video editor for YouTube. Now, to manipulate the video you need to first select the video and then hit the play button so that it comes into the work arena.
Now, if you wish to add music to your video then you need to click on the music icon as shown. This will open a list of copyright-free audios that you can make use of in your videos. Just select the one which is required or which you wish to use in your video multimedia.
After selecting the one, you now have to drag and drop the audio at the section where "Drag audios here". This will open something like this from where you can control the volume, the pan, and other things. Just do the required as desired.
You can also fix the minor problem in the video like fixing the color ratio, Contrast, Color Temperature, Saturation. Moreover, if your video is too shaky, you can use Youtube's tool to Stabilize the video.
Just click on the 'Stabilize' button and fix the shaky videos. Time Lapse, Video Trim, Slow motion are some of the other editing tools you can use in Video managers to edit Youtube videos.
If you have any sensitive content like email ID or password or anything for that matter that you don't want to reveal publicly, you can use the Blur tool to Blur the text & image. See screenshot below.
YouTube is getting better and better. For the benefit of Youtube Creators, Youtube now allows adding End Screen. In the end screen, YouTube creators can add other videos that are related to the playing video.
You can also add the Subscribe button with a channel logo to turn a random YouTube viewer as the subscriber. If you wanted to add videos & the Subscribe button on End Screen, you can do that by going to End Screen & Annotation options.
So, this was how to edit a YouTube video using YouTube editor. You can definitely improvise the things.
Method 2: Using third-party video editors. 
There are plethora of third-party software's which helps you edit videos for YouTube like a pro. Adobe premiere pro, Adobe After effects, Camtasia to name a few.
You can use them to edit, compress and for effects. After the offline editing, you can certainly upload them to YouTube.
So, this was all about How to edit YouTube videos? We hope that after going through this article you will be easily able to know how to edit videos for YouTube? 
If you liked this article or if it has helped you in any manner then do let us know through the comments section. Also, do not forget to share the article.
Thank you for crossing by. Stay tuned and keep visiting.