With more than 1.5 billion users, Facebook has been something beyond a mere social media website. You have to be very lucky to find a friend who doesn't use Facebook. This popularity has been helping people for a while now.
Many children have got their parents back only through Facebook. And, today I am here to share helpful info with you that's how to find someone on Facebook without logging in.
You may think that it's not possible. But you are wrong! To find someone, you don't have to be online.
How to Find Someone On Facebook Without Logging In
I am going to share five different methods on Facebook search for people without logging in. Don't think these processes need geeky people to get it done. You can do it without any help from others within a few minutes.
Are you ready to know how to find someone on Facebook without logging in? Here we go.
Method 1. Search on Google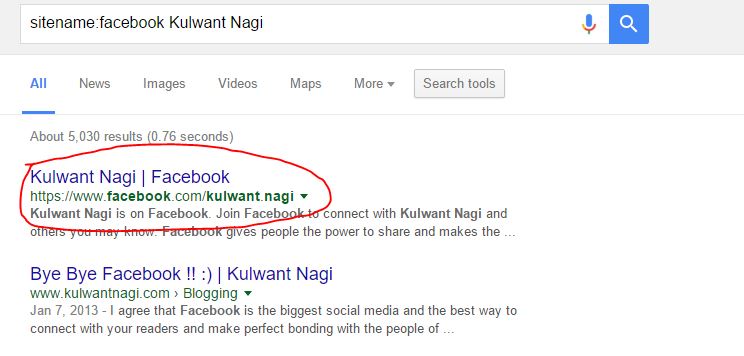 Google is everyone's go- to- place when we have to search for something. That's why I am starting with this method. You can quickly find public profiles on Google with a specific search operator.
If you are a blogger, you may probably know that there are several search operators available for Google to make every search query satisfying. Follow the steps given below to find anyone on Facebook.
Step 1: Go to google.com and click on the searching text field to enter text.
Step 2: Type "sitename:facebook first name last name" without quotes. Replace the first name and last name with the complete name of the person you want to search for.
Step 3: Press Enter or click the Google search button. You can see the search results and obviously you will get what you are looking for, as the first result.
Check the image given below to have an idea. I have searched for Kulwant Nagi, and I got his Facebook profile without any worry.
Method 2: Use People Search from Facebook
The best idea to find someone on Facebook is to use Facebook itself. Fortunately, Facebook has been providing a People Search service for a while now. You can use this service to find anyone.
Follow the steps given below to find people on Facebook right away.
Step 1: Go to Facebook People Search by clicking here. You can see a text field to enter the name and some alphabets beneath it.
Step 2: Alphabets can be used to find popular profiles as you can't find an ordinary person using them.
Step 3: Type the name of that person ( the one you are looking for) into the field given. Then, click the search button right next to the field. Or else, you can press Enter key.
Step 4: You can see a page up to 10 people matching the name you have inserted. If you don't see the exact person you want, try the process after adding the city, educational qualification or any detail you know about him/ her. It will increase the process of ending up in right result.
Hurray! That's all.
Method 3: Use Social Searcher
Some people don't like using Facebook. So they choose to stick with other social networks only. In such occasion, searching only on Facebook doesn't help. So, you have to search on every network altogether.
Social Searcher is the solution here. You can search for almost every popular network.
Step 1: Go to social- searcher.com. It's the tool to find social profiles.
Step 2: You will be provided with a text field. To find a social profile, you don't have to log in or provide access to of your social media accounts.
Step 3: Insert the name of a person or brand you want to find the social media profile or page. Then, press Enter.
That's all. You will find profiles from at least ten social media accounts.
Method 4: Use Facebook Directory
Sometimes, you may have to look for pages, topics or places. Facebook provides another tool for this. It's Facebook directory.
Click here to visit Facebook directory. There, you can see a search field. There, you can see three tabs including people, pages and places. Click on the one you want to search.
Then, type the name and press Enter. That's all. Unlike Facebook people search, you will see pages, people or places with matching names.
But you can't find every profile using this option. Why because it is possible to prevent Facebook bots from fetching a profile with a simple privacy tweak on the account settings.
Method 5: Use a Browser Extension
I have already given you four methods that help you find anyone on Facebook even without logging in. I hope you make use of it easily. If you find none of them is convenient for you, you can use this method.
Here, I am going to introduce a browser extension to you using which you can find anyone on Facebook. As Google Chrome and Mozilla Firefox are the two popular browsers, I have chosen one that's available for both of them.
Use the links given below to download the browser extension. (I have specified Chrome and Firefox extensions).
Chrome Link
Firefox Link
After the download, you can see that the extension gets added to the browser. Use the icon on the toolbar to find anyone on Facebook.
That's all. You have got five easy methods for finding someone on Facebook without logging in.
Wrapping Up
I have given you five methods. I hope each of them is very easy for you to get done.
If you like to go with Facebook's tools for this purpose, you have to log in. But all of the basic details can be seen as a guest.
All of the services I have given here use Facebook's API. So, you can see only that info that is set public.
I think everything is clear now. If you still have any doubt, feel free to ask via the comment form down below.
Also, share this post with your peeps on social media.