It wouldn't be inapt to say that the iPhone is one of the most popular and top-selling smartphones in the world. iPhone camera takes great photos and includes many nifty features like the ability to shoot slow-motion and time-lapse videos. With the increasing usage of the Internet, a lot of people have drifted on the question that
With the increasing usage of the Internet, a lot of people have drifted on the question that How to find Wifi password on iPhone. These days, maximum people have access to WiFi networks at their homes or chances are that you live close to the one.
Whenever you boot up your laptop or phone, all the accessible Wifi signals nearby, pop up in a list. The issues are, that most of them are locked by a security code, i.e. without the password or passphrase, you're not going to get access to that network.
But then, as the saying goes, every problem comes with a solution. There are a lot of ways to sneak into the security code or break this code. Let's discuss iOs software. Take a look at How To Show Wifi Passwords on iPhone.
Find WiFi Passwords on a Jailbroken iPhone
Now, In case you have Jailbroken your device, all this process becomes a lot simpler, as there are plenty of apps on the Cydia store that can get you an app in lieu of How to View Saved WiFi Passwords on iPhone. Take a look at various apps:
"Wifi Passwords" Application- If you are trying to break Wifi passwords of any Wifi device by using your iPhone device or iOs software, then this one is for you. However, it only shows up the saved passwords. Take a look at the steps:
Just go to Cydia, find and download to install an application named "Wifi Passwords".
Once you tap the app open, the passwords for the saved Wi-Fi networks will show up.

network list- This is another app that solves the purpose and is great. It is very simple to use and only displays the passwords. Take a look at the steps:
Simply, install NetworkList from Cydia.
Go to the WiFi settings of your device and there you will see a new button named Network Passwords. In iOs 7 it will be shown as 'Known Networks'.

Just tap on it and you will be able to see all the WiFi passwords that are stored on your device.
However, it has one drawback. It is not accessible to the copy-paste function. So, you need to write down the password and then use it, which can be a little annoying.
Keychain App- Now, this is an app that stores passwords. Take a look at how you can retrieve the password from the Keychain app window:
Simply, sync the Keychain with your iCloud account and do the same on your iPhone or other iOs 9 or other running devices.
Now, the password will be synced to other devices as well and could be retrieved.
Wifi Analyser- This app is a very useful app to show you, every Wifi network within the range, much more than the iPhone normally displays hidden networks, router brand, rates & MAC address which is needed to use some of the apps listed above.

How to hack a Wifi password on iPhone
We have discussed various apps that display all the Wifi passwords that are stored on your device. Now, let's talk about hacking the password whose network is showing up on your phone. Take a look at various apps that attributes in How to Find Wifi Password on iOs:
Wifi Audit- This application works using various algorithms to generate the default password, you only need the Name and in some cases the MAC Address of the network. Note the steps:
Enter the Name of the network and if asked the BSSID, i.e. MAC address.

Select the Generate Password button, and a list of possible password shows up. Check the generated passwords and you are good to go!

IWEP PRO- IWEP pro is one of the best Wifi password finder app that can be used to discover the password of a Wifi network. It comes with an easy user interface that is highly responsive. It is an offline WEP password generator.
Simply, download the app and click it. Scan through the available Wifi networks, then the app would test-run and detect the password. And, you are good to go!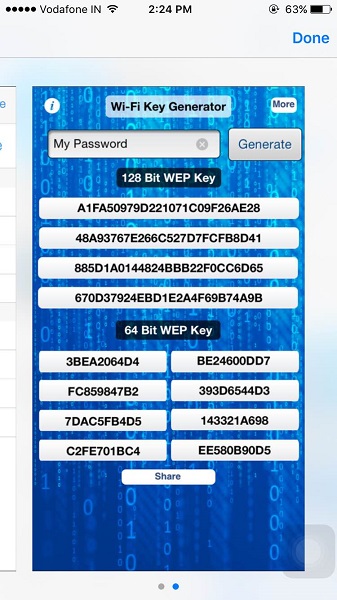 iSpeed Touch- This is a cool one and its hacking process is also faster, compared to others. It is the best app available to hack the password. It is user-friendly and can be operated with just a few clicks.
How to find WiFi password on iPhone
Many a time, it happens that people often forget their own WiFi passwords, or they have logged in from a particular network once, and now have forgotten the password. Since there's no on-system procedure that can get this job done, therefore third party methods come to the rescue.
Take a look at the steps:
Open the Settings app and click "WiFi" settings > Look at the targeted network name that wants to reveal the password. Simply tap on the (i) info button.

You will then see the Router IP address.

Open safari and there type the Router IP address, and press Enter. You will be directed to the Router login panel page.

Now login with the default user id and password. In most of the cases, they are admin/admin. However, if this is not the case then go to Google to search the exact default user/password quickly with the specific Router Model.
Conclusion
There are so many trashy apps created by the developers, which are good for nothing and will simply waste your time. Go for the above-listed apps, as they are reliable and will solve your purpose of How to find Wifi password on iPhone. But using all these apps requires extreme patience on the user's part. However, it is never preferred to sneak into someone's privacy.
Rather, you can go for apps like "Wifi-Map", and you'll have a list of over 2 million hotspots with free WiFi for the taking. It even includes some passwords for locked WiFi connections, if they're shared by any of the app's 7 million users. Sounds Great!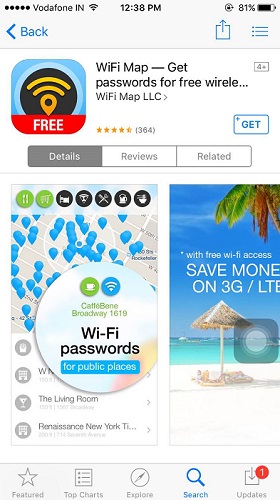 Enjoy the free Wifi and Happy surfing!