Apple iPhone is the epitome of smartphone technology running the brand's patented iOS operating system. But sometimes, things go wrong with even the best of electronics – at such times, you should put your iPhone in Recovery mode, but what to do when that fails? Here's our guide on how to fix an iPhone stuck in Recovery Mode.
Preface – The iPhone
Apple iPhone was first launched in 2007 by one of the world's leading software and electronics manufacturers in the world. The launch of the iPhone revolutionized the smartphone industry, and different aspects of it have been copied over time by companies like Samsung and Xiaomi.
However, it's not so surprising that iPhone is now a prime status-enhancing accessory with the ability to process all applications on the go and a style that's timeless (as seen in its recurrence). This gadget is a technological marvel that few in the world get to appreciate.

Presently, Apple iPhone (in all its various avatars) population is 15% of all smartphones used worldwide. This makes it the largest selling singular brand of smartphones in the market today. An achievement by itself – Apple Inc. piles on the laurels every year with a new release – typically breaking sales records and technological borders.
It is most well-known for its amazingly seamless performance, high level of security on the device and the fact that it almost never hangs or needs a reboot.
The latest Apple iPhone are iPhone 6, iPhone 6S and iPhone 6SE -all record-breaking in their own right. Most new launches of Apple iPhone models sell out in less than 12 hours worldwide.
When Does Your iPhone Need to Go into Recovery Mode?
Your iPhone goes into recovery mode whenever:
You're upgrading firmware or software
You're restoring data into your iPhone
When it's stopped working normally
When updates were unsuccessfully installed
How to Fix an iPhone Stuck in Recovery Mode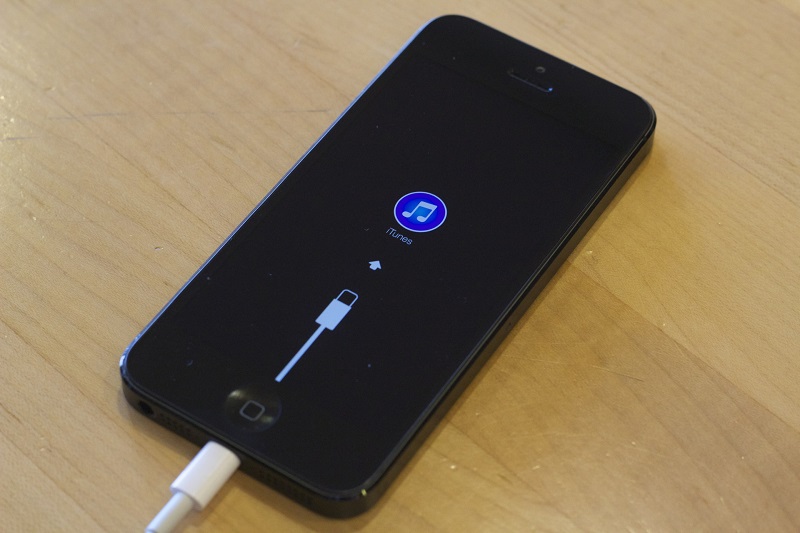 To put iPhone in Recovery Mode, simply:
Install iTunes in your Mac or Windows PC
Have a Backup of your data on iTunes
Launch iTunes on your Mac or Windows PC
Disconnect the iPhone from the PC and switch it off
Press and hold down the Home and Wake/Sleep buttons to power off your iPhone
While Keeping your iPhone's Home button pressed, connect it to the PC via USB cable – your iPhone should turn on
Continue to hold the Home button until an alert message pops up saying "iTunes has detected an iPhone in Recovery Mode"
Your iPhone is now in recovery mode
Once you're in iPhone Recovery mode, you can perform various actions to restore it to its former glory. These include:
Restore it from the backup you have in iTunes
Reset it to factory specifications
Recover backup data
Upgrade (or downgrade) firmware
Once whatever action you've chosen has completed its course, your iPhone will then reboot and exit recovery mode.
How to Get iPhone Out of Recovery Mode?
To get an iPhone out of recovery mode, you can do one of the following:
Hold down the Home and Wake/Sleep button for about 20 seconds; this should shut down the iPhone
Boot the iPhone by long-pressing the Power button
However, depending on what stage of Recovery your iPhone was in, it may get stuck or stop working completely. But don't worry!All that you have to do is put it right back into Apple iPhone Recovery mode.
Boot your PC (Mac or Windows – doesn't matter).
Get the latest version of iTunes installed.
Have a backup of your data on iTunes.
Launch iTunes on your Windows or Mac PC.
While holding down the Apple iPhone's Home button, connect the iPhone to the PC via a USB cable.
Your iTunes should detect your Apple iPhone in Recover Mode, promoting the same message "iTunes has detected an Apple iPhone in Recovery Mode."
Click on the device in the iTunes window and go to the Summary Tab.
Click the restore recovery option.
Follow the prompts in iTunes to restore your iPhone settings to the last backup (or to factory default if you selected that)
Wait for your Apple iPhone to restore itself.
Once it's done, your iPhone should boot up – as good as new!
Recovering your Apple iPhone data is no big deal if you know-how. But if these methods don't work, it might be time to make a trip to the Genius Bar at your nearest Apple iStore.
The cases of the Apple iPhone being unresponsive are rare. But when it does happen, it's quite distressing to the user. To wind up this article, we've decided to add some tips on how to make these rare moments less horrid than they can be:
Keep Backing up Your Data on iTunes and iCloud – Nothing makes a person sadder than losing data. Make it less impactful by keeping all your data on your PC or Cloud.
Do Regular Maintenance of Your Apple iPhone –Keep refreshing your iPhone, do security scans and keep the cache memory free when possible. Make sure you always have a few GB of additional space on your iPhone or it may hang while performing various actions.
Don't Use Non-Apple Extensions – Don't use products from other companies and this includes USB cables, external chargers, accessories, and docks. Using non-standard add-on's on your iPhone both compromises the hardware and has a chance to corrupt the software or firmware.
As a fellow Apple enthusiast, I loved writing this article and I hope you liked reading it. I also hope that it helped you return your iPhone to its former glory and clarified any questions you had related to an iPhone in Recovery mode.
If you've more tips and tricks that can help avoid an iPhone go into Recovery mode, share your views in the comments section below so that our readers can also gain knowledge about these. If you've any queries, share them as well and we'll get back to you with the solutions.