Do you know How to fix IP address conflict? Or do you have any idea what does conflicted mean? You might not. IP conflict error is something that not commonly occurs. But whenever it occurs it causes very much inconvenience to the user. So in order to fix the issue, we have come up with this guide. Let's see what does IP conflict mean and how to fix it.
When you have a home network with multi-computers, it's a good idea to assign each of them a specific address. When two computers on the same LAN network end up with the same IP address, IP address conflict occurs.
And when it occurs, you see errors such as windows has detected an IP address conflict, There is an IP address conflict with another system on the network, another computer is using this IP address, This IP address is already in use on the network. Please reconfigure a different IP address, or another device is using your IP address etc.
In such case, the computers stop connecting to the network. Or stop performing any network operations. So to avoid this happening, you will need to fix IP address conflict. This is what we are going to teach you today. In this guide, we will make you know ways to fixing up the IP address conflict issues with step by step guide. Let's check that out.
How to Fix IP Address Conflict
IP i.e Internet Protocol is a unique address separated by full stops that classify each computer. An IP address uniquely identifies the computers which are comprised of a string of numbers, such as 192.168.2.1.
As I said above this is the unique address of system but when there are two or more systems assigned with the same address IP conflict occurs. In such cases, we tend to re-assign the address of the particular system.
If your computer has DHCP i.e Dynamic Host Configuration Protocol enabled, it automatically requests for new Ip address and be assigned every time it is booted. Often rebooting allows it to get a new address assigned for the computer.
But if you don't use DHCP then you will have to manually assign a new IP address to each system. Here are the steps given below.
There are multi ways to fix this Ip conflict issue. I will be sharing two of them. One of the best ways to resolve this issue is by renewing IP address. Let's see how to do that.
#Method 1: Renewing IP address
To release or renew IP address, you will have to go to the command prompt and type some commands. The steps are given below.
Step 1: First of all, go to the command prompt. Click on the start menu and in the search bar type cmd and hit enter. As soon as you hit enter command prompt will pop up.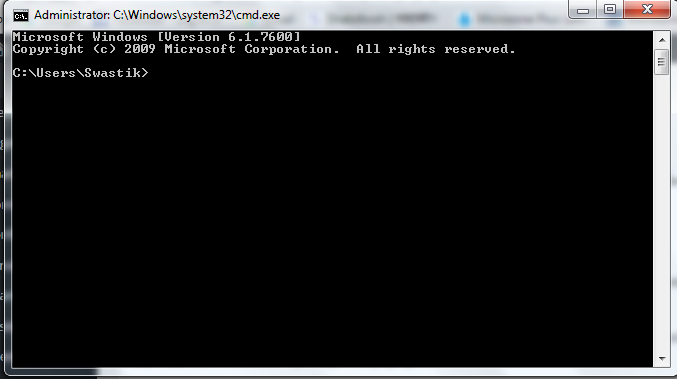 Step 2: In the command prompt first, type the command
ipconfig /release
And hit enter. This is the command to release the previously assigned Ip address. If you have many adapters installed on your machine, you might see several results.

Step 3: After you hit enter, the computer will release the IP address. Now all you have to do is renew the address. To do so, type the command
ipconfig /renew
As sooner you hit the enter you will see a result something similar to the image shown below.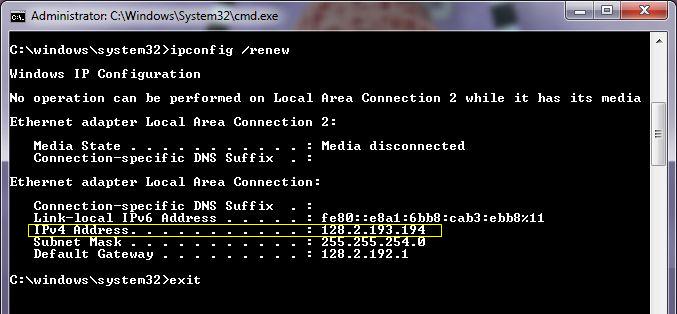 As you can see in the above image there is a new address assigned to the computer listed next to IPv4 Address. I have marked that with yellow.
This is the easiest and common way to reassign an IP address to the computer. Whenever you face IP conflict error, simply release the previous IP address and assign a new one. Most probably it will help you fixing IP conflict error. But in case, you are not still able to fix the problem, you can try the second method I have described below.
And if you wanted to know IP Address on Mac, here is a complete guide explaining how to Find IP Address on Mac.
This method is useful when your computer is using static IP address. There are a lot of things you can do in Command Prompt. Here are few Command Prompt tricks you should know.
#Method 2: Reconfiguring Static IP Address
Step 1: First of all go to the networking and sharing center by clicking on the internet icon, from the right side of the taskbar, you can also go to the same by going to the control panel.
Step 2:  In the networking and sharing center option, go to the Change adapter settings.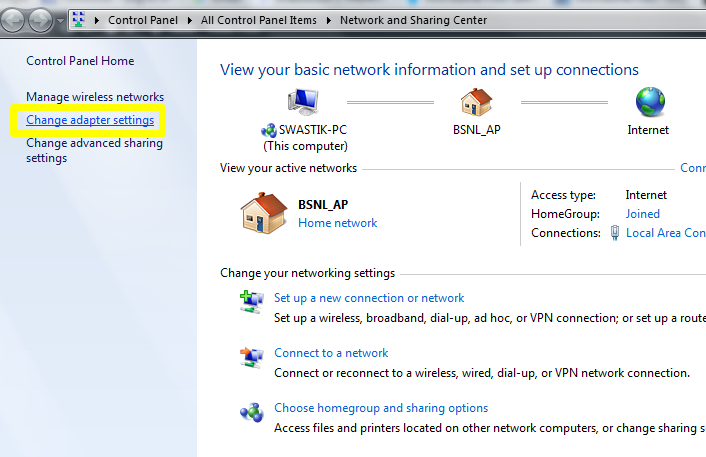 Step 3: Now go the network which is currently being used for your Internet connection. Right click on it and go to properties.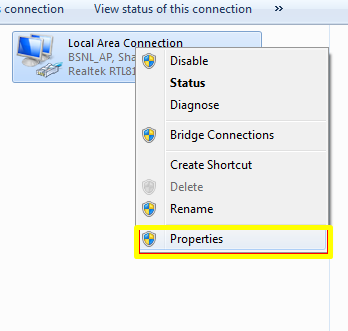 Step 4: In the properties option, you will see various options. You have to go to the option Internet Protocol Version 4 (TCP/IPv4). And then click on properties.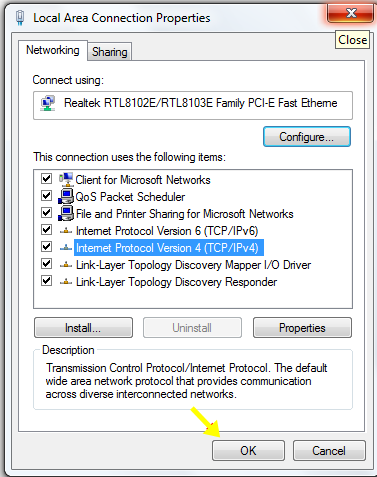 Step 5: Now select the radio button Use the following IP address and enter the correct IP Address, Subnet mask, and Default gateway. Here you can select getting an IP address from a DHCP server or by entering a static IP address. Check out the image I have shared below.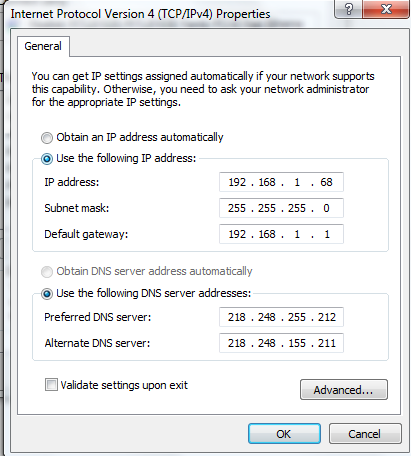 Remember until you are very sure about the IP address you are about to enter, prefer choosing the first option i.e. to obtain an IP address automatically from a DHCP server. Once you are done setting up the IP address click on Ok. And you are done.
Now you can open the command prompt and do an IP config to see if the network adapter settings have been changed.
So this is how you can re-assign the IP address to your computer. Now once you are done setting up the new IP address, restart your router. Restarting router often fixes may problems.
After following the above methods, if the problem still persists, you can run the network troubleshooting wizard. Probably this will help you fix up the issue completely.
There are a lot of times when a program get stuck and nothing happens. Here is how to kill Process in Windows 7.
I hope our today's guide that is how to fix IP address conflict will help you resolve the issues. Do let us know your reviews and how this guide helped you. If you have any query remain you can ask them by dropping the comment in the comments section. We will try to reach out to you as soon as possible.